June 24st
Prague, the magical City of Hundred Spires. I spent many summers here as a child and was very excited to bring Leslie to Prague. Now the capital of the Czech Republic, it was also Slovakia's capital during the Czechoslovakia years.
We got up at 6:30. We had breakfast at train station and then took the 8:44 Alex train to Prague. The ride from Munich was pretty exciting. First, we had to take a bus between Furth i Wald & Domažlice as that section of the rail was being repaired. Later, I started hearing chatter about an upcoming strike. Indeed, the Czech rail workers decided to hold a strike for an hour and our train went out of service in Plzeň. I was glad to speak the language as the train station was filled with many confused backpackers. The next train to Prague came in about 1.5 hours. In Prague, I went to the ticket windows to get tickets to our next destination, my hometown of Banská Bystrica. The line started very long and wasn't moving very fast - since the ticket windows kept closing. There was no order this. Somebody may have been the second person up, when the window suddenly closed and the customer found himself at the end of a different line. Luckily for me, I made it, just before my window closed. After issuing my tickets, my cashier lady slammed the window shut and left for a 45 minute dinner break. Hers was the last window to still be open. I walked away past a long line of backpackers with a puzzled look on their face.
We took the subway to hostel River Bank. This is quite an amazing place and I highly recommend it to anyone traveling to Prague. It's a large apartment converted into a hostel, located in an ornate building from 1908. It's right by the river Vltava, between the Dancing House and National Theater. The owner is a tall somewhat-nerdy looking Czech. He is really friendly and maybe about 60. He reminds me of folks associated with Havel: playwrights, poets and artists who helped to orchestrate the 1989 revolution that toppled communism in Czechoslovakia. Around the corner is a restaurant, U Buben&iacutečku, meaning At the Drummer's. This is where we ate. I wanted goulash, and Leslie dumplings but they were out. So we got Svieckova and Moravian Vrabec (Moravian Sparrow).
Leslie was so happy to be in Prague. She is absolutely amazed by the architecture. Sometimes I forget how lucky I am that I grew up in a place with so much neat stuff. We had 4 half liter beers with our dinner. I felt quite tipsy, much more than after even after equal amount of the liter Mass glasses in Munchen. At dinner I also gave Les a necklace - today was our 6 month anniversary. After dinner we took a nap at the hostel - sleepy after the beer - and then went for a walk. We first strolled down to the south, crossed Vltava on Jiráškov most (bridge), then walked along the river to Karlův můst, Charles Bridge. It is one of the most famous Prague sights (second most famous after the castle?). Its construction began in 1357. It connects Old Town with Malá Strana, Small/Lesser Quarter. Legend has it that the reason the bridge still stands after all these generations is that eggs were mixed into the mortar. This gave the mortar additional strength to bind the stones. We also went in several souvenier shops. Seems like there is even more matrioshky shops than before. Next we made it to to the large Wenceslas Square. Václavské Náměstí, the place of the 1989 student protests that ended Communism in Czechoslovakia and also where Jan Palach burned himself to death in 1969 to protest the Soviet invasion. It is also famous for its many food stands. Here you can order tasty spicy sausages or fried cheese sandwiches. I had a sausage. We came back on Národní Třída. I slept really well. We have of bunch of ~25 year olds in the room. No bunks, 3 girls, 3 guys.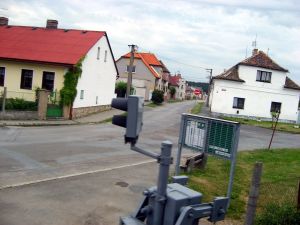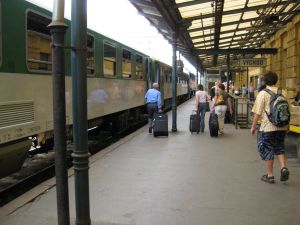 A Czech village and the train station in Pilsen where we got temporarily stranded by a strike.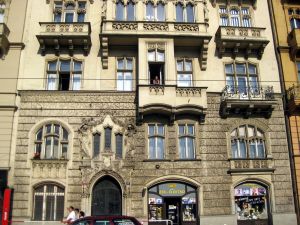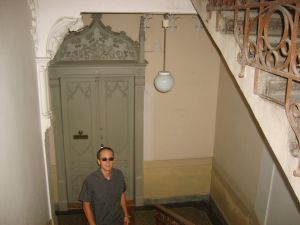 This is our hostel, River Bank. It's absolutely amazing. That's Leslie in the window.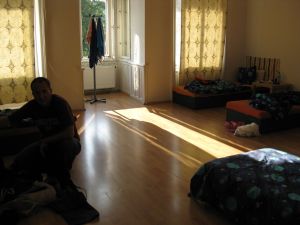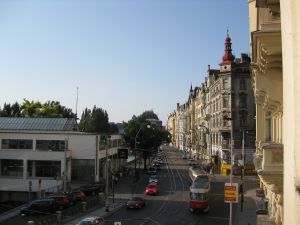 Our room and a view out the window towards the National Theater.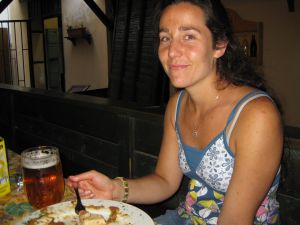 Our anniversary dinner at U Bubeníku.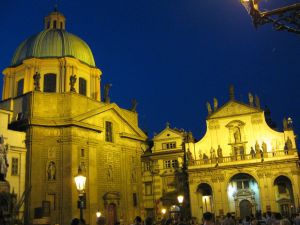 Charles Bridge, 15th century bridge connecting Old Town with Lesser Quarter

Beautiful view across Vltava.
June 25th
Today we ate breakfast at a corner cafe. I had scrambled eggs with ham & coffee. Next we went sightseeing. It seems that everytime I come to Prague it gets more expensive and touristy. I wanted to take Leslie to the Golden Lane, a historical street next to the Prague castle. That was possible only with a ticket for the castle tour. These cost Kč 300 per person. That's around $20. It's not a bad deal if you want to go on a tour of the entire castle, but was too much to just walk down a single street. I even tried to bribe the guy to let us in, but to no avail. The Old Synagogue cost another 250 and the cemetery was another 250, wow! Almost twenty dollars to see a cemetery? We did not go. On top of all this, everywhere you look there are people selling "slavonic" art - consisting of matryoshkys, russian dolls, fur hats and various communist oriented T-shirt crap. This really ticked me off since Czechoslovakia was never part of the Soviet Union. The population was not even particularly fond of the Soviets, especially not since the 1968 invasion when Soviets rolled into Prague in tanks to quench the Czechoslovak "Communism with Human Face". Some guy even tried to tell us that these Russian dolls were a great gift from Prague because Russians and Czechs are culturally related. Perhaps somewhat true, but that's like going to Spain to buy French presents. He shut up and walked away really fast after I told him, in Slovak, I am originally from this country.
So we ended up going to St. Nicholas Cathedral and to the gothic St. Vitus Cathedral at the castle. Later we crossed back to Old Town and went to Týn church. Týn was my favorite. It was free, and photography was forbidden. There was also "sillencium". This church actually felt like a church and not another tourist trap. Leslie also got oblátky (Christmas wafers) with honey. Later we got fried cheese - the roll tasted stale - and went looking for the souvenir shops we saw the night before. This involved a lot of walking. Finding the one shop selling somewhat authentic Czech items among the sea of Russian junk was not easy. Leslie ended up getting a golem figurine for herself in Josefov (the Jewish District) and a mug for a guy from work. Then on the way home we got caught in a wild storm. There were few drops here and there and it looked like we'll be able to beat it. We were almost back home (at the theater) when all of a sudden a strong gust of wind brought with it hurricane-like torrential rain. We hid behind some pillars until it looked like the rain had subsided. Next we took off running to the hostel, dodging splash water from cars. I was completely soaked by the time we arrived! We were cold but it was kinda fun. The rain had stopped completely by the time we finished with the hot shower. We then went to Švejk restaurant few blocks away where I had goulash soup with bramboráky (potato pancakes) and Leslie had goulash with dumplings. Leslie also had her first Kofola - I don't think she was too impressed! Kofola was the Communist answer to Coca Cola. It tastes nothing like it, but I love the taste! We also had 4 Gambrius beers, coffee and an apple strudel. Next to us in the restaurant was a big group of young nerdy looking Germans watching Germany vs. Tukery. One girl, sitting with her back towards us, was really fat and it looked like her belt was about to burst any minute exposing her huge ass to the world. At another table, a male friend of the waitress kept shouting "Turci do toho!" (meaning Let's go Turkey). Luckily the Germans didn't understand. The match ended 3-2 for Germany, with Germany scoring the winning goal 40 seconds before the time was up. We came back to find some new smelly fat roommate sleeping in the bed next to Leslie's. He passed out in his clothes face down. His legs were sticking out. On his feet he had white socks that were pitch black on the bottom. Time to do laundry, dude! Leslie didn't wanna risk it and shared the bed with me.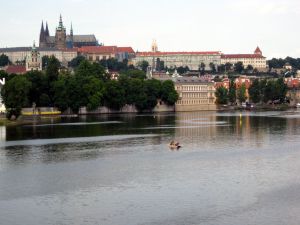 The castle in the daylight.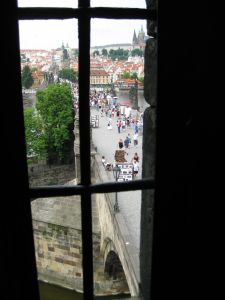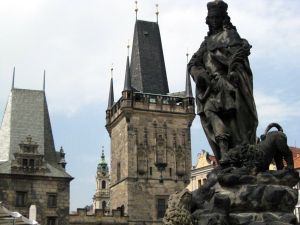 View from the observation tower on Charles Bridge towards Malá Strana (meaning Little Side)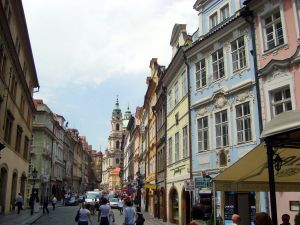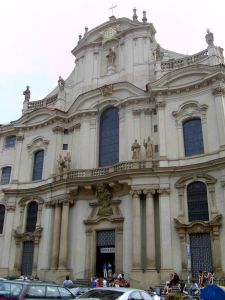 Malá Strana is the home to my favorite church, Cathedral of St. Nicolas...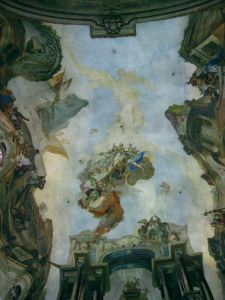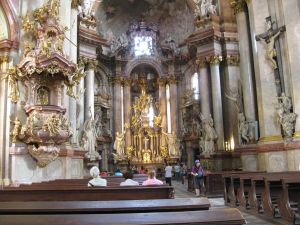 ... because of it's beautiful baroque paintings and statues of popes killing demons with pope sticks.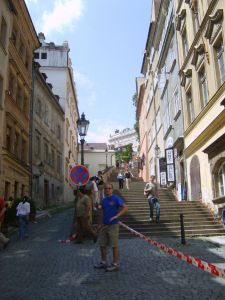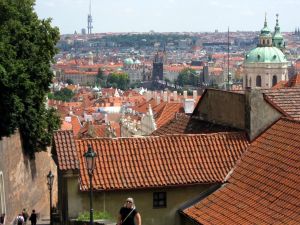 Stairs leading to the castle and a look back at Prague's famous red roofs.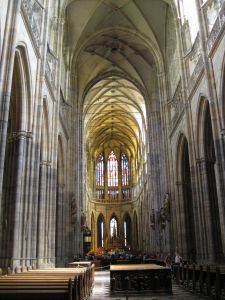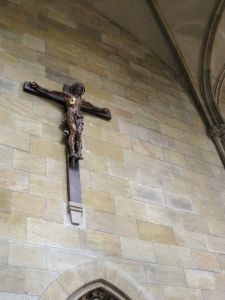 Inside the Cathedral of St. Vitus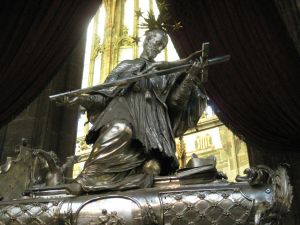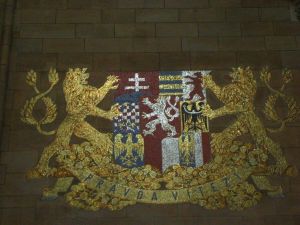 Sarcophagus of John of Nepomuk, the saint of the Czech Republic. Also a shield depicting the symbols of the former Czechoslovakia.
Below the shield is the motto of the country, Pravda Víťazý meaning The Truth Prevails. It became the title and the subject of an extremely popular song by a band called Tublatanka. This song became the anthem of the Velvet Revolution.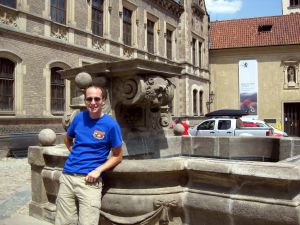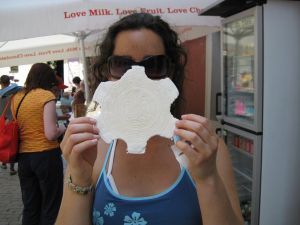 Some California dork and Leslie having fun with oblátky, the traditional Christmas wafers.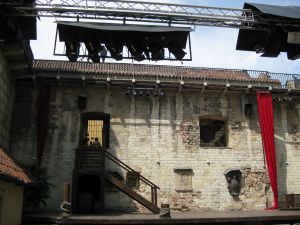 Golden Street, from outside the ticket booth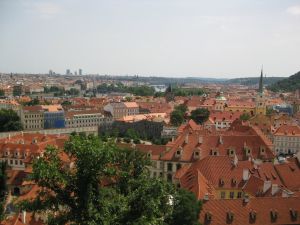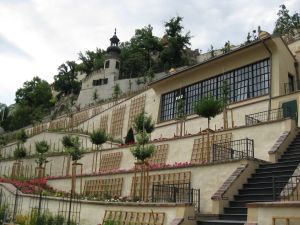 Another view of the beautiful cityscape and a walkway we took down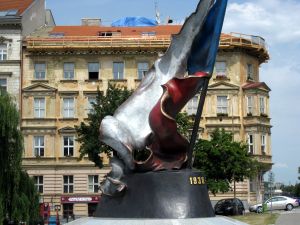 Memorial to the soldiers who fell in World War II.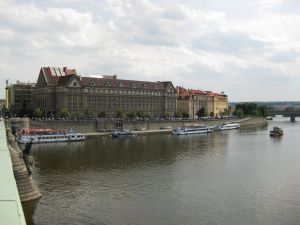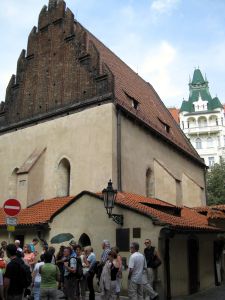 Another photo of Prague and a synagogue in Josefov, the jewish district.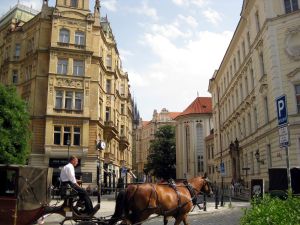 Horses!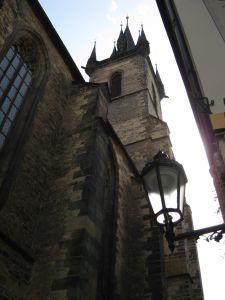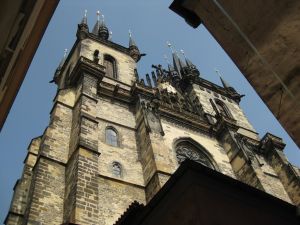 We then walked back to the Týn Church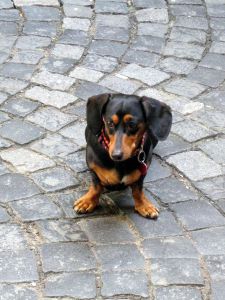 There we saw this cute doggie
Leslie also tried the Prague specialty, a fried cheese sandwich.