July 6th
I got up with a terrible headache. I also felt like throwing up. I am not sure if this was from the headache or from the train bouncing around. I finally got up and took Ibuprofin and then got more sleep. It's possible that our ticket comes with food because today we got breakfast and also lunch. Breakfast was crackers with butter jam. For lunch we got rice with beef and a cucumber and tomato salad. It's so nice being on the train! For once, I don't have to do anything but relax. Leslie doesn't feel the same way, she misses having a shower. But mostly, I think she is bit creeped out by the motherly lady always staying around and trying to converse with us. We stopped only few times - Vladimir & Gorkiy Most in the night and then Kirov, Balezino and Perm during the day. We got off at each stop and got ice cream in Perm for R15. Actually more like R14.50 for me because that's all the change I had. Perm is quite a big city with some modern high rise building. There are way many more villages along the way than I had anticipated. They consist mostly of wooden houses. Although there are some log cabins, most houses are built of 2x4 type stuff. All have spiky roofs - it must snow here a ton. The villages also have people - typically shirtless guys. The landscape is very beautiful. It's flat and initially heavy wooded. The forest coverage includes birches and tall skinny pine looking trees. The landscape later opened up and brought along many rivers and pastures. Finally after 7pm we got into the foothills of the Ural mountains. They are just small rolling hills, but are very noticeable after the long stay in the flatland. Today we ventured into the restaurant car - I had beer (60R) and Les had Coke (45R). Not bad! I expected the prices to be much higher. The train is air conditioned but the AC works like this: it is on until it gets unbearably cold. It is the switched off until it gets really hot - maybe it is operated manually by a lazy conductor. The guy in our compartment - Ondrej - has a strange rash on his elbow. His legs are also sort of red. Hopefully it's not an airborne contagious disease. The lady's name Ilyana.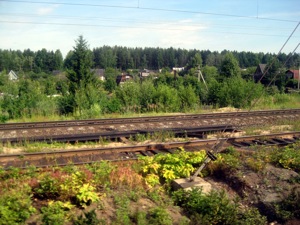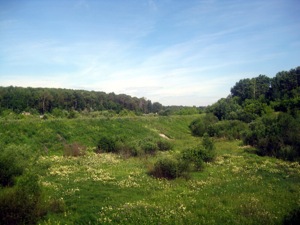 Summer landscape slowly rolling by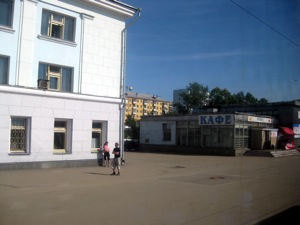 Cafe in a town along the route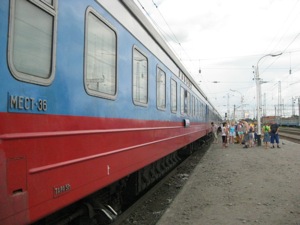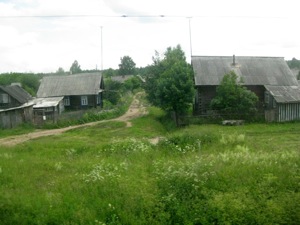 Quick break to stretch one's legs.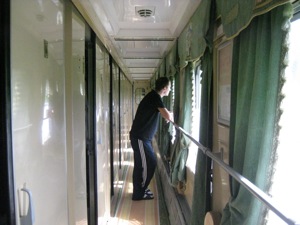 This is how much of the time on the train was spent: by watching the scenery go by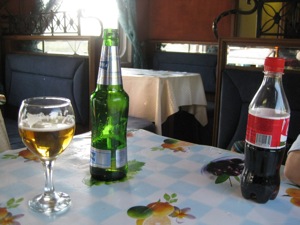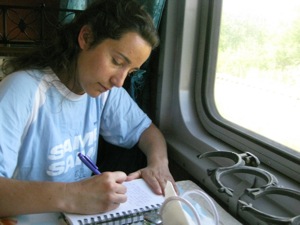 Our first venture to the dining car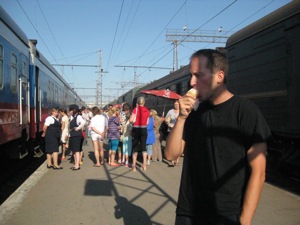 Tasty ice cream, sold with a paper stuck partly stuck over the ice cream part - to partly protect it from germs?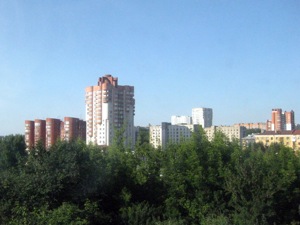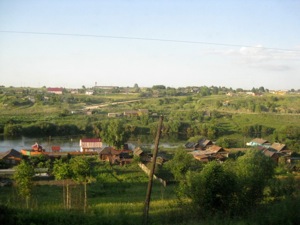 Perm, the thirteenth most populous city in Russia.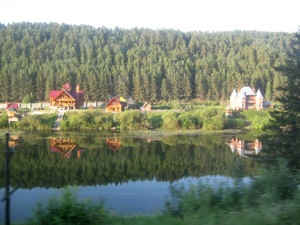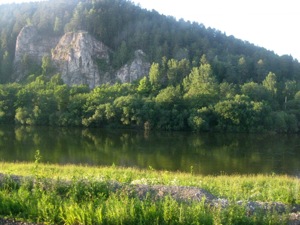 Scenic area on the way to Ekatirenburg. Judging from the size of the houses, this must be a resort area.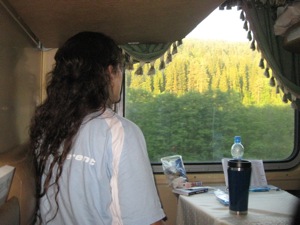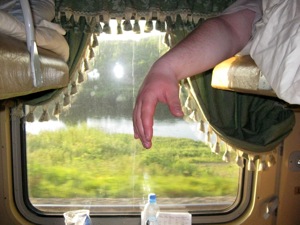 Typical Ondrej - sleeping with his arm stuck out
July 7th
I slept really well - from about midnight until I was awoken by poking at 9. I had a dream that the guy I sold my motorcycle to wrecked somewhere at my work. We got breakfast again - the same stuff as yesterday: crackers, butter, jam, whole chocolate bar, coffee, tea and... ketchup! I am not sure what the ketchup is for, but later Leslie put it on her APPLE! Today we are passing through more completely flat land. Unlike yesterday, the trees are almost all deciduous. A lot of birch but also some oak. There is also more open grassland. We first stopped in Ishim. We tried to get still water but all they had was bubbly. We also got reminded to return to the train by the younger attendant lady. Later we stopped in Omsk, where Leslie got a can of Coke plus water and also a cup of Ramen noodles. What sucks is that we have yet to see some babushkas selling goods. I don't know if the rail got more industrialized since the LP guide was published or if we are stopping only in big cities, but all vendors are snack kiosks. I was really looking forward to some home-cooked goodies. Hopefully things change as we go on. Ilyana keeps wanting to have a conversation with us - I guess she doesn't realize just how little I understand. Much of the conversation is me just smiling and nodding. But I picked up few things. She is quite motherly. She showed us photos of her 2 sons and a dog. Plus a "photo of the day" from some magazine that she printed out for some reason. It showed an old lady reading the paper and a dog sitting behind her. I don't know if this was a photo of somebody she knows or if she just found it interesting.
The other guy - Ondrej - stays mostly to himself. He mostly stands in the hallway and looks out the window. He is pretty quiet. Our lunch today was chicken with noodles. Later in the day we got to Novosibirsk. The town is just east of the massive Ob river. This city appears to be very modern, huge and growing fast. It is neat to see old wooden houses at the feet of 21st century skyscrapers. It was about 10pm local time when we arrived, and as we forgot to get dinner in the dining car, we bought chicken, 2 greasy-langosh tasting filled pirozky and a hard boiled egg. We also got a can of beer. Besides all this we spent some time today in the dining car around 4 where we had borsch and more beer. Our compartment lady met some friends in one of the towns and they brought her a whole bag full of food - like chicken and some squash looking melon! She offered us all these goodies. The chicken was really tasty, but something managed to stink up the compartment really bad. Walking in the hallway we could smell our compartment before even reading the numbers. Eventually we concluded that it was most likely the melon because the smell became less offensive after we ate it. Or we got used to it. At the Novosibirsk stop we saw several people from our train jump rope, even in high heels. I guess that how people get their exercise on the train.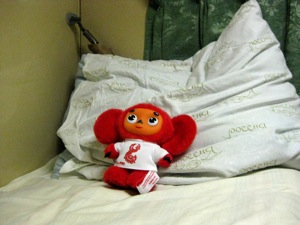 ... Mr. Cheburashka!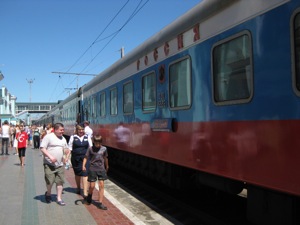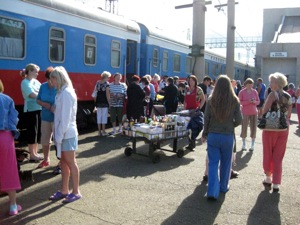 Ondrej with our sprovodnitsa and the snack vendors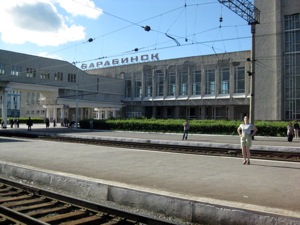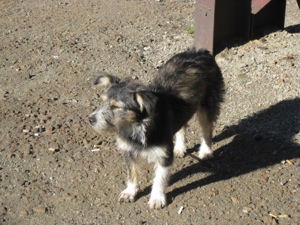 Stop at Barabinsk. Some passengers got out to exercise, even in high heels!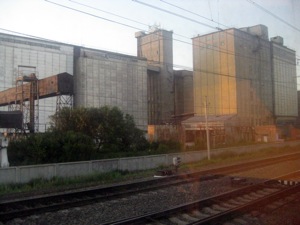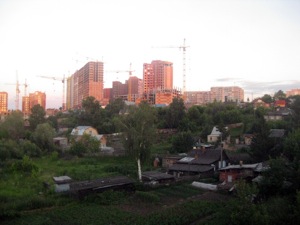 Novosibirsk, the third largest Russian city (pop 1.3 mil) and the largest city in Siberia.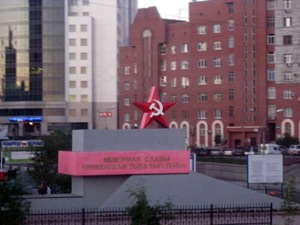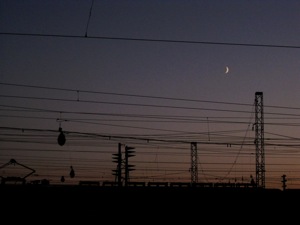 Sunset in Siberia. On the left is a memorial commemorating Siberian soldiers who fell during the Great Patriotic War.
July 8th
This was another fast night where I woke up confused whether I slept at all. Sleeping on trains is easy! The time change is getting to us. Last night we were 4 hours ahead of Moscow. But, the zones don't seem to correspond to the natural light cycle as the sun started setting only at 10pm and it was still dusk at midnight. Today was very cloudy. The scenery is again much different. We don't notice much change during the day, but the change throughout the night is very dramatic. We are now in rolling hills and the deciduous trees have been replaced by birches and evergreens. We stopped at Krasnoyask. There weren't too many vendors here. It was also 12 already and we didn't have breakfast yet, making us wonder if our unexpected free food had come to an end. But, there was no ned to worry, breakfast came out as soon as we left the station. I suspect the food is served according to Moscow time, not the local time. Pretty weird. I would expect the conductors wanting the passengers to adjust to the local time zone.
Kransoyarsk is a much dumpier place compared to Novosibirsk. For lunch we got some slice of beef and rice, with the usual cucumber, tomato and lettuce. In Ilansky we got our first stop with ladies selling various home-made goods from bags! It's pretty amazing watching these women assemble their "shop" just as the train approaches only to pack up in few minutes and head to the next train. I took few pictures here - but did not encounter the fate of the LP author who supposedly got arrested. The scenery has been changing - we are now again in flatland without many trees. We bought bunch of snacks - meet filled steamed dumplings, cottage cheese blinnys, long fried pancake stick with some sweet gooey filling and more of those langosh piroskys. Later the lady and the guy (who has been smelling particularly bad today) left for the restaurant car. This was the first time she has left the cabin, except for the occasional bathroom breaks and stops at stations. We are now in Tushin, 5 hours ahead of Moscow. For dinner we went to the restaurant car. I got solyanka, beef broth soup with sausage, meat, various peppers and the usual sour cream. It was really delicious! I also got beef (or pork) bbq on a stick with french fries and vegetables. Leslie got chicken topped with mushrooms. It was probably really good because she didn't offer me any. I noticed she has been finishing all her food - like she doesn't leave behind ends of french fries the way she does back in the US. Perhaps she is trying to fatten up for Mongolia in case the food is inedible. Later I charged my camera - it went from full charge to non-functional in 4 pictures. Charge level indicators in these things are terrible - the old camera I gave Leslie was the same way. I also played with the ježek, hedgehog in a cage. It's a puzzle based on a popular kids book series called Richlé Šípy. I took him out and put back in the cage. We packed - our train arrives in Irkutsk at 6am local time - 1am Moscow.
To give you an idea of costs, we paid about R60 for a beer in the restaurant car, and our dinner for two with soup and beer was under R500. The stuff we bought outside was cheap, about 20-40 for a pierog, dumpling or a pancake. Coke is R35. Ice cream in a cup with a paper top make it look sanitary but protecting only about one third of it was R15.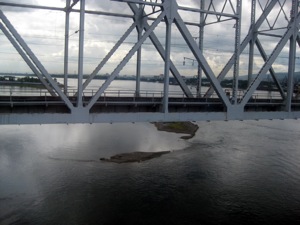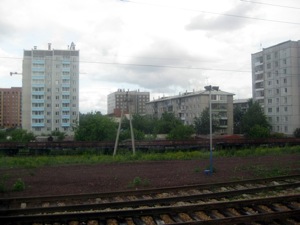 The Yenisey River leading to Krasnoyarsk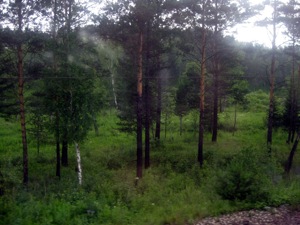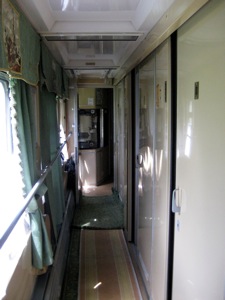 At the end of the isle was the "samovar", self cooker, where you get hot water for tea or noodles.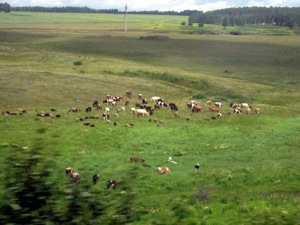 Siberian scenery. I bet it's even more beautiful here in winter.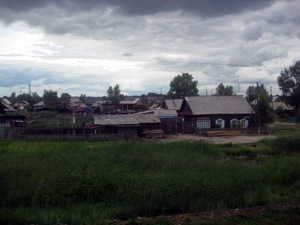 Wooden houses before Kansk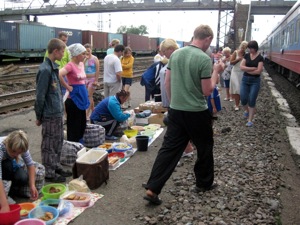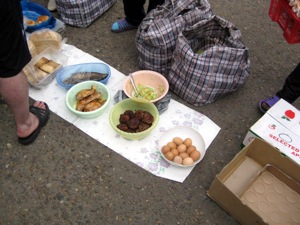 The first homemade snacks in Ilansky.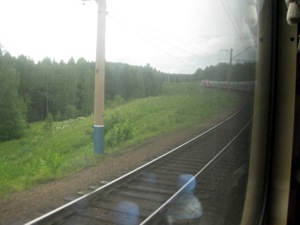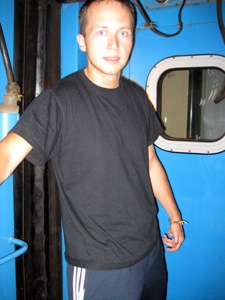 The required photo of the long train and me in the passageway between cars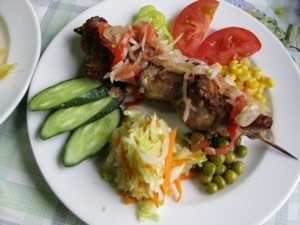 Delicious dinner in the dining car