July 3rd
We got to Moscow just as some guy's cell phone rang. He answered it in what can be described only as "a very large voice". At first, we thought the voice was coming through the intercom. The Moscow metro is very confusing. It started with us not being able to figure out how to actually get into the station. There is an obvious exit in a near by building, but the entrance was buried in a parking lot short walk from the train station. It was completely out of sight. To get into the metro, you use your fare card and place it against the reader. Since the readers also had slots, we assumed the cards go in the slots, the way Metro works in Washington, D.C. This didn't work. We were standing with our heavy packs helplessly perplexed until a young Russian guy stepped in to help.
The transfer stations have multiple names, written only in Cyrillic, with a different name for each line. The lines are numbered. We are heading to Kitay Gorod, Chinese Town in English although we didn't see any Chinese at all. We started on line 1 and took it for two stops, to Chistiye Vody. There we had to switch to line 6. So we followed signs but when we got to the other "station", we saw signs only for line 1 & 2. Turns out these were actually the track numbers. Why on earth they don't use A/B for tracks and numbers for lines is beyond me. The way things are you end up taking line 6 in direction 1. Our hostel, Comrade, is a walking distance from the station. We headed up the right street, Maroseyka away from the Kremlin, but first found ourselves in the wrong courtyard. Courtyard No.9 was really sketchy and occupied by strange looking adolescents. There were no signs for the hostel and hence we continued to the next one. The next courtyard, although without a number, was indeed the right one, No.11. Still, it looked just as dumpy and again there were no signs. We walked around hopelessly, until the hostel guy came out and led us up a crumbling staircase, by a DOG TURD, to the third floor. As far as I can tell, the building is abandoned except for the hostel. The hostel is crammed. There are 5 bunk beds per tiny toom. No lockers and no hot water! I guess this is normal for Moscow in the summer months. The old pipes have to get checked and replaced annually to assure the centrally produced hot water will reach all residents during the cold winter spells. There is a W/D, kitchen and a common area, which only barely resemble the digitally created photographs online. The reception and the common area is covered in old nasty mattresses with random homeless-looking people sleeping on them. No wonder they advertise (falsely!) with the CAD images. In the room is bunch of guys, including a loud Australian snacker. We skipped dinner and went to bed. Comrade is the dumpiest hostel I have ever stayed in. However, according to various reviews, it is also one of the best in Moscow. This doesn't speak too loudly for the other localities in the city...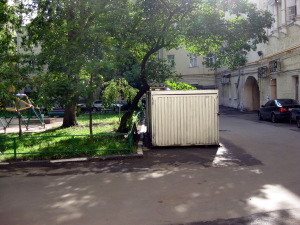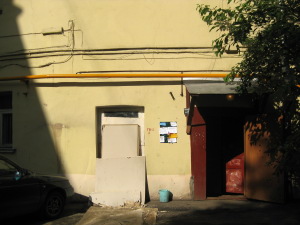 The courtyard, and the door leading up to the hostel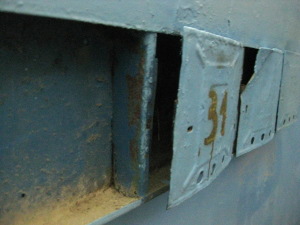 Something tells me that residents have not checked their mail for a long time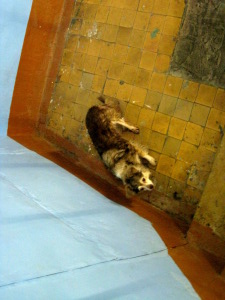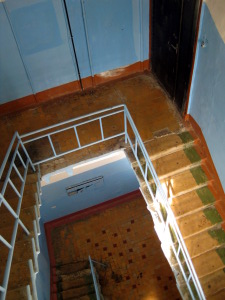 At the bottom of the crumbling staircase was a dog turd which was not swept away during our 2 nights there.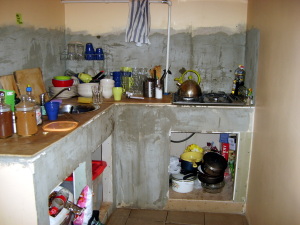 The common area and the kitchen. They bear only a slight resemblance to the digital "photos" online.
July 4th
Today is the first day of the second half of our trip. 14 days gone, 14 to go. We started by having breakfast in Teremok, a chain of crepe shops. I had a pancake with ham & cheese. We then headed to the Red Square. It's pretty surreal to be here especially on the 4th of July! To the left is St. Basil's Cathedral, to the right is the State Museum. On one side is the Kremlin wall and the Lenin mausoleum. On the other side is GUM, a huge department store. We started our exploring at the Kremlin. I was hurrying Leslie because I thought the line will be really long. But there was no cause for alarm. There was no line at all, only few people waiting for the next batch of tickets for the Armory. The line to get through security was also only about 5 minutes long. On the inside, police officers with whistles keep tourists at bay. Anyone stepping outside crosswalks, tourist designated areas or otherwise getting too close to the administration buildings was bound to get whistled at. We saw the Tsar cannon and the Tsar bell. Then we got in line to see one of the Cathedrals - the one near the Ivan clock tower. It was full of icons. We also went inside the small cathedral next to it. This one didn't have much besides a gift shop. The first one also had bunch of old icons - one of St. George from the 11th century. If I remember correctly, this is the oldest cathedral in the Kremlin. We walked along the western end and saw a bum napping in bushes. At least, that's what we though. It soon turned out he was actually a soldier guarding the perimeter and removed the upper part of his uniform. While we were sighseeing it started sprinkling, but the rain soon passed. We ate lunch in Sbarro. It's pretty funny that right by the entrance to the Kremlin you have Sbarro and McDonalds. I guess that not even the Red Square can escape American imperialism. After lunch we went into the Russian State Museum. Leslie managed to use her AVC card for a discount. I wish I had brought mine too! Normal price was 300, and hers was only 80. This ticket also let us in the St. Basil's cathedral. The museum is really large and definitely worth the visit! It starts with pre-historic findings, and goes to the age of Peter/Catherine (big medals) and possibly to WWI. I am not sure if there are more sections containing more recent history (WWII, communism). That's what I really hoped to see, but the icons and various gold pieces were still worth the visit. We were also already totally exhausted. We thus headed out and went to the St. Basil cathedral. This cathedral is spectacular from the outside, but the inside did not offer much in the way of the Spilled Blood cathedral in St. Petersburg. It is basically just a maze of dark alleys with an occasional icon. There is only a small central "chram".
Next stop was the luxurious GUM department store. What I found really interesting is that despite the many expensive brands here, the mall has only squat toilets. I find it quite difficult to imagine a Russian lady use a squatter while sporting a long fur coat. But I guess all is possible. The other option for "facilities" near the Red Square is a long row of portapotties past the museum. Each row ended with a portapottie in which the attendant set up her shop - public bathrooms are not free in Russia. It was pretty weird to see coats hanging inside a portopottie, and a lady in there reading a newspaper. At least she doesn't have to go to far from the office when the time comes... The cost was 15R. We returned to the hostel for a nap, but there was too much commotion to fall asleep. Out of the 10 beds, 6 had people in them (including us). This included the loud Australian snacker, who as I can tell, has been living in the hostel for quite a while now, and has not left once during our time there. After about an hour we went out for dinner. Our hostel receptionist could only recommend Teremok. Come on! I found a recommendation for MuMu's in LP. It was near Lublyanka where KGB was located. MuMu is a cafeteria style place with really cheap but good food. I highly recommend it! I had mushroom soup, some salad, fish with cheese and vegetables and mashed potatoes. We also had beer. The total for all this was <500R - 1$~23R. That was for both of us, so we paid only about $12 per person. That night we got 3 girls in the room who are in Russia volunteering. They are pretty nerdy and really religious. Before falling asleep, they made several strange comments such as "I love religion more than public transport. Public transport smells!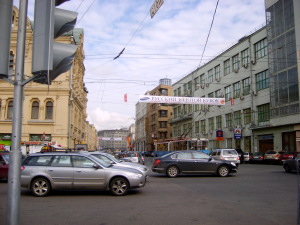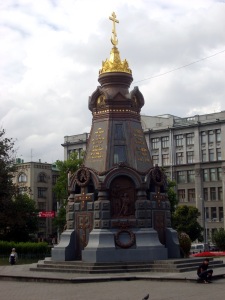 Heading down to the Red Square. The chapel on the right is a memorial to soldiers who fell in a battle near the Bulgarian city of Plevna in the year 1877.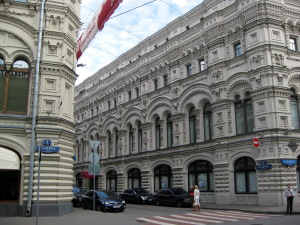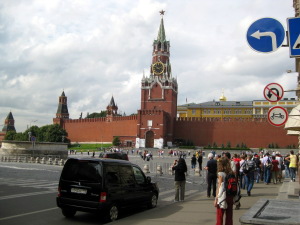 Approaching the Red Square - and there it is. That's Kremlin.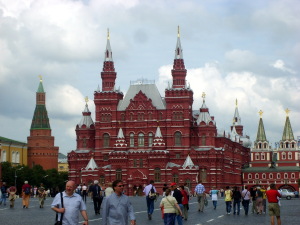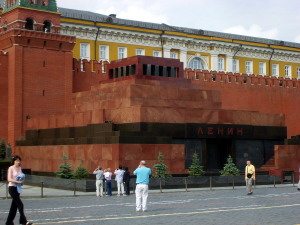 The Russian State Museum and Lenin's mausoleum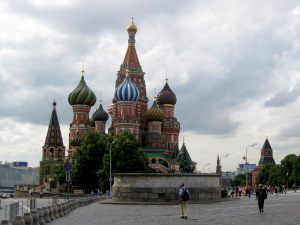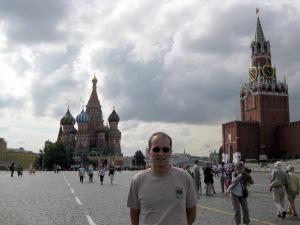 St. Basil's Cathedral. Everyone needs a photo here!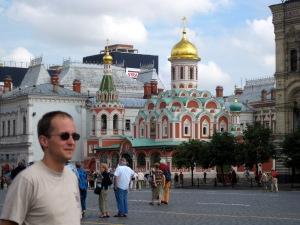 One more portrait on the Red Square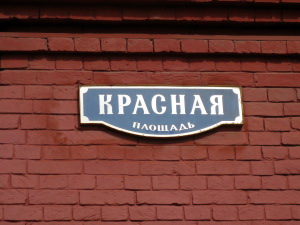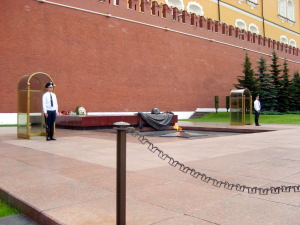 The sign (Red Square) and an eternal flame burning by Lenin's tomb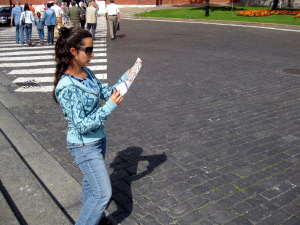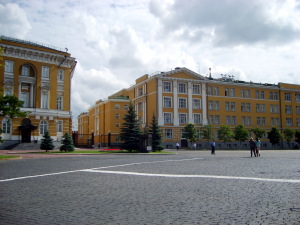 We are next off to the Kremlin
The Tsar Cannon, an enormous 35 inch caliber howitzer commisioned in 1586. The cannon balls weigh in at 2 tons!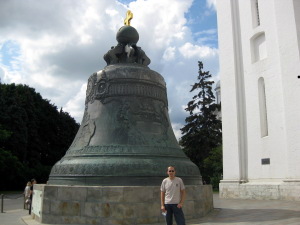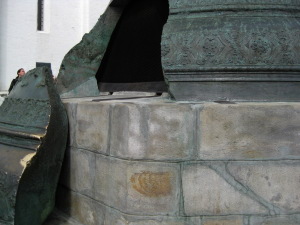 It sits next to Tsar Bell, the largest bell in the world. Unfortunately it cracked in a fire in 1737 while it was still in the cast.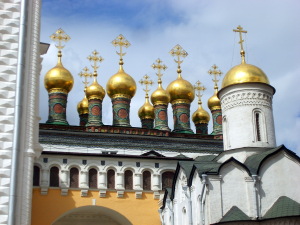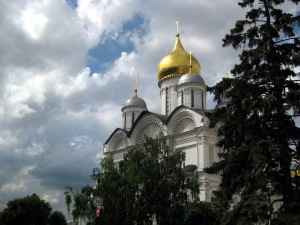 Church of the Deposition of the Robe with its spectacular towers. It dates to 1484.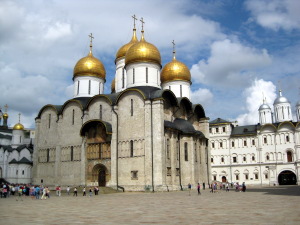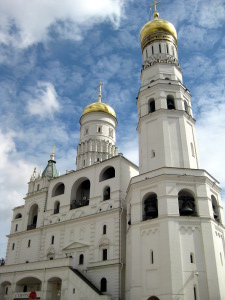 Cathedral of the Dormition, the most spectacular building in the Kremlin. Also the Ivan the Great Bell Tower.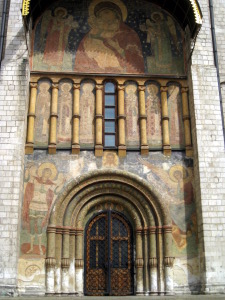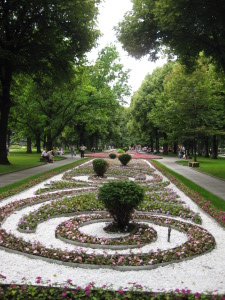 Spectacular doorway to the Dormition Cathedral and a garden in the Kremlin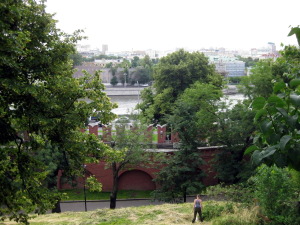 The guard we initially mistook for a bum. View to the west.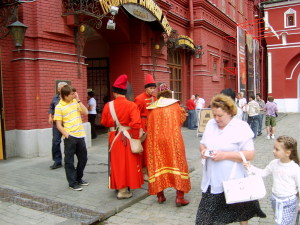 Lenin, Stalin and Brezhnev at the same place? Neat!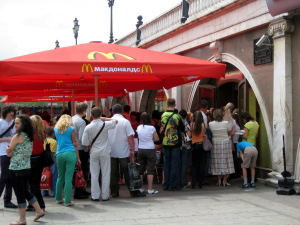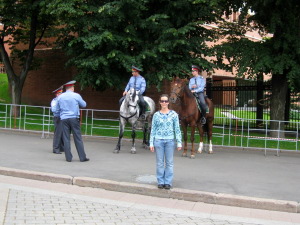 There is a McDonalds outside Kremlin that is very popular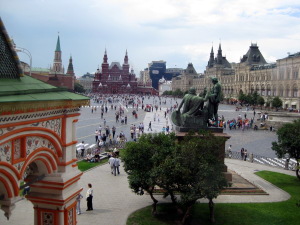 View towards the Russian Museum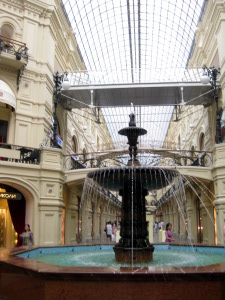 Inside GUM, the luxurious department store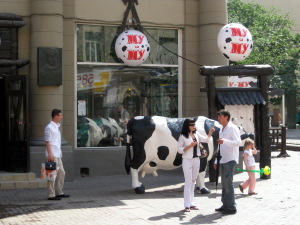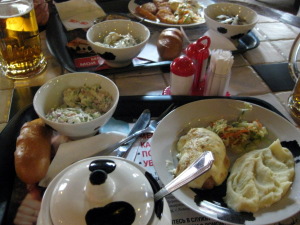 MuMu, where you can have all this food for only 12 dollars a person
July 5th
We left after another crappy night for me. People checked in late in the night making ton of noise. We wanted to get breakfast at 9 at the Teremok but it didn't open until 10. So we went to the grocery store and got yogurts. We then went to Red Square to queue up to see Lenin. We sat on the square until 9:45, without seeing any resemblance of a line. This seemed suspicious so we walked around, and found the entrance (and the line!) by the Alexander Garden. There were quite a few people here. In front of us was a guy from Dallas who started telling us how his wife loves Budapest spas and how they love flying to the Vatican for the Midnight Mass. Ordinary folk... But he liked Bratislava and the friendly Slovak people so I guess he is alright. There was also a wreath laying ceremony at the Tomb of the Unknown. It started raining while we were waiting in line. The weather in Moscow is quite fickle. Baking sun gives way to rain in the matter of minutes. It was pouring by the time we got through security. We ran past the graves of various statesmen (including Stalin) embedded into the Kremlin wall seeking refuge inside the Mausoleum. The actual tomb is underground with soldiers standing at each corner along the way. It's very dark inside. Lenin looks a lot like a wax figure. There are rumors that he was indeed replaced by a wax look-a-like. This is hard to tell since the embalming process is also based on covering the body with wax. The visit is very rigid. Everybody has to stay in a single line and not much time is allowed for viewing. Perhaps this is done to prevent anyone from making a conclusive analysis.
It was still raining so we ran to the GUM department store to hide from the rain. Here we also looked for an umbrella. I realized that I had no idea what sort of a store would carry one. The only umbrella I have ever bought was purchased in Target, a carry-all store. Should we go to a drug store? Accessories? Souvenirs? In the end, we left empty handed. Well almost, we picked up some vitamins and a toothbrush. Mine was completely destroyed after 14 days of vigorous brushing - I blame my crooked teeth. GUM has a glass roof so we could tell easily when the the rain eased. We eventually managed to find an umbrella store in the underground passage by Kitai Gorod. They wanted 600 for a fancy one. At the next stall we fond one for 150, much like the one that fell off Leslie's backpack. We cold showered - I guess the hot water is coming on tomorrow - and checked out. We left the bags at the hostel and went to Teremok for lunch. I had mushroom soup and a salmon filled pancake. Oh and we got "okroshka" - cold kvass soup - which tasted like beer with onions and other herbs and was absolutely foul.
Next we got on the metro and rode the circle line, which I apparently goes in only one direction. Luckily for us, the way we wanted to go, to Arbat Street, took the long way and we got to see the famous pretty stations - Komsomolskay and Prospekt Mira were the nicest. Arbat Street is one of the oldest streets in Russia and is very popular with tourists. I didn't really know where to go, but it was easy to spot the souvenir stands from the metro. Old Arbat is a pedastrian street and is lined with cafes and souvenir shops. Musicians and street singers are everywhere. An open end farmer's market marks the end. As we started walking, I had an idea that it would be neat if someplace sold T-shirts with Moscow Metro on them. Just as I finished the though I spotted one. Leslie got a wooden bowl for my mom. At the market we got apples, peaches, cherries and an assortment of cookies. I also got gooseberries - they were not ripe though. I used to eat these a lot as a kid in Slovakia. In Slovak, these berries are called egreš or pôlky. Although they were not ripe, it was very nice to eat them again after all these years. The road next took us to a Stalin-era skyscraper. Later we found out this is the Ministry of Foreign Affairs. We ate at a pricey German restaurant on Arbat street. The menu was only in russian and german. Our German class came in quite handy, quite. I ended up ordering - accidentally - liver with onions. Leslie got some goulash thingee. I forgot to order a side as I am still getting used to this system but it was still good. See, in Russia, just as in Slovakia or the Czech Republic, the main course does not come with a side. The side must be ordered separetely. Yet, the best part of the meal was people watching - we were sitting at an outside terrace. There were few shady characters hanging out by a beer/soda stand - likely pickpockets. I hoped to see one in action but it didn't happen. We then rode the metro to Kitay Gorod and walked to GUM. Les got an olympic Cheburashka from Botoo sport. This cute animal comes from a popular kid story and is the symbol of Russian sports teams in the upcoming summer games.
At Kitay Gorod, we walked back to the bookstore by the hostel where I got Malish i Karlsson (another Russian kid story) book for 60R and Leslie got couple fold out fairytales for a coworker. We walked to some "health tree" type of place to spend time until 9:30pm. Well, luckily at 8pm I looked over the tickets. Turns out, our travel agent got us tickets for a different train! We are on the luxurious No. 02 Rossia instead of the more budget No.10 Baikal we had requested. So what's wrong? Rossia leaves at 21:25 instead of 23:35. We almost missed the train!! We quickly packed up, and hurried to the train station. It was really really stressful. The station was a real mess. It took us about 10 minutes just to find out where the trains are. I also wanted to take out more cash but it took forever to find the only ATM. I walked outside through a maze of vendors. I found the ATM hidden in the corner of the ticket register room. We got on our train little after 9 - with not much time to spare! We are in car 9, in beds 13/14. In the car is also a 50-something mom and her son. The son came only to say bye and soon left. The lady speaks very little English making communication bit difficult - my Russian is only slightly better than her English. The compartments are a bit crammed but there is enough room to put all our stuff. The bottom seat lifts up. There is an enclosed area where we put Lesie's pack and also my shoes. My pack fits next to it. There are restrooms on both ends of the car. They have a hole (for drainage) in the floor and plastic honeycomb to stand on. The restrooms get hosed off once a day and the water leaks out the bottom. The toilet is flap-based. Our sprovodnista is a hefty woman with dyed hair. She seems really nice. The best thing is that she brought out dinner! We didn't expect to get food on the train so this was awesome. There is yoghurt, cold cuts, crackers and also tea and coffee, to be used with the samovar. I am not sure if the thing is electrical or not. It has a little door on the bottom which looks like the door to a furnace, yet I never see anyone add any fuel to it. We each got a mattress that goes on top of the seat plus a pillow, blanket and a sheet. We settled in, but I couldn't sleep much. I had a small headache, plus the train kept bumping a lot. We stopped twice and at the second stop a large Russian bear got on. Leslie did not hear him come in and got really freaked out when she woke up to some fatso climbing to the bed next to hers.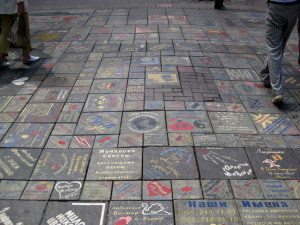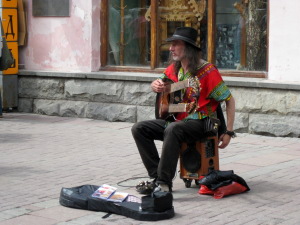 Artistic scene on Old Arbat street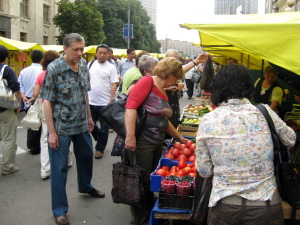 Gooseberries, not ripe yet still tasty, at an open air market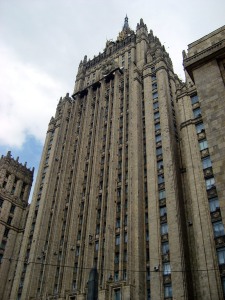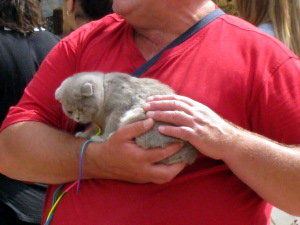 The very Stalinistic Ministry of Foreign Affairs. Also a guy advertising a cat show.