Date: September 4th, 2022
Time (Lubos): 4:23:54 (10:04 pace)

Medellin
Since our first visit to Medellin in 2018, I had in mind the idea of running the Medellin Marathon. After all, it is the only major marathon held in Colombia. Bogota's 8675 feet altitude is way too high to support a competitive race (although the city hosts several half marathons). Other cities, like Cartagena are too steamy, although there is a marathon in Barranquilla, which does not sound confortable at all. This leaves Medellin. With its intermediate 4,905 ft elevation and a year-long mild 70 F temperature, it is the most optimal location to hold the country's main race. Medellin is a really fun city, so signing up for a race seemed like a good excuse to make a return trip. I originally registered to run the 2019 iteration. However, that year I suffered from a really bad plantar fasciitis that didn't clear until 2020. By then, the world was in the midst of the global pandemic and races were canceled left and right. The 2022 iteration was the first time this race was run since 2019, if remembering correctly.
Sandra and I flew into Medellin Friday, September 2nd. At the airport we met up with my father in law, Hugo, and then proceeded to the city to drop off our bags at the really nice Landmark Hotel. The El Poblado neighborhood, where the hotel is situated, has become very popular with digital nomads and other backpacker types, and is full of various neat restaurants and microbreweries. The hotel offers a beautiful panorama of Medellin from its rooftop pool. While the room was being cleaned, we taxied to the expo where I picked up the massive packet. It weighed several pounds, which is partly due to containing a liter-sized carton of almond milk. Back at the hotel, we were given a loft-style room, with Hugo taking the upper floor. Sandra and I went for a jog around the neighborhood. We basically made it to Parque Lleras, which was completely dug up due to some construction, and back. Then later in the day we walked around Poblado and had dinner in a really neat restaurant around the corner that also featured live music. Then Saturday morning, I joined Sandra and Hugo for coffee in a nearby bakery. However, I subsquently returned to the hotel and stayed in all day, relaxing. I mostly remained in the lobby restaurant, enjoying a tasty veggie burger, and about half dozen beet smoothies.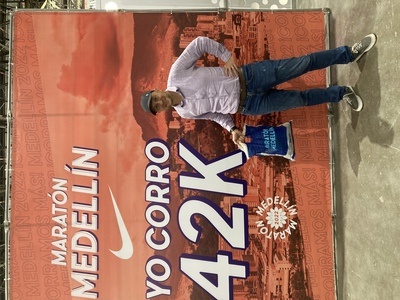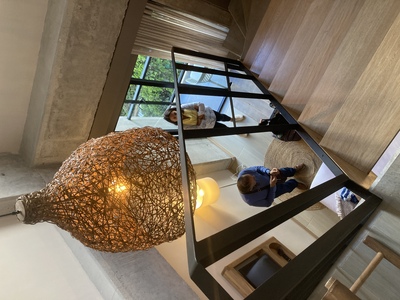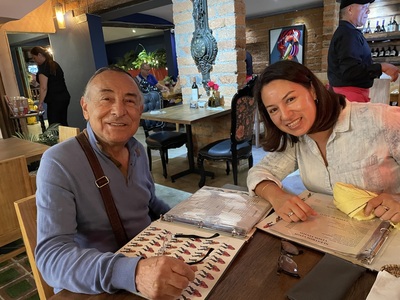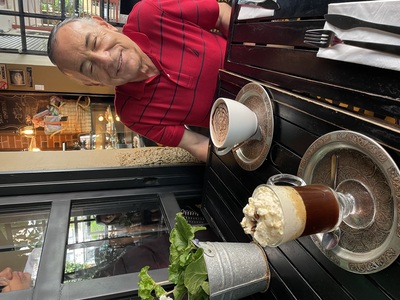 Then Sunday came and it was time to do the race. While the expo was nicely organized, I didn't really know what to expect from the race itself. My speculation is that sometimes during the pandemic, the management of the race got transferred to a new company (MCM), that, at least to me, came across as more of a social media influencer group than being serious race organizers. Prior to the 2019, this race was called Maraton de las Flores (since Medellin is known as the flower city due to its "eternal spring"), however this name completely disappeared off the site. The site design also changed drastically, and not for the better. For the majority of the time, the site only contained links for purchasing swag like T-shirts or hats and had *zero* information on the course itself. There course map got posted less than two weeks prior to the start of the race, and consisted just of a link to an external mapping site such as MapMyRun. At least from running in the USA, I am used to race websites being much more informative. Heck, CIM even sends out a .pdf booklet with all the essential info. Anyway, as such, I wasn't sure how well the course will be marked, and was prepared to run the whole route from my own map and being fully sufficient on food. Luckily, none of this was needed, as the course was actually well marked and lined with supporters for the majority of it. Probably the biggest challenge was getting to the start as many roads were closed, which made the traffic situation in this already traffic congested city even worse. Medellin has a Metro, but the start was not easily Metro accessible, from what I remember. We ended up sharing a cab with another couple leaving our hotel for the half marathon.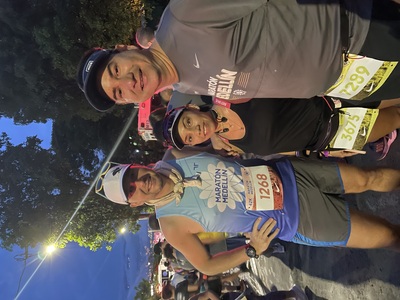 I then made my way to the massive start line. This race consisted of four events, including a half, 10k and a 5k. The full marathon started first, followed by the half, and then the shorter events. I wasn't planning to go in all the way, as this run was supposed to be a checkout for CIM. However, I soon realized that this race will be much slower than what I expected. I was hoping for about 3:35 finish time, but it quickly became obvious that achieving even 4 hours won't be possible. I like to start marathons with a slow pace for the first two miles to warm up and then gradually ease into the faster pace. Well the problem was that I just simply could not speed up. I was feeling really awful. I had to start walking somewhere around mile 9 as I felt like I will pass out if I don't do so. I am not sure what exactly was the culprit, but I imagine it being some combination of the lack of training, the humidity, and the nearly 5k foot elevation. While nowhere as high as Bogota, Medellin altitutude is much higher than what I am used to from training at the sea level in Los Angeles. The first part of the course had us running through a quiet, tree-lined neighborhood. We then returned back to the river. This is where the half-marathoners split off. Us doing the full, continued on a smaller road paralleling the river for an out and back section. We then hopped onto the main thoroughfare Avenida Las Vegas for a long out and back to Ibaque. By now, my earlier queasiness has passed and I was able to keep running without getting that passing out feeling. Here I saw Sandra and Hugo cheering. I also chatted for a bit with a Polish guy who was running not long after completing some climb in the Andes. Also, somehow by causality, we found out that our Los Angeles friend Carolina was in Medellin. She helped to pace me for the last 2 miles. I made it to the finish line at a ridiculously slow time (for me) of 4:23:54. I then made my way through the jam-packed finish area to a spot where Sandra could join me. After another 20 minutes trying to get a cab, we were finally on our way back to the hotel.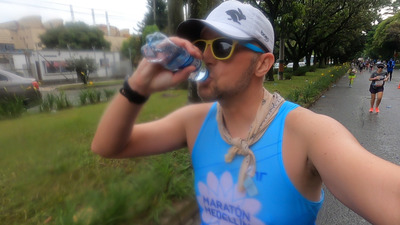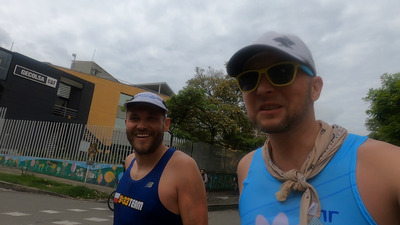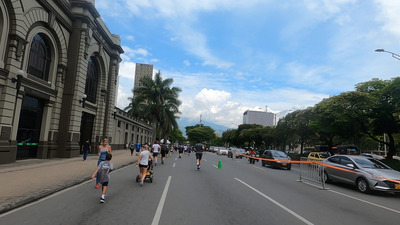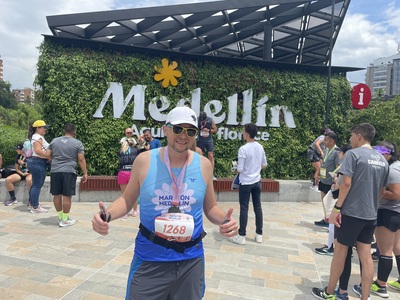 Below is the trace from my Garmin along with my heart rate and pace data. My earlier fear of the coarse not being marked did not pan out at all. However, one area with a major shortage was the lack of port-a-potties. I seriously do not remember seeing a single toilet on the course until mile 22 or so. That's ridiculous. I had to pee, and finally ended up peeing in some grass on the side of a road. Not ideal. I also saw some lady running with her leg completely covered in poop. Again, not an ideal sight or a running situation. The elevation and humidity also are no joke, especially if you are, like me, used to running in dry sea-level environment. But otherwise, Medellin is such a fun city, and this is a great way to experience it. I may come back for another run, but most likely will only do the half-marathon. But even that is not without its risk. After the race, we found out that there was a fatality, with a 30-something year old half-marathoner collapsing near the finish line.

Guatape
The next day we said bye to Hugo and Sandra and I set off onto the second part of our adventure. This involved visiting the town of Guatape, which sits by the massive man-made Guatape reservoir. Sandra and Hugo actually came here on their prior to heading to Pereira for the New Years Eve. I have seen photos and really wanted to experience this unique town for myself. The main highlight is the strangely shaped El Penol rock that towers over the lake. It looks really out of place. There must have been some very interesting geological processes taking place here that left this otherwise flat valley with a singular towering boulder. This trip to Guatape was booked through a travel agency, which included the driver to and from, as well as a visit to a coffee plantation, a town tour, and a boat ride. At the finca, we got to help the farmer pick some coffee beans, and later got the tour of the old-fashioned equipment used to make their small batch coffees.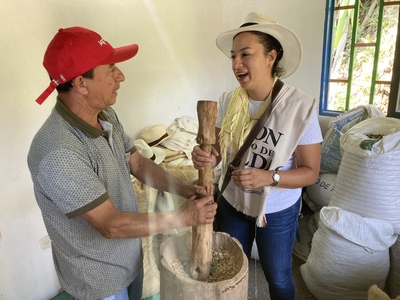 Next we visited the recreated town square of old (Viejo) Penol. This landmark replicates the old town that was flooded during the construction of the reservoir. Then it was time for the main attraction: climbing the 600+ steps to reach the top of El Penol. I wasn't sure how my legs will handle steps the day after a marathon, but they were fine. Normally (from Sandra's recent visit) there is one staircase to go to the top and another to go down. Well for some reason the way down was closed, so both ascending and descending parties had to push through each other on the same staircase. This made for many uncomfortable instances. It wasn't long after this trip that many people died in Seoul during a Halloween crush. Obviously nothing happened on our climb, but again, I don't think we were too far from a disaster in case somebody tripped higher up, and dominoed those below into a pile of suffocated bodies. The views from the top were superb. There is also a restaurant near the top but we did not stop in. After descending, we invited an American couple we met on the way down to join us for lunch.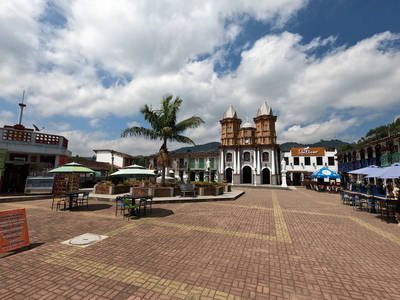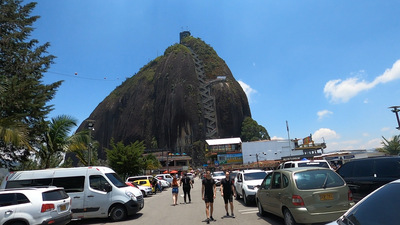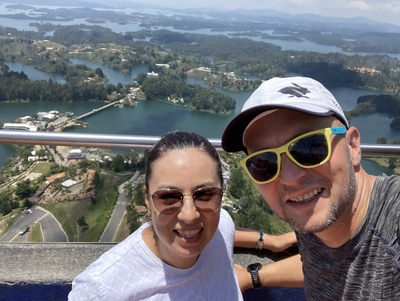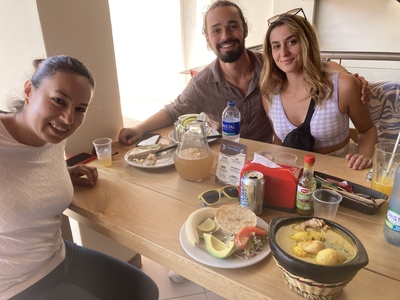 We then continued to the main town of Guatape. This town is superbly cute! The main attraction are the "zocalos", which are essentially three-dimensional murals found on most buildings describing the occupants. For instance, a house known for making empenadas may have a zocalo depicting somebody making them, as in the picture below. Later we headed to our hotel, Tau House. Guatape (just as Medellin) is undergoing a massive tourism boom and there are many hotels either recently built or under construction. This is one of the newer places. We were very happy with our stay here. The hotel is near the water, has an outdoor pool and hot tubs and also has an amazing restaurant. For those looking for something more natural, during the boat ride the following day we passed by several "eco-lodges" where you can go glamping in a fancy tent, or stay in various igloo or tree house structures. I could totally see myself spending few weeks in Guatape just to recharge. It's an amazing place. On the boat ride we also passed by Pablo Escobar's La Manuela. This former villa is now in ruins and is not accessible. It is somewhat surprising that the state / city has not tried to restore it into a tourist attraction. After the boat ride we had a round of good cocktails in a bar at Viejo Penol overlooking the lake. We stayed in Guatape Monday and Tuesday night, and headed to the Medellin airport after breakfast Wednesday morning. This was just in time to get me back for my Thursday class. I was teaching Thursday this semester so a lot of traveling had to be done around the class schedule.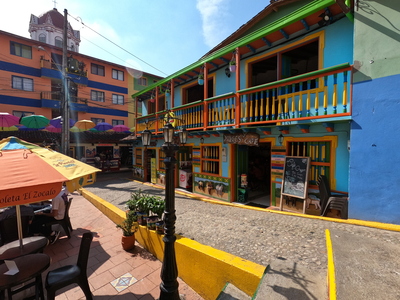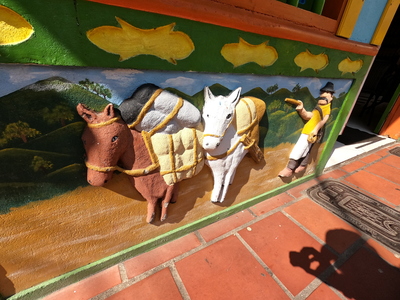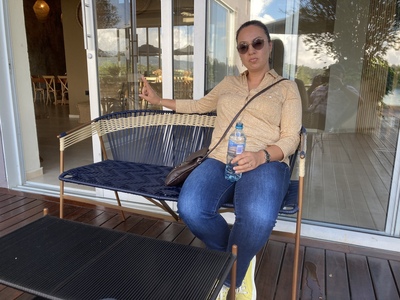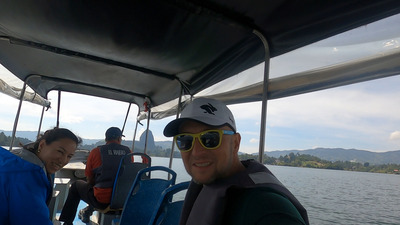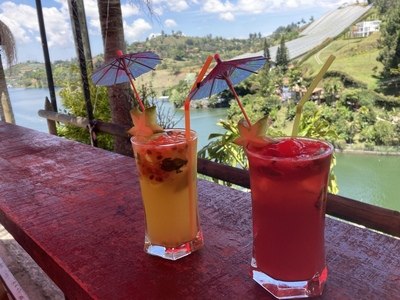 Comments or questions? message me