Date: July 20-25, 2022

It's been several months since our last big trip, and with Sandra's birthday coming up, I noticed that United was selling direct flights from LAX to Maui for only around $300. We have been to Hawaii only once before and that was to the Big Island. This seemed like a good deal towards an affordable trip. Only later, once booking the room, we realized that apparently the pricey aspect of visiting Maui are the accommodations. Many hotels charge in excess of $1,000 per night. We managed to find an AirBnB (technically a VRBO) that was advertising around $150 nightly rate. However, once the taxes and a cleaning fee were included, the rate mushroomed to around $350 a night. This was still cheaper than the hotels, but not really a steal. The flight was perfectly fine. We got to Maui just as the sun was setting so we got to see the island from above. At the airport we picked up a convertible Ford Mustang from Enterprise. This would be our first time ever in a convertible, and it was quite nice. We then drove for about an hour to our condo in Kihei Bay Vista complex. Maui has a shape of a figure 8, place on a side. The airport is located on the northern end of the middle skinny section, while our hotel was in the southern end. After parking the car in the rather tight spots and unloading the bags, we drove to a nearby shopping center where we managed to grab take out dinner just before 9 pm closing time.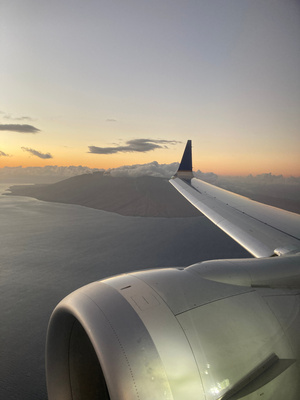 The next morning we set off on the "Road to Hana". This drive seems to be a must-do thing in Maui. Hana is a small town located on the eastern end of the figure 8. The standard route from Kahului (where the airport is located) involves driving on a tight twisty road through a tropical forest, passing on the way multiple waterfalls, hiking trails, plantations, botanical gardens, cafes, and other points of interest. We didn't stop much as even early in the morning, most parking lots were already full. We did however grabbed coffee and banana bread at one cafe, and then visited Kahanu National Botanical Garden, which had an impressive collection of local food crops. One downside of this drive is that there was no cell signal so you should plan your stopping points before hand, and not hope to wing it as we did. Hana highway continues past the town of Hana, but I believe that most people turn around once reaching this destination. Not us. We instead continued onward, and completed the full loop around the "lobe". While the northern, more traveled section is pretty, the southern part, called Piilani Highway, is absolutely spectacular. It is also much more sketchy. As you can see from the video below, the road here is much tighter and in some parts is not paved. But the views of the nearby-ocean are amazing!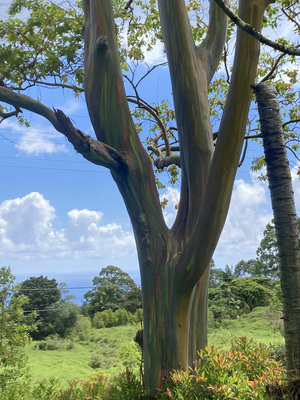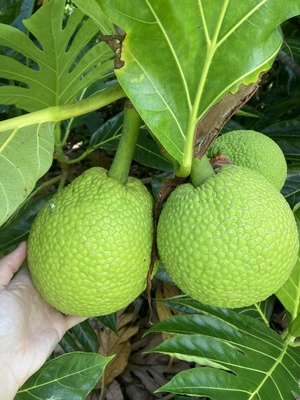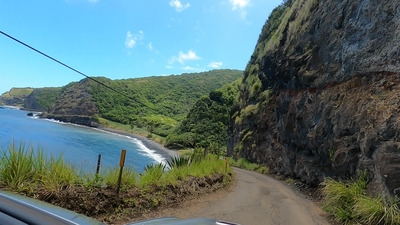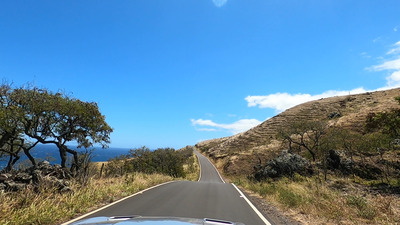 We got back to Kihei around 4pm. This was just in time to change and head out for dinner. I made reservations at the Ko restaurant at the Fairmont hotel in the near-by resort community called Wailea. This was recommended as one of the better restaurants on the island. The most popular one seems to be Mama's Fish House off Hana Hwy, but that place requires reservations months in advance. Our dinner was still very nice. After dinner, we walked along the beach path. One nice feature of Maui is that all the beaches are public. So while you may not be able to (or willing) afford the astronomical resort rates at places like the Fairmont, you can freely stroll by the property and even visit the hotel to experience their restaurants. The only part not open to the public seems to be the pool area, but many hotels sell day passes.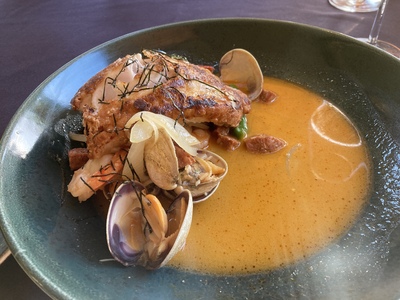 The next morning we set off to Haleakala, Maui's tallest peak. It essentially forms the right "lobe" of the figure 8. The drive to the top was also pretty since you pass various climate zones. One section looked like Northern California, with trees then turning to shrubs, and then making way for a barren moonscape. The summit contains multiple telescopes operated by the Air Force and University of Hawaii and responsible for among other things, tracking of space orbital objects. The visitor center located slightly below the summit forms as the trail head for the Sliding Sands Trail into the massive crater. We followed this trail downhill for about 3 miles and then hiked back up. On the way home, I found on Google Maps a highly rated Maui Pizza Truck. This was not really a food truck but instead a parking area where multiple mobile-home like eateries operated from. Nevertheless, the pizza was excellent. Went with my favorite combination of pepperoni, jalapeno, and pineapple.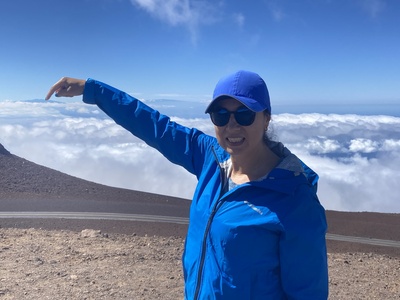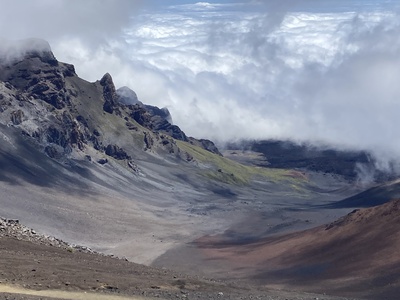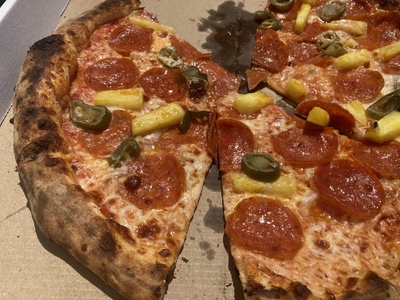 Then that evening we return to Wailea for a lu'au. This is apparently another thing that requires reservations ahead of time, with the most popular, the Old Lahaina Luau selling out weeks or months in advance. We thus ended up in the Grand Wailea Luau which still had slots. This particular one has bit of mixed rating, with some folks complaining it's too modernized and not traditional. Never being to a real luau before, I can say we enjoyed ourselves and it was basically exactly what I imagined. The luaus are a bit pricey at around $250 a person but its a good once-in-a-while experience. Upon arriving at the resort, we were offered drinks and also told about the open bar and various vendors selling trinkets. The entertainment then started shortly along with large quantities of food. The show involved various dancing and singing, with the singing being in Hawaiian. There was also an acrobat hanging from a tall palm tree and various fire dancers. There was so much food! We started with various salads as well as "poi", which is sort of this sour yogurt like substance made of breadfruit. The main course involved pork, chicken, fish, and poke. Then there were various deserts. I thought that after dinner there will be some opportunity for dancing to burn off the food. This didn't happen so we again went for a walk. We passed by a large company party. Must be nice working for a large company that takes you on a trip to Hawaii!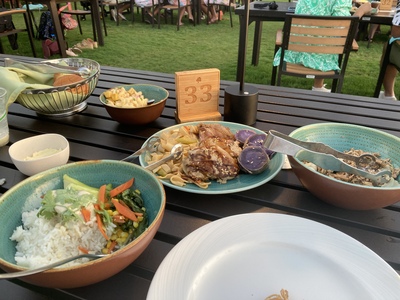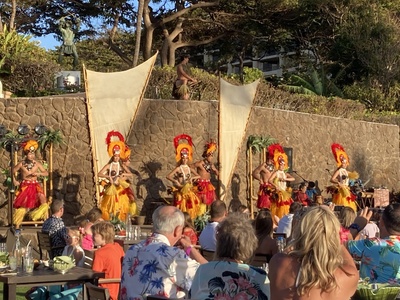 We spent Sunday July 24th relaxing at the beach. This time we drove over to Kaanapali, which is the western end of the left "lobe". This is another popular resort area, with prices more affordable than Wailea. Sandra got in the water and actually enjoyed it! I tried to do a bit of snorkeling but my snorkel kept getting water into it (I brought my own swimming snorkel with the valve on the bottom, and I think the seal is broken). There also wasn't too much to see near the shore, although I got a glimpse of few tropical fish. We swam near the Black Rock Beach rocks popular with cliff jumpers. Then in the afternoon we headed to Lahaina. We thought about possibly doing a submarine tour from here but it didn't work out time wise. There we had tasty sushi in Lahaina Sushi Ko. This restaurant was located in a courtyard below a popular bar called The Dirty Monkey and across the street from the Lahaina Yacht Club. Per Google, the yacht club was supposed to be closed that day, but as we walked past after our dinner, we noticed it was opened. So we popped in. We are members of our local club, and yacht clubs have a reciprical visitation rights (so if you are a member of one you can visit others). As we learned here, yacht clubs are basically social clubs for retirees and mainly involve a lot of drinking. This was no exception. The reason the club was open was that the members were awaiting sailors coming in from Victoria, Canada, as part of the Vic-Maui yacht race. I had no idea this race even existed and it was nice being able to be partake in it, even if just in the spectator sense.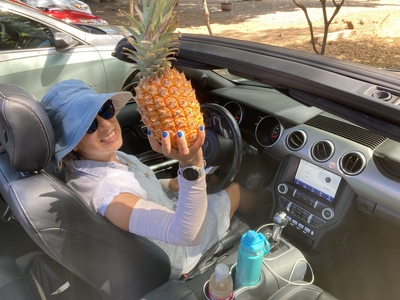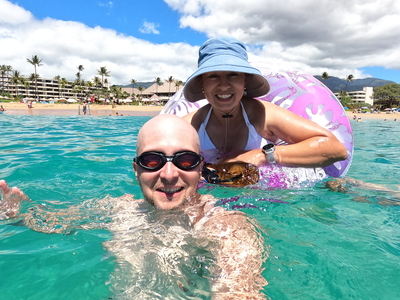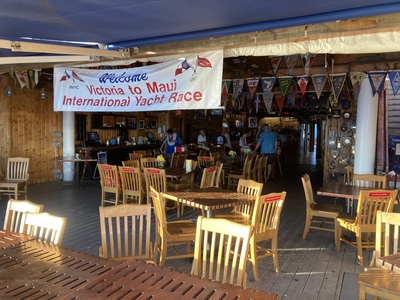 The next day was our last. We started by returning to Wailea to do some shopping in the large boutique mall and also walking around for the first time in daylight. The beaches here are quite lovely, although much smaller than in Kaanapali. Then at 2pm we had a sailing cruise out of Lahaina. This was by far my favorite thing in Maui. This being a sailing trip, we didn't have a chance to get in the water. But it was so nice to just relax for few hours, enjoying provided beer and wine before needing to head back to the airport for a late evening flight. Originally I thought we could drive around the northern part of the left lobe to essentially complete the circumnavigation of the island. However that road seemed even more sketchy than then Piilani Hwy. United was nice to upgrade us so we got to enjoy the slightly larger seats and dinner. It's somewhat funny to me how United called these seats "First Class", while they are no different in size than the seats offered as Premium Economy on international flights. We got back to LA in the morning of Tuesday the 26th. This was a very nice weekend trip and we are looking forward to exploring more of Hawaii.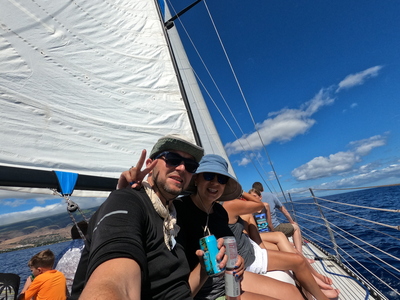 Comments or questions? message me