Date: November 22-28, 2022

Our Thanksgiving 2022 holiday was spent in Singapore. This was our first time to this wonderful city, but surely won't be the last. Sandra and I have done our share of traveling and Singapore takes one of the top spots. It has the sophistication and multicularility of London or Paris, but is of the tropical variety. The food is amazing, and there are hundreds of shopping malls. Skyscrapers and rooftop bars provide the backdrop but the city also offers plenty of green space for running or hiking, and there are various animal parks to explore the local fauna. Singapore has a reputation for being expensive but it was not unbearable, at least for us used to Los Angeles prices. Maybe one exception was the beer. But even there, just as with food, the prices tend to vary drastically depending on the establishment. The `quays' we stumbled upon the first two nights had a single bottle of Corona for S$16 Singapore dollars ($12 USD). Later we found liter-sized drafts in food halls going for a more reasonable $6 USD. What seems to be really expensive is owning a car. A permit is needed just for the right to have one. The cost varies annualy based on demand and at the moment, a 10 year permit goes for S$100k ($70k USD). Luckily, a car is not needed and is more of a luxury item. The public transport system is excellent.
The plane tickets cost us $1k each. Sandra makes fun of me for being "married to United" but I think it is better to concentrate your spending on one carrier instead of spreading miles across multiple networks without reaping a benefit. We used 30,000 miles and $300 each to place ourselves on a business class wait list. The way this works is that you pay only if the upgrade clears. Given business class seats sell for at least six thousand dollars, this was an excellent deal. In fact, on this flight I realized that upgrades are the best way to "burn" miles (besides perhaps buying tickets for friends and family). You still get the points for the base purchase that help you get closer to requalifying your status for the next year, but you also get to enjoy a more comfortable trip. Despite United using their application-based "Travel Ready Center" that lets you scan in documentation and passport, an airport agent needs to physically verify your papers. This includes the passport, COVID vaccination, and a Singapore arrival registration. As such, we were not able to check in until arriving at LAX prior to the flight. Knowing that upgrades clear in order of check in (with other things being equal), I figured our chance of catching the upgrade was rather slim. So I was pleasantly surprised to see our seat assignments moved to the front. The first leg took us to San Francisco, where we had a 3 hour layover. We used this time to visit the Polaris lounge. This was my first time to one of these. While it was nicer than the SFO United Club, it also wasn't all that extraordinary when compared to Star Alliance lounges found overseas (such as in Frankfurt). One unique feature, however, is a complimentary full service restaurant. We did not take advantage of it and limited ourselves to the excellent buffet. Bar alcohol was fully complimentary unlike in the club where it is limited to a selection of beers and wines. Yet, the main different was the general silence. This was true everywhere, but more so in a secondary "studio" and a downstairs "library". There were no TVs to be seen. Given that a World Cup match was taking place, we popped into the near-by Club, expecting to find a more bar-like atmosphere with TVs, as is the case at LAX. However, the SFO United Club is very tiny and in fact had zero TVs. So we headed back to the Polaris Lounge and asked the bartender to turn on the small TV beside the bar. Not long after, a small crowd formed around us.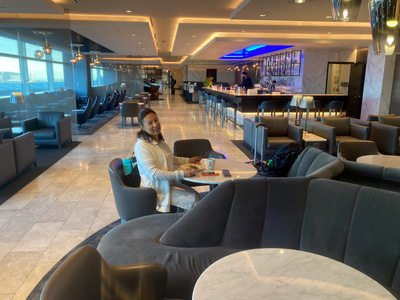 Soon it was time to head to the gate. We settled into our seats in the middle of row 11. I picked these seats arbitrarily, half asleep during the early morning check in, but was glad to have selected this particular row. The even ones are angled with the feet feet pointing towards the middle, and each person sitting by the aisle. That configuration is less suitable for couples traveling together. Now about the flight itself. Not trying to be too picky, but the service was not all that great. I think the flight attendants forgot about the mid-meal snack. We got served one meal shortly after take off. The second meal didn't come until about 15 hours later. As we didn't pack any food with us, we were starting to get really hungry. While walking to the bathroom, I noticed a basket with a few shrink-wrapped cheese sandwiches. I guess those were supposed to be the snack? Perhaps we slept through the food service but, being in business, I feel the flight attendants should have at least informed us of the food basket or asked us if we would like something to eat mid-flight. The sandwiches were also not particularly good. What is more interesting is that we got served larger portion, and more often, in the economy on the way back. Even the mid-flight sandwich in economy was superior to the business one. It came with a cookie and chocolates, and had turkey instead of being just plain cheese. For this trip I bought a Nook, and wow, what an amazing piece of technology. I never had an e-reader before and frankly didn't think I would like one. But I am sold! I specifically bought it as I wanted to read Daniel Kahneman's "Thinking, Fast and Slow". On the Nook, you still get the tactile sensation of holding a book, but don't have to lug around a heavy 500 page paperback that may start falling apart any moment you open it a tad too much. If needed, the Nook can turn on a backlight so you can read even in the dark.
Wednesday, November 23rd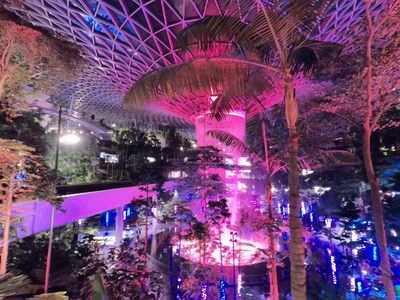 Our flight was scheduled to arrive at 8pm the following day as we crossed the international date line. If remembering right, we got in about an hour early. We passed through the passport control (no stamp unfortunately). Already being at the airport, we decided to check out the famous rain vortex at the Jewel mall. It was pretty neat, and a good introduction to the grandeur of Singapore's malls. We then spent some time figuring out how to get a metro card. While you can use credit cards pretty much everywhere in Singapore, one exception seems to be the metro. Only the cards issued by Singaporean banks work in the ticket machines. There is usually one machine that takes cash, but it also does not dispense the actual physical cards. We thus found our way to a ticket counter where we purchased the cards, with S$5 already loaded on them, for S$10. The cost to travel from the airport to the center is only S$1.88. Other, shorter trips, cost S$0.95. Not expensive at all! The metro is also very clean (just as the entire city), not too crowded, and punctual, arriving every 6 minutes. It is indeed a very convenient way to get around.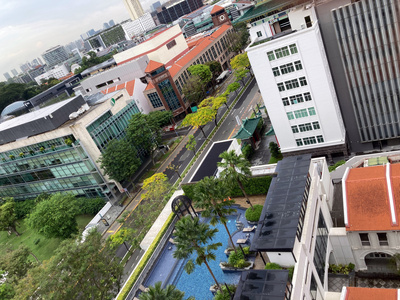 We got off at City Hall, which is on the same green "East-West" line as the airport, although we had to transfer at Tanah Merah. The end of the green line splits off in two, with one train serving just the Tanah Merah-Airport section. The metro lines are color coded, which helps. The one confusion, however, especially to those coming from the airport, is that the first stop after the airport, Expo, is a transfer station to the "Downtown Line". So, you as a new visitor, half asleep from your long flight, get on a train, and soon you hear "Transfer here to the Downtown Line". We were heading to downtown. Seemed like a message we should heed. Luckily, we stayed on, and later figured out the confusion. From the station, it was about 15 minutes by foot to our hotel, Grand Park City Hall. Our 5 night stay would have cost $1,421.81, but again thanks to a bunch of Chase Ultimate Rewards credit card points, we paid just $97.25 (plus 105,964 points but those are "free"). $20 bucks a night for this really nice hotel at an amazing central location is a steal! Upon reaching the hotel, you first take the elevator the 3rd floor, where the reception is located. This is also where the excellent breakfast buffet is served. We then proceeded to our room on the 9th floor. Crystal Club, serving private breakfast and also afternoon tea, and then dinner, is located on this floor, but we didn't have access. There was one floor above us, and above that, was the rooftop garden from where you get an amazing view of the iconic Marina Bay Sands hotel. Floor 4 has an outdoor pool, which I used once for laps. Seems these days the only time I get to swim is during hotel stays. I need to get back to my regular weekly public pool routine!
Our next priority was finding a place to watch the World Cup. On Singapore time, the games started at 9pm and then I believe again at 1am and 3am. The receptionist didn't have a suggestion where to go, so I plugged in "bars" into Google Maps and noticed a concentration about 10 minutes by foot in an area called "Boat Quay". I learned later that quay means "wharf". On that note, another unusual word in Singapore is "alight" used in respect to public transport. You don't get off somewhere, you alight at that station. Unusual! This Boat Quay area was full of various middle eastern eateries, and just about every of them had TVs passing a match. We found ourselves in a Turkish restaurant. The food was delicious. We started with hummus, which was superior to the grocery store varieties I am accustomed to. After dinner we walked around the area bit more and then headed back. It was only the last night that we found out there was a much better viewing option only two blocks from the hotel in a historic orphanage converted to a food hall called CHIJMES (pronounced "chimes").
Thursday, November 24th
The next morning, after the hotel breakfast, we walked across the Anderson Bridge to the plaza featuring the famous Merlion fountain. This is also where the classic Fullerton hotel is located. That was another hotel we were considering but was less affordable than Grand Park. The walk here was also only about 20 minutes, but one thing you got to realize about Singapore is that it is hot and humid! Even such a short walk can leave you quite drenched. It's definitely good to know how to cut across underground passages connecting shopping malls and the metro station. Just as in Japan, Singapore has a whole underground city invisible on the first sight. Walking on the surface, like the tourists we are, you may wonder where everyone is. After all, Singapore has the world's thirds highest population density after Macao and Monaco. Well, the answer is inside the air conditioned buildings and below your feet. From the Merlion we walked over to the Marina Bay Sands hotel. On the inside this hotel is cavernous. It was also jammed packed with people. There is even a shopping mall and a casino and the overall decor mentally transported me to Las Vegas. From what we gathered, there are two casinos in Singapore, with this being one of them. Gambling is quite popular, and it seemed like many tourists at this hotel traveled here specifically to gamble. What we found curious was that there were two entrances to enter the casino: one for Singaporeans and one for foreigners. I figured that Singaporeans get special perks, but the opposite is true. Gambling is considered (quite justly) a sin, and as such, locals have to pay S$100 daily fee just to enter. Yikes! Not only are the odds stacked against you, you already lose S$100 (about $70 USD) just by entering.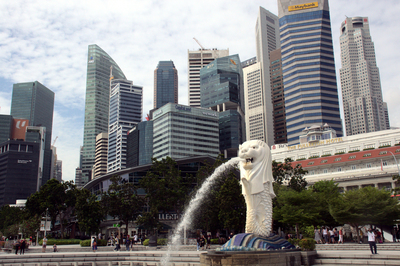 Inside the hotel, we followed signs to the SkyPark Observation Deck. At S$26 per person, this was a scam. The reason I am saying this is that you can get identical spectacular views from the Ce La Vi rooftop bar. Cocktails there cost a similar amount, so at least you get a drink for the money otherwise handed over just for the privilege of getting on an elevator. Subsequently we visited the adjacent Gardens by the Bay. This outdoor park features the famous "Super Trees" that light up at nights. It also features two botanical gardens inside giant glass domes. We first visited the Cloud Forest. This place was really neat. The whole city seems to be having some Avatar fever with various Avatar-themed decorations all over the place, including at the airport. This whole cloud forest was decked out with Na'vis and also had various interactive booths where you could try flying or generate your own avatar. I really enjoyed this misty park. You eventually find yourself on a sky walk and even pass by a giant waterfall.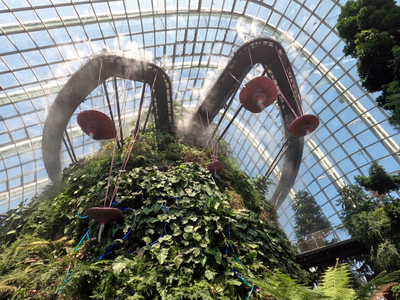 Next we headed over to the Flower Dome which contains gardens from various geographical regions. This place was nice, but nowhere as spectacular as the Cloud Forest. If you were to see just one attraction (there is a separate admission for each), then definitely err on the side of the Cloud Forest. Next, we explored the Super Trees from above on the Skyway. Finally on the way out, we stumbled upon a statue of a giant baby holding itself up by his hand, called Planet. We also encountered a neat statue of a tiger made of trash.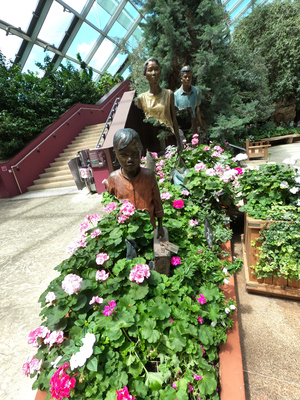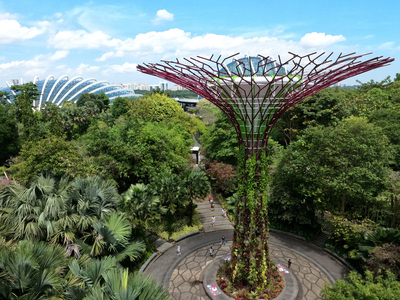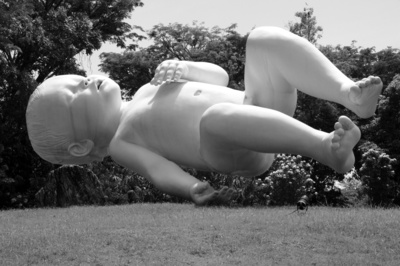 The final stop, besides exploring the shopping mall adjacent to the giant hotel, was the ArtScience museum. This place is quite interesting. I was expecting, you know, a museum, but it is more of an exploratory digital gallery. Instead of a single admission, you buy tickets for whatever exhibit you want to see. We opted for Future World, as it was the cheapest. Now this was money well spent! First, you enter this dark room with various projections on the wall. This included a waterfall, and if you stood closely to the wall, the digital water flows around you. We then found ourselves in a room with a giant floor to wall digital aquarium. First we were like, meh, this is neat but I don't see the big deal about it. But we also noticed bunch of people sitting around, painting something with crayons. It took us good 10 minutes to realize that they were coloring the fish that swam in the tank. You basically draw a fish, take it to a scanner, and a minute later, it appears in the tank. This was so silly yet so much fun! We made a fish (I included some racing fins hoping it would go faster) and scanned it three times so there were actually three of them floating around. We spent a good hour here.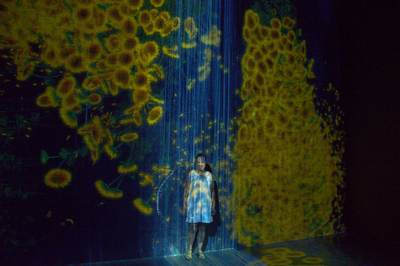 Our late lunch was in the shopping mall food court. Food courts are an excellent option for food in Singapore. Prices are affordable and the selection is immense. Well, selection of various Asian flavors. You are not going to find American food court staples like Sbarro here. One exception however is Shake Shack. For some reason, Shake Shack is really popular in Singapore. There are many of them in prime spots, including right by the Cloud Forest. They also look much nicer that then US variety. This is true really for all "American" brands. A typical Starbucks may be two stories tall, with a separate coffee station serving reserve varieties, whatever that is. The same goes for McDonalds Cafes in Europe serving cakes. I have never seen such a thing in the US. Foreigners must be so disappointed when visiting the motherland of all these brands they know from home! We had some tasty noodles for lunch. Interesting oddity in all food courts is that drinks are purchased in a centralized drink station. Then for desert I opted for a corn and durian topped shaved ice filled with beans and resting on top of neon colored seaweed (or something like that). Yum yum yum! Sandra wasn't as much into it. That evening we went to the Clark Quay area to watch more games. Most bars were jam packed, but we managed to find a table at Warehouse. This place had the most pricey beer of all the establishments we visited on our trip. Most options were around S$22 for a pint. Here we chatted with a pair of Israeli guys who have been living in Singapore for a while.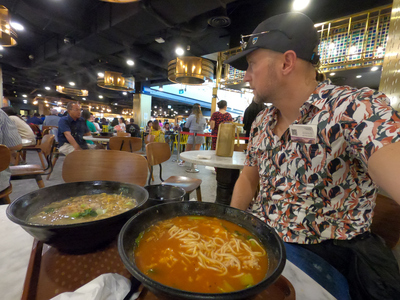 Friday, November 25th
The next morning we went for a short morning jog. First we routed through the Fort Canning park not far from the hotel. Subsequently we made it to back to Clark Quay to hop on the river path. We made it back through the Boat Quay area from the first night. I didn't pack running shoes with me on purpose as I was in need of a pair more packable than my Hokas. Next to our hotel was a "Chinese-style" shopping mall called Peninsula Plaza. Here we found a shop jammed packed with running regalia of all possible brands. I have never seen so much variety of running gear in one place! I picked up a pair of yellow Adidas Adizero Bostons. I've had these shoes before, and one thing I love about them is that they pack well.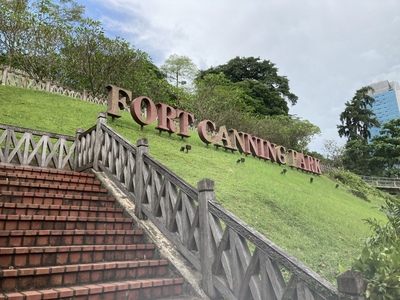 After breakfast we journeyed on the metro to "Arab Street". This place had bunch of cute little shops, although many seemed to Mexican tequila bars of all things. However, right by the Sultan mosque you have various Lebanese and Turkish shops. We stopped for Lebanese coffee and baklava. As we were here on a Friday (Muslim rest day), the mosque was closed to visitors. We considered coming back the following day but it did not work out time wise. Next we walked to Little India. The highlight here is the Sri Veeramakaliamman temple, which reminded me of our visit to Madurai.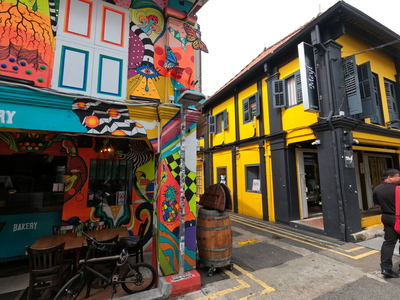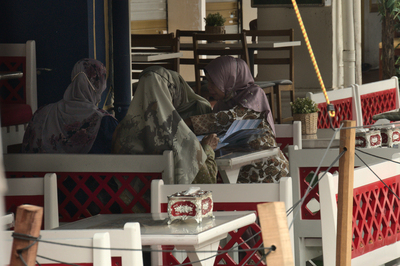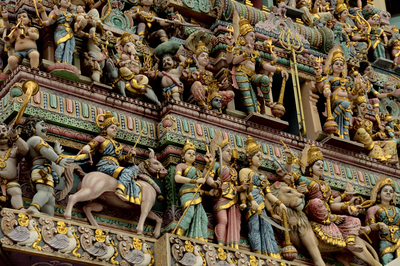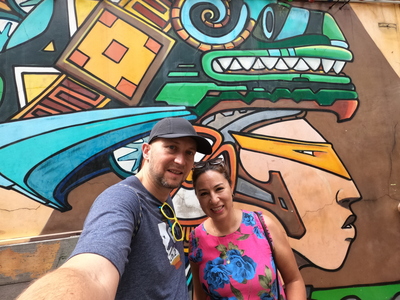 From Little India we caught a taxi to Jurong Bird Park, currently located on the western end of the island. In January 2023, the park is relocating to the northern part by the zoo. While this place is popular with families with children, it was very enjoyable even for adults. We started by riding the tram all the way around without getting off at any of the three stops. We subsequently walked the tram route. The park consists of various large enclosures housing individual bird species. A highlight here was the shoebill stork. This bird does not seem pleasant based on the description. Apparently it decapitates its prey before eating the rest of the body whole, all while making machine gun like sounds. It also poops on its legs to cool off. Another interesting bird was the cassowary. It has the reputation for being the world's most dangerous bird due to its massive size and tendency to attack when provoked. We also saw a fluffy Philippine eagle. The park also contains several large aviaries where you walk among the birds. The first major one was the African Treetops. We actually almost missed this one since from the walkway it looked like a cafe. Inside you find a system of suspended bridges overlooking a forest filled with a large variety of song birds. Another aviary was large enough to fit a system of trails and even a waterfall and a forest. This one was home to a variety of colorful macaws.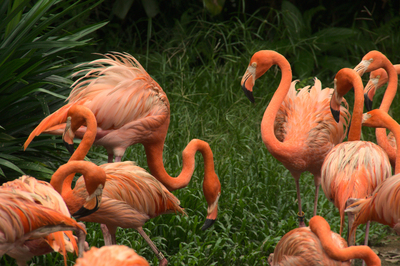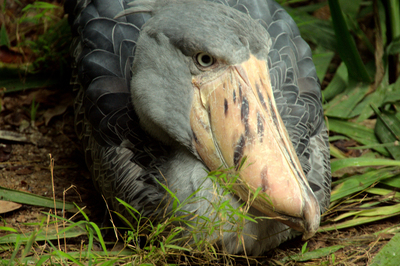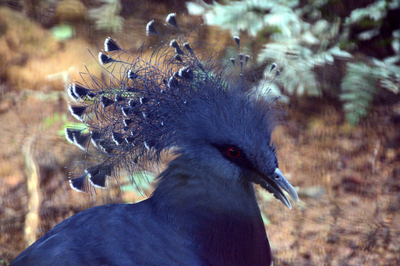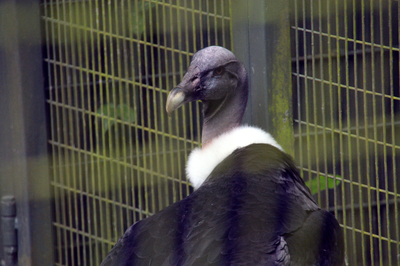 Before leaving for Singapore, I got in touch with Prof. Shuyan Xu at the Nanyang Technological University (NTU) thanks to his past collaboration with my Ph.D. advisor Dr. Keidar. Professor Xu was gracious enough to show us his Plasma Sources and Applications Centre / Space and Propulsion Center Singapore (PSAC-SPCS). The plan was to meet at 4pm. Given that the bird park was only a 10 minute car drive from the university, and seeing how easy it was to hail a car in Little India using an application recommended by Google Maps, I figured we stay at the park until 3:30 and then proceed. 20 minutes later we made no forward progress. The app kept reporting no taxis or car shares available. A small queue has formed at the taxi pick up spot without anyone leaving. This is when we noticed a free shuttle bus between the park and an MRT station. We hopped on it, hoping it will take us to Pioneer. That station is the closest to the park and is also where one gets off for the university. Instead, we found ourselves at the busy Jurong East mall. Here we again, stupidly, tried hailing a taxi. After another wasted 20 minutes, we hopped back on MRT and rode to Pioneer. From there, one can ride a bus for few stops to reach the university, however Prof. Xu offered to pick up. Given we were already about an hour behind schedule, I gladly accepted. I don't think I have ever seen such an impressive lab. Prof. Xu's background is in fusion and plasma surface processing with a short stab at plasma biological applications. However, about 7 years ago he has gotten into spacecraft plasma propulsion. In this short time period, he managed to get five thrusters in space, including one that was activated just on the day of our visit. Looking into the massive vacuum chamber we could see one his Hall thrusters operating. The thruster and the diagnostic system support remote operation which allows his Ukrainian student, who is currently stuck in his home country, to continue with the research while the war continues.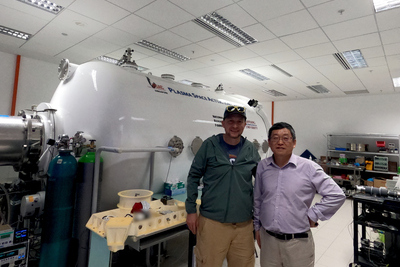 After making it back to the hotel and changing into something more appropriate, we once again headed to Marina Bay Sands. There we rode the elevator to the Ce La Vi rooftop bar. We got here just in time to catch a view of Singapore's skyline basking in the sunset glow. We then observed the flickering of the colorful Super Trees from 57 floors above ground. On our way out we caught the tail end of the Marina Bay Sands light show. Noticing there will be another showing, we made our way (on the MRT) across the bay to Raffles Place. The laser show was pretty but also left me with an uneasy feeling. The large illuminated structure firing lasers towards the city reminded me of some apocalyptic control agency mothership. We had dinner at the Lau Pa Sat food hall.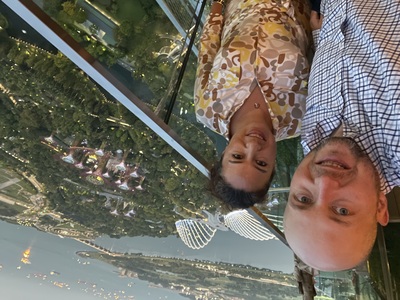 Saturday, November 26th
Our day number 3 began with a metro ride to the Marymount station. A short walk away is the entrance into MacRitchie Reservoir Park. I wish we had more time to explore here. The park contains a large lake open to kayaking. There is also a loop trail following the lake perimeter. Even early in the morning, the trail was already packed with hikers and joggers. Given the mid-day heat, an early start (or alternatively a night hike) is a necessity here. Instead of staying by the lake, we ventured deeper into the park towards the Treetop Walk. The most noticeable feature of the hike is a constant background buzzing of crickets. Check out the audio here:
. After about 2.5 miles of hiking, by now drenched in sweat, we arrived at the ranger station forming the entrance to the Treetop walk. We did not actually notice any rangers, unless the rangers are in the form of macaque monkeys, but the station has bathrooms and water. I was very happy to see the monkeys. Obviously we don't have monkeys in the US so seeing these animals in the wild is always exciting. From the station you have about a mile-long circuit climbing a steep hill before depositing you on the first of several suspended walkways. While there were many more monkeys hanging out on the path, there unfortunately wasn't much to see in the actual canopy. I don't know what I was expecting, perhaps some nests or monkeys leaping from a branch to branch, but it was basically just a bunch of trees.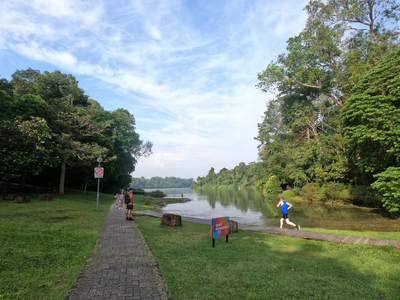 We made it back to Marymount around lunch time and proceeded to the Botanic Gardens. This place is a UNESCO World Heritage site. As we were quite hungry now after the 6 mile hike, I check Google Maps for places to grab lunch. The garden houses several eateries, but the one with the highest ranking was called Corner House. We made our way there, passing various interesting trees and plants, only to find out that this a Michellin Guide prix-fixe establishment. After few days of eating mostly at pubs and food courts, a change was warranted. Luckily I had with me a jacket to put over my sweat-drenched athletic t-shirt to make myself look somewhat presentable. We opted for the smaller 5-meal course option at around S$150 each. In reality, the seating involved about 10 different courses when including various offerings brought in between the actual courses. We also shared a single wine pairing, however also ordered two glasses of an excellent New Zealand Riesling. The food was great. One of the earlier servings was a caviar topped salad. There was also some egg-based (I think) foam with oysters. The main course was based on lamb. We also got two servings of deserts, each involving multiple bite-sized cakes. Despite the small individual portions, this "foo foo food" actually filled us up. Initially we shared the restaurant just with a single Singaporean couple celebrating a birthday. Later another Asian family with two young children joined. It must be nice growing up in a family able to afford taking kids to such a fancy lunch.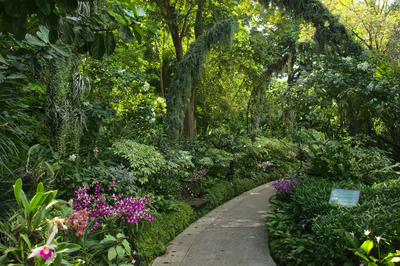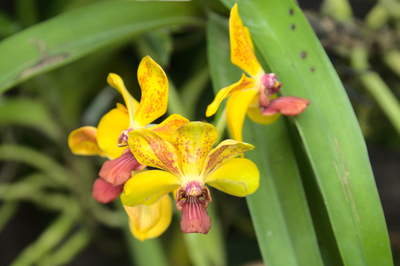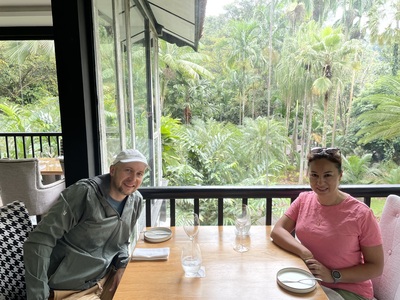 Sunday, November 27th
On the way to the bird park two days prior, we chatted with the taxi driver about our trip so far. When we mentioned that we were staying in Grand Park City Hall, he said something to the tune of "ah, you will see all the Burmeses on Sunday". We did not quite understand what was meant by this, but the meaning became crystal clear the moment we stepped out of the hotel this morning. The previously fairly empty streets were now jammed packed with people, who just visually, were different from the "usual" Singaporeans. First, their clothing was much less elaborate. Secondly, their facial features and skin color clearly indicated they were of different ethnicity. Some were dragging luggages. Many others were just sitting on blankets or plastic sheets, drinking beer or eating food out of plastic container boxes. Similar scenes repeated all day in street underpasses and the many parks of this city. Of course, being curious, I started Googling what is going on. Apparently something like one out of five Singaporean households has domestic helpers. These maids come from countries such as Burma, Malaysia, India, or the Philippines. Much of the manual labor in construction or delivery is also handled by men from these countries. Several years ago Singapore passed a law requiring domestic workers be given at least a day off work every week. Sundays are thus spent meeting up with other co-patriots and catching up on chores and shopping.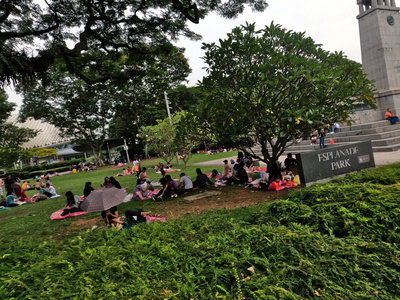 Our first stop this day was the National Gallery. I enjoyed this visit, and only wish we had more time to actually read the signs by all paintings. I especially enjoyed the early 20th century Asian art, as it provided some historical context for our current surrounding. The gallery actually consists of two separate interconnected buildings. One of these is the old "supreme court". Thus, besides viewing art, you also get to tour the old holding cells and a tunnel through which the shackled persons would be brought up before the judge (this "supreme" court clearly served a different purpose than the US Supreme Court, which does not directly deal with prisoners). On the top floor we stumbled upon the Smoke and Mirrors bar. This is one of the more popular roof-top lounges in Singapore. It wasn't yet open but we returned in the evening, after a day of shopping. Here we had a wonderful chat with the waitress, who, as it turns out moonlights here, while also working at our hotel.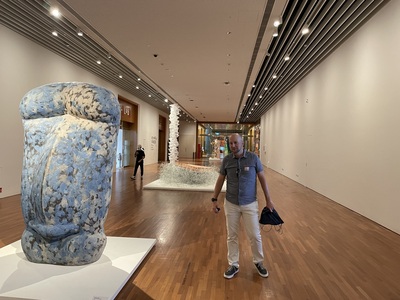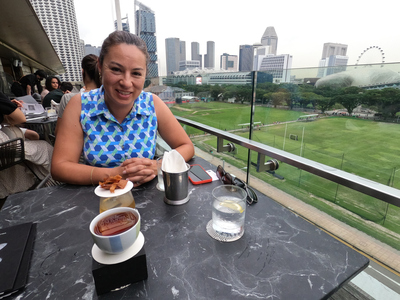 From the gallery we headed to the Orchard Street. According to online information, this is the primary shopping destination in Singapore. We checked out few malls, and also tried the local take on an ice cream sandwich. It is literally a sandwich, made of an ice cream bar served between a folded slice of white toast bread. Our primary purpose was to visit a Maison Francis Kurkdjian store found here. Sandra picked up a bottle of their perfume at Harrod's in London. While it is available in the USA, it is rather expensive at around $250, before tax. Indeed we found a better deal here. I also picked up a variety sample pack for me. We then meandered to Somerset MRT, popping into several other malls, but didn't really find much. Getting off at City Hall, first popped into the Raffles City mall, where we bought some pants and shirts. We then decided to pop in to the Funan mall right by our hotel. I am so glad we did. This mall is really awesome! It has a tall indoor climbing wall, as well as a bouldering room. The mall also contains multiple unusual establishments, such as a venue for cooking classes, as well as entire section dedicated to painting and other arts. A bicycle path cuts through it. But the funnest part was the food court forming the entrance. Here we stopped at a Korean shaved ice venue with the sitting area covered in plastic bubbles.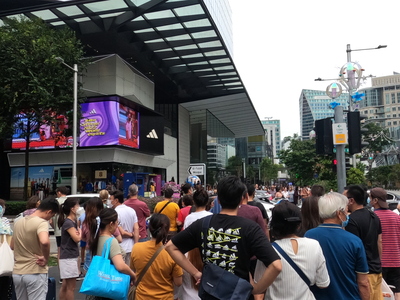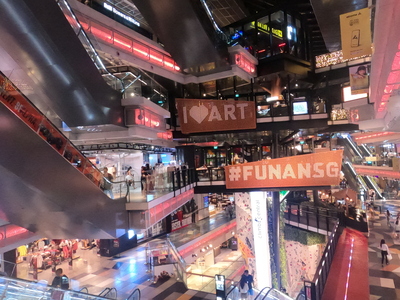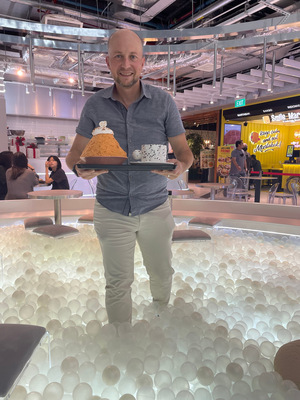 Finally that evening we once again went out to watch soccer. We also wanted to hit up the Chinatown as that was one part advertised in most travel guides that we have not yet been to. But before going there, I figured we stop by something called CHIJMES ("chimes") that appeared during my browsing of Google Maps, as I was curious about the name. It is actually an acronym for Convent of the Holy Infant Jesus Middle Education School. I really wish we had come here earlier! The main highlight is a cathedral that used to serve as an orphanage. Now it is used for events, including the wedding scene in Crazy Rich Asians. The day of our visit there was apparently some kind of an event for Porsche owners as the parking lot was packed with these cars. Next to the cathedral is another food hall. But the main highlight was a large lawn in front of a movie-sized screen passing the games. As we still had sightseeing to do, we hopped back on the MRT and ventured briefly to Chinatown. We just walked around, checking out some of the main highlights. Most business open at this time in the evening seemed to be sports bars for Western tourists to grab a cheap beer. We then headed back to CHIJMES. After getting a bit lost taking a wrong metro exit that deposited us in the middle of Singapore Management University, we got back just to catch the unexpected loss of Belgium to Morocco.
November 28th
And that's it. Our short trip to this wonderful city was over. We got to the airport about two hours prior to departure, which was plenty sufficient. An interesting experience was not having to pass through any traditional security. There was also no passport control. You just arrive a a set of two small gates, where you first scan your boarding pass and the passport. The first gate opens, allowing you to proceed. The second gate opens few seconds later. I imagine that between these two gates you have some sensors and scanners that check for weapons or explosives, but no such sensor was clearly visible. There is no enclosure between the individual gates. Of course, knowing that the US government will likely not accept that as adequate, I figured there will be a more traditional security prior to entering the boarding gate to the US-bound flight. My assumption was correct. But before heading to the gate, we visited the lounges. During check in, we were handed a pass to a Priority Pass lounge. It was located right next to the Star Alliance lounge. The former was smaller, and much more packed, and thus we spent our time with Star Alliance. Complimentary access to Star Alliance lounges on international trips is by far the most amazing perk of my flying with United.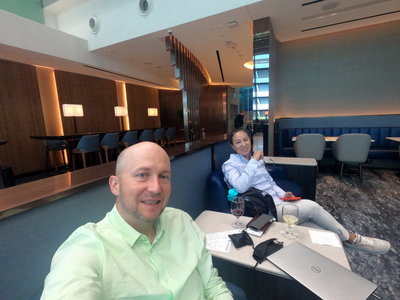 We flew back in Economy Plus and in a way this leg was more enjoyable that the in bound flight in business. Our seats came with a blanket and one of those neck pillows. I have never used one before, but OMG, what a wonderful invention. I could, for the first time, actually sleep in economy! The food was also quite good and much more plentiful than on the in-bound flight. One wrinkle however was the layover in San Francisco. We checked our luggage, as Sandra bought some Body Shop creams on top of the perfume. At SFO, everyone has to pick up their luggage and manually take it across customs (not all airports require this). We had a 1h50m layover. The flight arrived either just on time or slightly behind schedule, but it took good 40 minutes for the bags to appear. By the time we had the bag, we were only 10 minutes from boarding. At the bag re-check, we asked the agent if we can keep the bags with us even if we had some liquids. We did not think they will make the connection, and we also did not want to wait again at LAX. They confirmed that we can, as we don't need to pass security. This was clearly incorrect, as we shortly found ourselves on the public side of the terminal. Of course TSA confiscated the creams. They told us that it was not possible to drop off the bags anymore as our flight was already boarding and as such they would not make it onboard. Luckily they did not bother with the perfume, as leaving that behind wouldn't be an option. And that's it. We are definitely looking to our return visit to Singapore. Despite a busy itinerary, we still missed many popular spots, such as the Sentosa Island, the cable car, the Zoo night safari, or a ride on the Singapore Flyer Ferris wheel. Visit to Malaysia or Indonesia is also on the todo list.
Comments or questions? message me