Trip to Croatia and Slovakia
Date: July 29th to August 8th, 2017

Irina, one of Sandra's childhood friends, wished to celebrate her birthday in Split, Croatia. The idea was for the girls to spend their time alone (no boys allowed!) so in the meantime I figured I'll hang out with my mom whom I haven't seen in a few years. Afterwards, we would travel to Slovakia to visit my dad. Sandra's sister Ivonne would also come along for what would be her ever visit to my homeland. After a bit of research (traveling to Europe in the peak of holiday season is not cheap!), we finally settled on meeting in Vienna. Ivonne's flight arrived one hour after ours, while my mom took an earlier bus from Prague. It took Ivonne another hour to come out of the customs area and when she did, she was without her bag. Her luggage did not make the connecting flight! It wouldn't be for another five days that she and her bag would finally get reunited. While we were waiting for Ivonne, mom, Sandra and I went to the car rental center to sign out my reserved car. This was my first time ever driving in Europe. It's not cheap, but it was so much more convenient and efficient than waiting for public transport. Plus I figured since there were four of us traveling together, the price of the car rental makes up for the cost of bus or train tickets. I was given a nice black Audi A3. It was diesel powered and did in fact sound like a truck.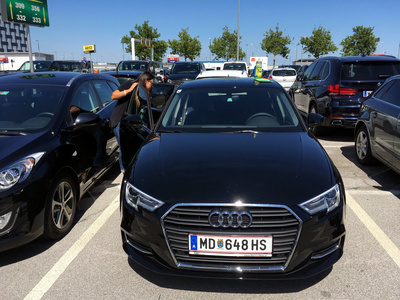 Graz, Austria
The first stop on our European adventure was Austria's second largest city, Graz. It's located about 2 hours south of Vienna on the way to Split, and seemed like the perfect destination for the first day. Our flights got in around noon, and I didn't know how tired I'll be so didn't want to push it trying to get too far. I am glad we stopped here. Graz is a very cute town. It's much smaller than Vienna, and just as Vienna, is very clean. The downtown is part of UNESCO World Heritage List. Graz is also home to many universities, but perhaps given the summer holiday, we didn't see too many young people. We stayed in Hotel Wiesler. We spent the first evening sightseeing. Conveniently, there was an H&M in the old town where Ivonne picked up few pieces of clothing to last her until the suitcase materialized. I also managed to find a nice hat and a pair of sunglasses for about 6 dollars.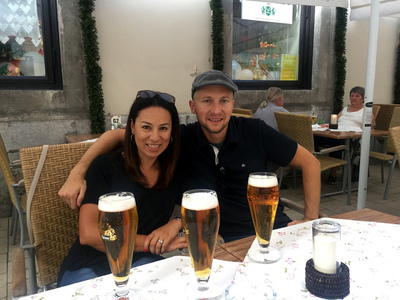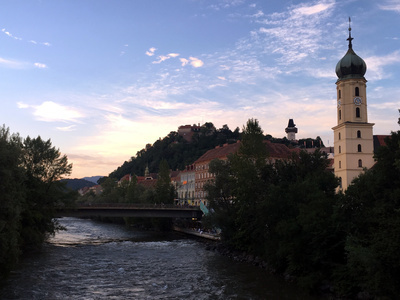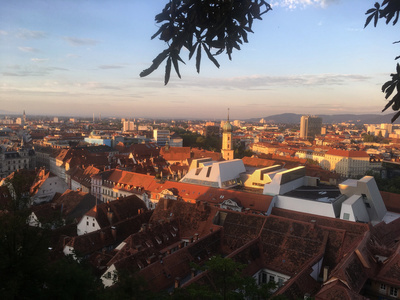 Makarska, Croatia
My plan for day two was to drop off Sandra and Ivonne in Split and then "go somewhere" with my mom. I didn't fire up Hotels.com until the morning. I used the "search on map" feature to look for accommodations in the general vicinity of Split. There was a cluster of hotels in a town called Makarska. I found a hotel that looked nice so booked it. It was after this that my mom told me that Makarska is a very famous holiday destination she had hoped to visit. I must admit that my knowledge of Croatia was rather basic prior to this trip. It was limited to: 1) they have good ice cream, 2) a lot of people like to go there for sunbathing in the summer, and 3) it has some nice islands that my Croatian friend Alex suggested to visit. Also something about the Game of Thrones being filmed there but as I haven't seen any of the episodes, that factoid didn't intrugue me much.
But first, we needed to get to Croatia. Driving in Europe is somewhat different than in the US. The main difference is that people drive much more aggressively. They don't leave much space between cars which results in them slamming on their brakes at the last minute. The other difference, related to above, is that there are vastly larger differences in the speed people drive. The highways here have typically only two lanes and unlike in the US, nobody passes on the right. Cars will instead get on your tail and tailgate you and flash their lights until you get out of the way. On the highway, the speed limit is typically 135km/h but it's not unusual to find cars going perhaps 80 kph in the right lane, while at the same time there are others zooming by at almost 200 kph in the left lane. This means that if you are like me and like to drive just above the speed limit, you will constantly have to be changing lanes. There was quite a lot of traffic so basically the entire 7 hour drive down to Split was zigzagging from lane to lane. It's unlikely that you will find a long enough stretch of traffic moving at normal speed to "zone out". This makes the drive much more tiring than a drive of comparable distance in the United States. Driving is also quite expensive. Besides the gas price (or diesel in my case), all countries have some sort of payment scheme for the use of highways. The car already came with access for Austrian roads, but we had to purchase a vignette for the 2 hour drive through Slovenia. The cheapest option was for 7 days at 15 euro. I thought this was expensive but that was before we entered Croatia. Instead of having a fixed price vignette, you get a ticket when you enter a highway and then pay on exit, similar to the New Jersey Turnpike. And the prices are nuts. If I remember right, the single trip from the Slovenian border to Split cost around 25 dollars. And on the way out, we spent about 50 dollars to reach Hungary.
After dropping Sandra and Ivonne in Split, mom and I continued for another hour south. You then take an exit (after paying the toll, of course!) and enter a tunnel, which spits you out in Makarska. This sea-side village is squeezed between the massive Biokovo mountain and the sea. The town consists of a promenade full of cafes and restaurants and a port. There are also two beaches on both sides of the town. Our hotel Porin was located right on the promenade. This town was packed with visitors! After dinner (I had a plate full of small sardine-like fish) I went out to check out the nightlife. There were several lounges right under our windows so it was quite noisy and I don't think my mom got much sleep that night. I grabbed a drink in two spots, watching the people. The second place I went to was more of a dance club and I heard about 4 different remixes of Despacito in the short time I spent there. Then the next morning I woke up early and went for a run. I saw on Google Maps that there was a secluded nude beach about two miles away from the town through a forest park. The run to this beach was spectacular. You basically run on a cliff just above the ocean of the most brilliant azure color. I got to the deserted beach just as the sun was coming up and jumped in for a 20 minute swim. Who needs a bathing suite when you have a nude beach? I then continued the run checking out more of the trails in the park. At one point this brought me to an overlook above Nugal beach. I then returned back to the hotel for breakfast. The buffet breakfast included my favorites of bread and pate, which tasted awesome after the run. After breakfast, I again started looking for accommodations. Our hotel was sold out for the night but I instead found some options in the town of Trogir. This town is north of Split very close to the airport. This looked promising as my mom was flying out the next day. However instead of driving there directly along the coast, I figured it would be fun to hop on the ferry to the Brač island, and from there take another ferry to Split. I did not realize how long the lines get for the Makarska-Sumartin line due to the ferry having capacity for only about 25 cars. We got to the ferry at around 9:45 am. While I figured we probably won't make the 10 am ferry, I assumed we'll take the one at 11. Well that was not to be as there were already too many cars ahead of us. The next ferry wouldn't leave until 2:30 pm. Oops! With nothing else to do, I bought a beach towel and joined my fellow Europeans in rotisserieing in the sun. I could really only take this for about an hour. I don't understand how people come sunbathing for weeks at a time.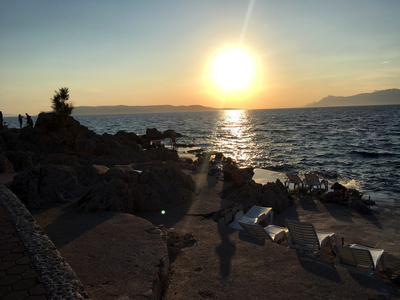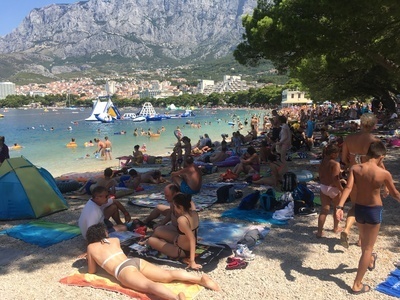 Brač and Trogir, Croatia
We finally made it to Brač. We had just enough time to drive down to Bol, to visit the Zlatni Rat beach. This often photographed beach is a thin strip of sand extending into the blue sea and is a symbol of Croatian tourism. It also became part of a funny story today (8/18/2017) due to the Bing search engine feating an aerial image of it with a penis drawn into the sand. We could only stay here for about 30 minutes in order to make the ferry to Split but it was sufficient. I went for a quick swim but the waves were high and the water was not as warm as in Makarska. We then drove to Supetar on the northern coast of the island, passing several olive tree farms. Apparently the best Croatian olive oil comes from Brač.

We arrived in Trogir around 7pm. The town itself is on a small island. The GPS had me go down a pedestrian promenade to reach the hotel, so I instead had to keep going off the island and then hop in a long line of cars to get back on. We finally found place to park (not easy during the tourist season) and checked into the hotel. We were staying at Hotel Pasike. This hotel is decorated like a museum and according to Hotels.com, rooms go for over $900 per night. But perhaps because of the last minute vacancy (I booked the room the morning of), the room was discounted to $100. Trogir is also on UNESCO list of World Heritage Sites. Its old town is what I imagine a medieval town to look like. It's full of labyrinth passages, barely wide for a horse carriage to pass through. At night it was full of visitors enjoying dinner under the stars. Being so close to Split, I feel that many nearby residents or visitors come here for a night out.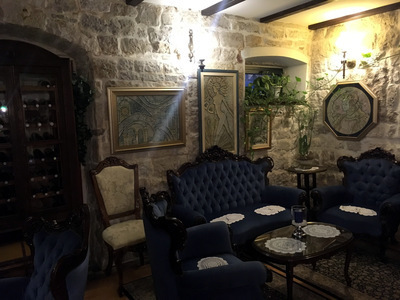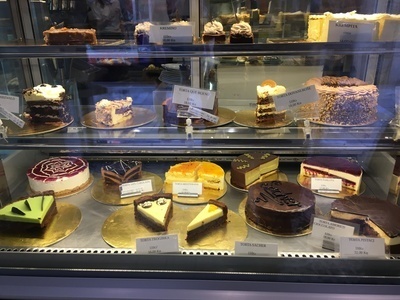 Plitvice Lakes, Croatia
We went for a morning walk just as the town started waking up. Among other things I climbed a massive bell tower which was a bit dizzying but the views from the top were worth it. After breakfast I took my mom to the airport. There we also investigated what was going on with Ivonne's suitcase. It was now day four since landing and Ivonne was still having to resort to her H&M purchases. The suitcase was supposed to be delivered to their apartment but that didn't happen. Mom and I went with the lady from lost and found to a collection area full of bags where we spotted Ivonne's. At least it was not completely lost. I took it, but as the girls were out on an boat that day, it would be one more day until Ivonne would be finally reunited with her stuff. After mom left, I got in a car and drove for 3 hours north to reach the Plitvice Lake national park. Sandra and her friends visited here the day before on a bus tour. They liked the park but said it was extremely crowded. I lucked out having the car and arriving in the afternoon. I got to the park just as the tourists were heading out. I felt like a salmon going upstream navigating through the hordes of people leaving the park. I had the park mostly to myself. Also being able to jog helped tremendously. I only planned to complete the upper loop today but finished in time to catch the final boat across the large Kozjak lake and check out the lower waterfalls as well. Just like in Makarska, the color of water here is unreal. I enjoyed the clear water in Hawaii, but here the water is not only clear but brilliantly turquoise. I totally lucked out in getting to the lower bus stop with only 10 minutes to spare to catch the final bus. Otherwise I would have some 2 mile long walk back to the main entrance in the dark, and from there another 30 minutes back to my hotel, Plitvice Miric Inn. This was a very nice "motel". The receptionist spoke fluent English having lived in the US for a while. The hotel offers free buffet breakfast, and best off all, plentiful parking! After the difficulties in Makarska and Trogir, it was refreshing to just pull in to a hotel without needing to navigate congested streets trying to figure out where to leave the car. Upon getting back I quickly fired up Google maps and checked for any place to grab a bite that would still be open at 9pm. I had a craving for pizza and my luck continued: there was a pizza joint a walking distance away. There I grabbed a large pie of pizza and 3 half-liter beers for 10 bucks. I shared my table with a French mom and her two kids. They were traveling through Croatia by bus and were now two weeks into their trip. Drinking all that beer was not the best idea as I think I had bit of a hangover the next morning. But I managed to climb out of bed and go for a 11 mile run around the big Kozjak lake before the park even officially opened (I checked with the gate person the day before and she said there is no problem in coming in before the official 7am opening time, it's just that the ferry and buses don't start operating until then). I made it back 10 minutes before 9am, the official end of breakfast. I wasn't sure how strictly this was enforced so the run back reminded me of ultra marathoners trying to make an aid station cut off. But there was no need to hurry as the breakfast hall stayed open way past 9am.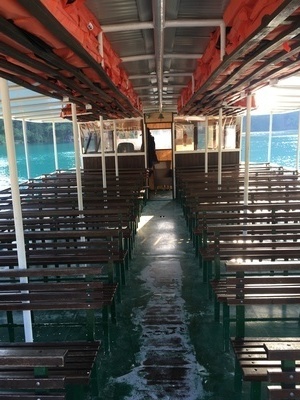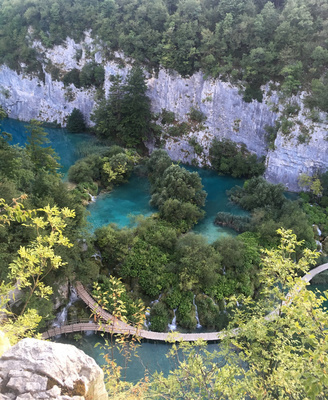 Split, Croatia
After checking out, it was time to finally make it to Split. I have driven through it twice already, but this would be my first time actually spending time here. I managed to find a hotel again at the last minute discounted rate right next to the historical center. I ended up staying in Heritage Hotel 19. There is a parking garage near the hotel where I left the car. Sandra and the girls were visiting Zlatni Rat today and wouldn't be back for several more hours. So I went for a walk through the historical center. I climbed the clock tower right next to Diocletian's Palace, a 1700 year old fortress built for the Roman Emperor Diocletian, and another UNESCO World Heritage Site. I then went to the ferry terminal to wait for Sandra and her friends. We all went out that night for dinner to Bokeria.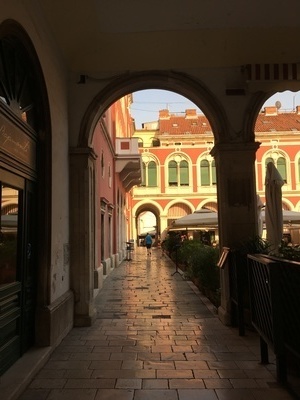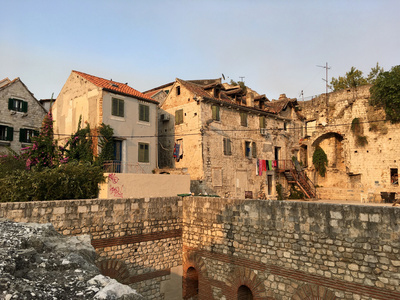 Banska Bystrica and Cierny Balog, Slovakia
Early next morning Sandra, Ivonne, and I piled back into the car, this time with Ivonne's suitcase, and we took off for my hometown of Banska Bystrica in the middle of Slovakia. This involved crossing Hungary where we went past the ginormous Lake Balaton. I think this lake is like the second-tier summer vacation destination for east European. Those that can't afford a trip to Croatia or Bulgaria' Black Sea go sunbathing at Balaton. But perhaps I am completely wrong on that. We were making good time until we got stuck in a huge jam in Budapest and lost over an hour sitting in traffic. We finally reached our destination around 8 in the evening, over 12 hours after we took off. We met with my dad at his pub, which was recently outfitted with a new outdoor patio. We then went to the town square to grab something to eat. We had dinner in a newly opened restaurant serving traditional dishes. Here Ivonne got to try a baked knee, while Sandra ate ribs, and I had sausages and a bean soup. My dad ordered his favorite, the Slovak national dish of bryndzove halusky. Then the next morning we visited our cottage in Dolna Lehota, where my aunt has been weekending for some time. We then dropped off my dad's friend Alena in Cierny Balog where her parents live. This town also has a historical steam powered train which just happened to be departing as we got there.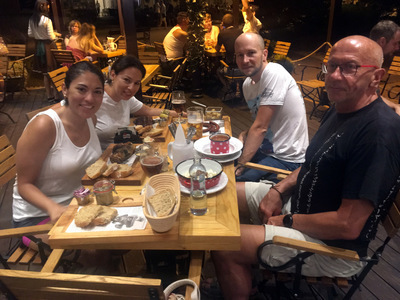 Cerveny Klastor, Slovakia
From there we drove for about 2 hours north all the way to the border with Poland. Here lies the town of Cerveny Klastor, which I first visited few years back on a trip with Alex. It lies at the entrance to the Pieniny national park which is best visited by taking a raft on the Dunajec river. We managed to get there just in time as the operators were about to head home for the day. It was nice, just our single raft floating down the river. The raft trip is 6 miles long so afterwards you need to figure out a way back. There are taxis available but instead we rented bicycles and made it back just in time before it got dark. Between the raft and the bike rental shops we took a short ride on a horse drawn carriage. We definitely utilized our share of vehicles this day: a car, a steam powered train, a raft, a horse drawn carriage, and finally bicycles. When we got back to town we quickly realized that all accommodations were booked. My dad suggested that tomorrow we could visit Kezmarok, a historical town about 40 minutes away. So we figured we may as well spend a night there and managed to get keys to a "pension" (a Slovak term for a lower class hotel that doesn't have a full restaurant and a 24-hour reception) before the receptionist went home for the night.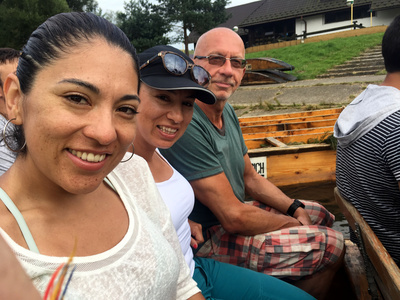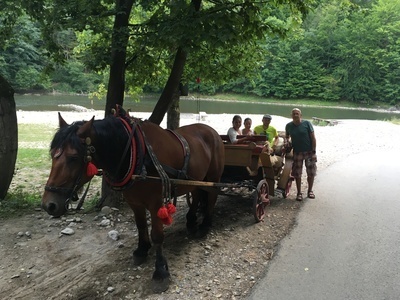 Kezmarok and High Tatras, Slovakia
In the morning we walked to a near by hotel for breakfast and then set off to explore the town. This was my first time to Kezmarok. It seems we picked a good day as there was an antique car show happening. We started our tour with a visit to the two side-by-side Lutheran churches. The new one was nice, but it didn't come even close to the old, wooden church. Unfortunately photography inside was not permitted (and the attendant lady was quite strict) but this is a sight not to miss. From what we were told, the ruling Catholics only permitted the Protestants to build a church as long as it was constructed within a year using only the cheapest material available (wood) and without the use of any metal nails. They also had to build it next to an old pub to further humiliate the parishioners. We finished our tour on the other side of town with a visit to the castle. The falconers club had a show in the court yard and they let Sandra hold the massive eagle. We then took a tour of the castle turned into a city museum. Besides showcasing the historical weapons and furniture, we were also told a story about one of the owners of the castle whose wife went for a hike to the nearby High Tatras. When he found out, he became enraged (apparently hiking was not a thing back then) and put her in the dungeon. Several years later, he lost the castle due to drinking and gabling. The new owner was shocked to find that his new possession came with a by then mentally deranged captive. He freed her, but she never recovered her senses.
From Kezmarok we drove to the High Tatras. We wanted to take Ivonne for a cake at Hotel Kempinsky by Strbske Pleso. I was concerned with finding a parking spot up there so I figured it may be better to park lower in the mountains at Tatranska Lomnica and take the tram. This turned out to be a horrible idea as the tram took extremely long time. I think it took us almost two hours between the many stops and having to change the train half way through. By the time we got there, we only had 20 minutes to quickly run to the lake to take a picture before we had to take the train back down. We made it back to Banska Bystrica at around 10pm. We were treated to grilled sausages at my dad's pub thanks to Petra's brother Brano. Ivonne also got to try slivovica and borovicka, two Slovakian strong alcohols. They are much stronger than Colombian aquardiente.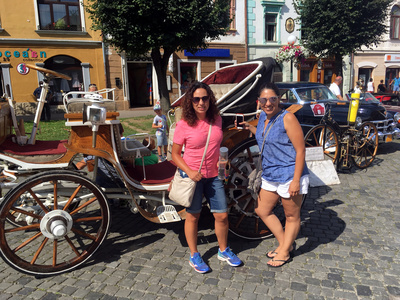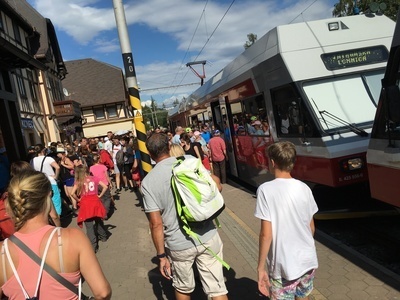 Bratislava, Slovakia
In the morning, we all, including my dad, took off for Bratislava. There we stayed at my sister Petra's apartment. They are currently living in Minneapolis, but Petra's mom Blazka is staying in their apartment during the week as she works in Bratislava. We showed up just as Blazka was finishing a batch of pork schnitzels, along with a chicken noodle soup and a berry cobbler - all my favorites. Subsequently we went for a walk through Bratislava. We were so hot throughout the entire trip as Europe was suffering from a heat wave. Well today was the opposite. Not only was it cold, it was also raining. One upside was that we got to see a rainbow from the old town hall clock tower. We had dinner that night in a La Pala, a really nice Italian restaurant on the main Hviezdoslav square.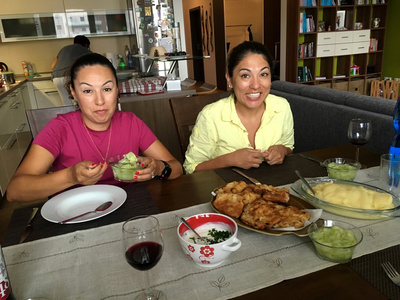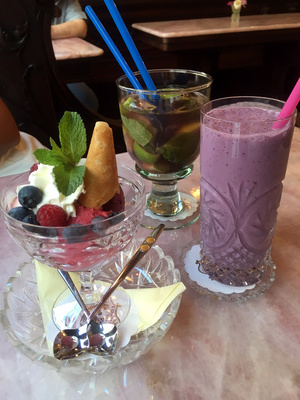 Vienna, Austria
We left Bratislava at 3 in the morning to drop off Ivonne for her 6am flight out of Vienna. Afterwards, Sandra, my dad, and I went for a quick tour of the city. This was my dad's first time ever to Vienna. While having coffee, an ad on the city free WiFi mentioned some outlet mall in the town of Pandorf. As it was on the way back, we figured, what the heck, we may as well stop by. I am not into shopping but this is mall is impressive. It's huge! There are even hotels nearby and as it was filled with middle eastern shoppers, I think some people fly here specifically just for the deals. We let Sandra loose and in the mean time I walked around with my dad casually looking through the shops. We then headed back to Bratislava where we went for yet another walk around the town. Then it was time to pack and for us to also say goodbye. We flew out the next morning.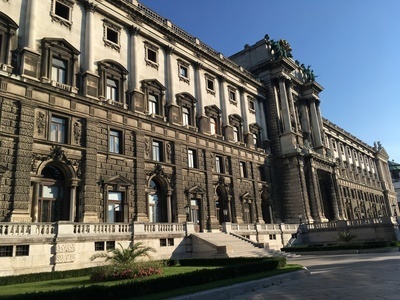 Comments or questions? message me