Northern Lights and Christmas Markets (Sweden, Austria, and Slovakia)
Date: December 15th, 2018 to January 1st, 2019

This year we decided to visit my family in Slovakia for the Christmas holidays. Knowing how expensive flying to Europe is, I hoped to use my existing United miles to score another free flight, similar to what we did last year for the trip to India. Unfortunately, I was about 10k miles short until late October when some business travel brought me to the 120k needed for two saver economy round trip tickets. But by then, all the saver fares were gone for the time slot in which we could travel because of Sandra's work schedule. For a while it seemed like this trip just wasn't meant to happen. But then I managed to find a reasonably priced ticket to Stockholm, with a return back from Vienna. Now, Slovakia is not exactly near Sweden, but we always like to tack on a little sightseeing excursion on our family visits. Also, once in Europe, getting around is not so expensive.
Neither of us had been to Scandinavia before. Now that we live in SoCal, we don't exactly get winter anymore (it just gets less hot). So, naturally, it made sense to really try to enjoy the cold and head all the way north to the Arctic. Doing some reading, I came acrosss websites mentioning that Abisko National Park in northern Sweden is the perfect place to observe the Northern Lights (Aurora Borealis), something I always wanted to see. Our next stop thus became this tiny town few degrees north of the Arctic Circle. From there, we headed to Salzburg, Austria, another town we have not been to previously. Then we would finally make it to Slovakia to spend Christmas and New Year with my family.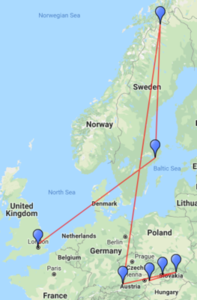 London
But the first stop of our trip actually ended up being London. We had a nine hour layover, which was just enough time for a quick city visit. Sandra was surprised that I have never heard of Harrods, an apparently famous department store. So we went there. The place has a really amazing grocery, with breads, meats, and fruits from all over the world. We even found some granadilla (aka booger fruit), which I have only seen on our trips to Colombia. Near Harrods, in Hyde Park, there was a big Christmas market / amusement park called Winter Wonderland so we also walked through there. While they were selling things I consider typical like hot wine, there was also a stage with a live band and a ton of roller coasters and various carnival attractions like haunted houses and so on.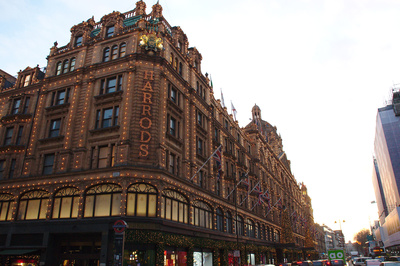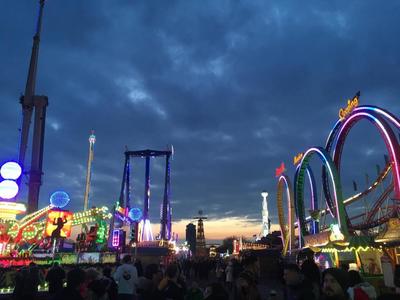 Stockholm, Sweden
Our flight to Stockholm was delayed by about an hour which wasn't a huge deal, except that we really wanted to finally get to bed. By now, we have been traveling for over 24 hours and still had one leg to go. We got to Stockholm around 1 am. From the airport, we took a taxi to downtown. We were staying in a neat artsy hotel called Downtown Camper by Scandic. Knowing we will be tired, we booked a room for this night as well. We passed out in the somewhat crammed room, and woke up just in time to take advantage of the buffet breakfast. In Slovakia, a buffet-style meal is called "Swedish Tables", and here I got to experience in person where this idea comes from. What an amazing selection. I mainly limited myself to the various breads, smoked salmon, pate, and pickles, but there was so much more.
We then ventured out to sightsee. We were staying here for only one more night so our time was limited. The day started with the nearby historical center called Gamla Stan. To be honest, prior to this trip, I had no idea Stockholm was built on a series of islands. Gamla Stan is one of them. I saw on Google Maps some highlight called "Fotografiska" on the next island to the south. I didn't have internet so wasn't sure what this was and figured that perhaps it is some view point. So we ventured that way. Later I found out this is actually a famous photography museum and was bit too far to walk. But on the way, we noticed an observation platform, and made our way to the top of it. We got some nice views from there. We headed back to the main Norrmalm island, and saw a sign for a sightseeing boat, so we hoped on. This was operated by the same company that does the red Hop On, Hop Off buses. We generally take these when visiting new cities as they are a good way to get some insight on history and main highlights. We passed through a narrow, semi-frozen channel, and learned about the near by museums. One of them was a recreation of a historical village called Skansen. We use the same word in Slovak for the same thing: it's fascinating how languages borrow words from each other. Unfortunately, there just wasn't enough time to visit it on this trip.
Being so far north, the most striking thing was how dark it was most of the time. The sun starts setting around 2 pm and by 4, it is basically pitch dark. Because of this, and also because of the cold, we spent most of our time indoors, in shopping malls. We started with NK, a huge, and extremely packed department store near our hotel. It was somewhat similar to Harrods. We next headed to the MOOD shopping mall, which was a bit smaller, but had a very nice decoration, including a giant statue outside. It also had a food court with various bars and upscale restaurants. And of course, being in Sweden, I looked up if there is an IKEA near by, and sure enough, we found one. It was fancier, but also much smaller, than what we have in the US. For dinner, we found a Tripadvisor highly recommended Swedish restaurant located in the old town. But others had the same idea, and there was a long wait to get in. So instead, we popped in a Russian restaurant just across the street from it. The food was great - we ordered meatballs, borscht, and Russian pirogi "vareniky". We then relaxed in the hotel rooftop sauna and the outdoor heated pool. The next morning, we woke up early (I was going to say before sunrise, but that is not particularly difficult in Stockholm in December), and went for a run. Light snow was falling, making for a truly magical experience. We were all bundled up, trying to stay warm, when we ran into some lady jumping into the icy water for her morning swim, wearing just a regular bathing suit and not even a wet suit or a cap. People in Sweden are apparently much more cold tolerant than us soft Los Angelenos...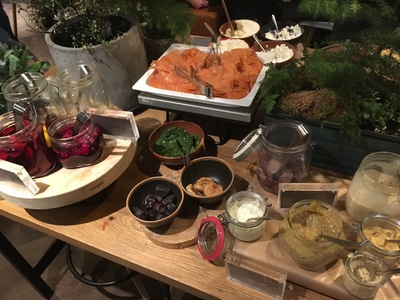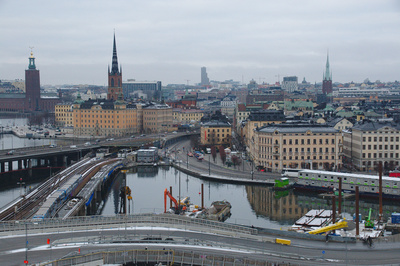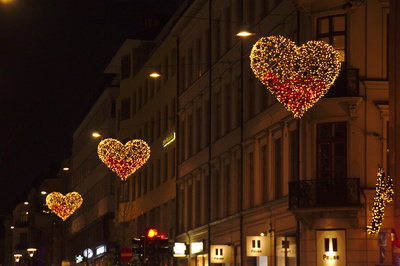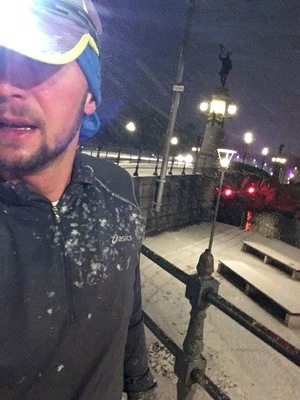 On the way to the Arctic
In the afternoon, after more relaxing in the sauna and another delicious buffet breakfast, we headed to the train station to catch the overnight "Arctic Circle Train" (SJ Night Train 94). We booked a 2nd class compartment, which gave us a private coupe. We were all the way in the last car. I am not sure if this is standard in all cars, but our car also had a shower which we ended up using prior to arrival. It was nice to wash up, but showering on a moving train is not easy! We also stocked up on various groceries (like bread and smoked salmon) before getting on, so we wouldn't have to repeat the mis-adventure from Vietnam. We slept well, and were pleasantly surprised that there was actually day light up north once we woke up. We were heading north of the Arctic Circle in winter, which means the sun never actually rises. Luckily this didn't mean it is completely dark. Instead, you get about four hours of "dawn", which gives you just about as much light as you get in a city on cloudy winter day. I worried it will be too dark all the time to actually see anything, but this was not the case. Our destination, Abisko, is a large national park, as well as a small town just outside of it. The train stops first in the town, and then about 10 minutes later, in another station in the park (called Abisko Tourist Station). We almost failed to get off since we only saw snow once the train stopped. It didn't look like there was a station there.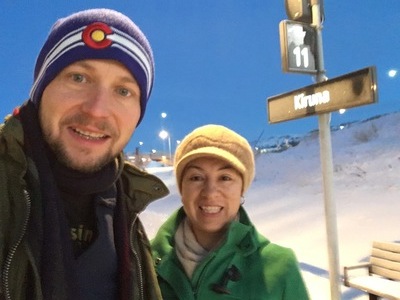 Abisko, Sweden (Mon 12/17 to Wed 12/19)
From the train station, it was about 5 minutes in the frigid temperature to reach the hotel. We were staying in STF Tourist Station, a hotel/hostel run by the Swedish Tourist Association. It was perfectly satisfactory. Nothing luxurious, but all your needs are covered. Near the reception is a board where you can sign up for various activities. I really hoped to take a tour of the native Sami people and their reindeer. These tours are only offered Monday, Wednesday, and Friday mornings, which didn't work with our schedule, since we arrived Monday at 11 and were leaving Wednesday morning. The other popular activities include Aurora watching, so we signed up for two: visiting the Aurora Sky Station for tonight, and then a night walk the following night. After checking in, we went out for a quick walk. I wanted to get some pictures before it got dark. We were out for about an hour which seems to be the limit before you start getting really cold. Sandra started getting some mild frostbite in her fingers. The weather here is interesting. It is cold, but it is a dry cold. You actually feel quite comfortable for the first 10 minutes out. It is only later that your fingers start tingling. This is much different from the wet cold in Austria. There you feel miserable from the get go, but you never get that finger tingling feeling. Also, because it is so dry here, you can't actually make a snowball - I tried. The snow just falls apart. After the hike we hang out in the hotel, mainly by the fireplace. We also checked out the sauna, which was deserted. We had a three-course tasting menu at the hotel restaurant for dinner and were joined by a couple that we met while having drinks by the fireplace.
Then after dinner, we met the rest of the group heading to the Aurora Sky Station. This is basically a chair lift station on top of the nearby hill. It also has a cafe where you can get things like coffee and cinnamon rolls. Reaching it requires around a 20 minute walk to the bottom of the chair lift. We were bundled up according to our SoCal standards, but even that would not make for a pleasant stay given the 10F air temperature. Everyone was given warm overalls and boots prior to heading up. Then we hoped on the chair lift. This was, by far, the most annoying chair lift I have ever ridden. Most chairlifts have a system allowing people to get on while the rest of the cable continues to move. Not so much here. For every person getting on or getting off, the chair lift had to be stopped, leaving your dangling and swinging in the arctic void. It took about 30 minutes to reach the top. On the way up, we started seeing some white fuzziness which was indeed later confirmed to be aurora. Neat! The moon was shining, and hence the sky was not completely dark. For this reason, we only saw the aurora as white clouds with the naked eye. It took long exposure photos to capture the green glow. However, apparently on a really dark night, you can actually see the colors with the naked eye. That must be truly magical. We stayed out for about an hour taking pictures. We then went into the cafe for tea and a pastry. It is apparently a big Swedish tradition to have a daily "fika" coffee break with a sweet pastry or a cinnamon bun.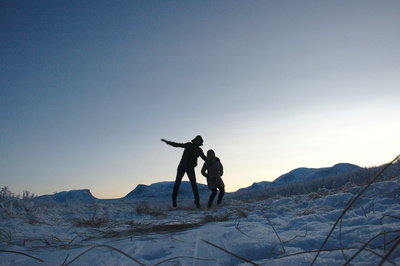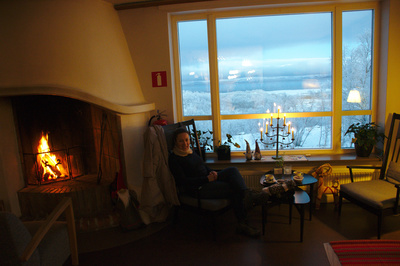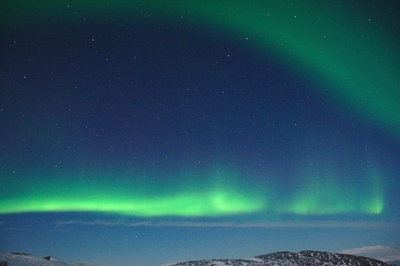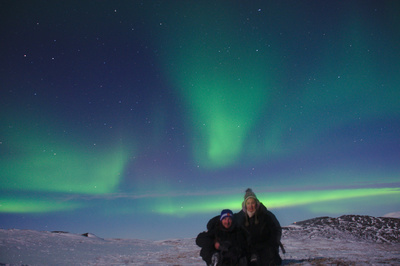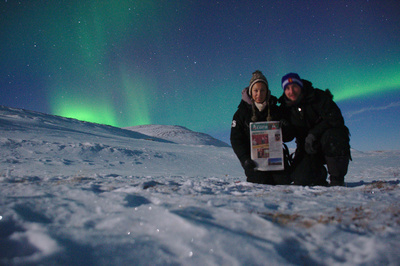 The next morning we planned to go cross-country skiing but overslept. Instead, we again went on our own walk, this time by the lake. Everything was frozen, but from pictures we have seen back in the hotel, this place looks completely different come summer. The snow gives way to wildflowers. Abisko National Park seems like an amazing place for a backpacking trip. Near the lake is a sauna that can be reserved. It's here where you can have the proper sauna experience of jumping into the frigid water to cool off. Later in the evening we saw a large group of exchange students from the hostel use it. From the lake we walked to the town of Abisko. This is where the only near by grocery store is located. About half of the store was dedicated to various gummy candies. We bought bunch of them, but totally forgot to buy groceries for dinner. I don't actually remember what we ended up eating, but it was probably some more cinnamon buns and snacks from the hotel snack shop. That evening we went for the night walk, and ended up with the same guide from the night before (Neil?). We didn't get to see the aurora, but the walk was very educational as we learned about different wild animals. Later, we saw how to make fire using just a knife to cut out progressively smaller tinder, and a steel rod to get the spark, and also got to try reindeer jerky. I couldn't sleep that night so went out for a walk to photograph stars. It was only after getting back that I realized I also managed to capture some faint green glow on the horizon. We then had an early (6 am) shuttle to Kiruna to catch our flight out. The airport was tiny. It's basically just a waiting room until you pass security. Then there is another waiting room but also a cafe and a souvenir shop. To runway was completely covered by snow.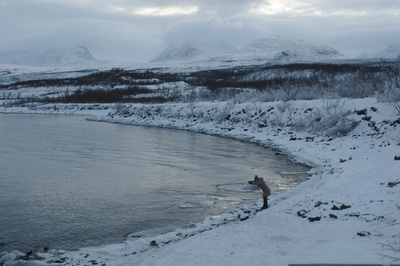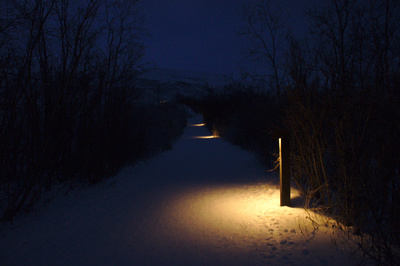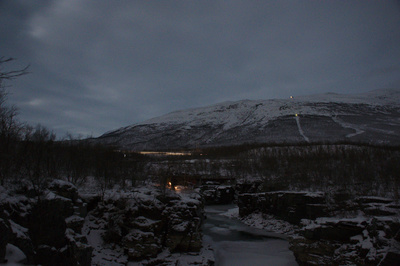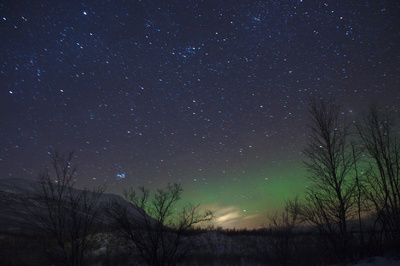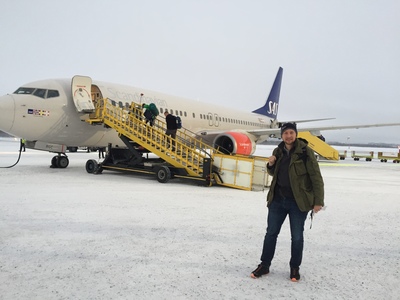 Salzburg, Austria (12/19 to 12/22)
We spent the entire Wednesday, Dec 19th, traveling. We had two layovers. The first one was in Stockholm, and the second one was in Frankfurt. In Frankfurt we visited a German restaurant for beer and sausages. We finally reached Salzburg past 9 in the evening. We headed to our hotel, Imlauer Hotel Pitter. We had just barely enough time to make it to the roof top bar to order dinner before the kitchen closed. The next morning, we signed up for a Lake and Mountains bus tour of the surrounding country side. Salzburg's most popular tour has to be the one visiting filming locations from The Sound of Music. While I liked the movie, neither of us are such huge fans that we wanted to know about how the film was made, so we opted for this other tour that brought us to two villages for their Christmas markets. While the city of Salzburg is pretty, it is really the surrounding country side that makes visiting this place a must. The scenery is spectacular. It was a cloudy day today so we couldn't see the mountains too clearly. It must be really gorgeous here on a clear spring day, with blue skies, and still snow covered peaks on the horizon.
The next day we spent visiting the house where Mozart was born, and also walked up the Kapuzinerberg (big hill on the hotel side of town, the center is across the river). This appears to be a huge park with miles of running paths. Unfortunately, we did not make it for a run as we were both suffering from the cold by now. We also walked up to the castle Festung Hohensalzurbg. We did not get in, but instead took a hill top path towards the modern art museum. On the way there, we passed by a small castle called Roter Turm from where we got the most amazing view of the Alps. Later I went ice skating (Christmas celebration complete!) and later we experienced a truly unique tradition: Austrian Krampus Run. Krampus is apparently the "anti Santa Claus" who punishes misbehaving children. For this run, people dress up in some really fancy and scary costumes and parade through the city. We also had dinner in a good Mediterranean restaurant called Wasserfall.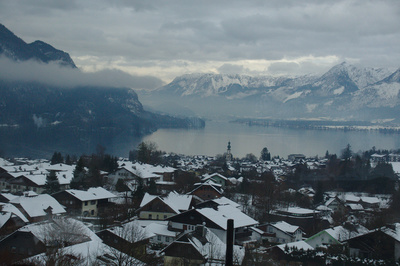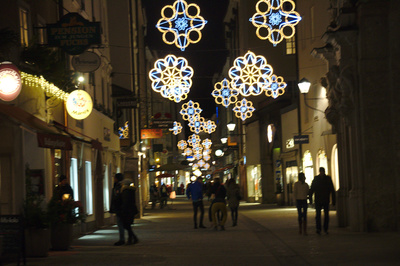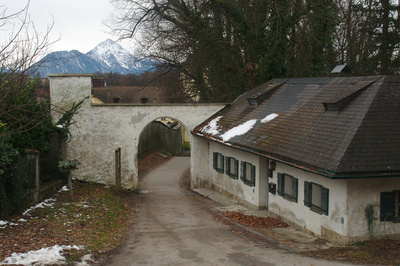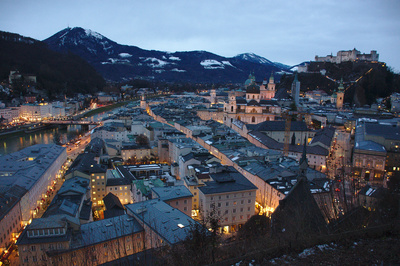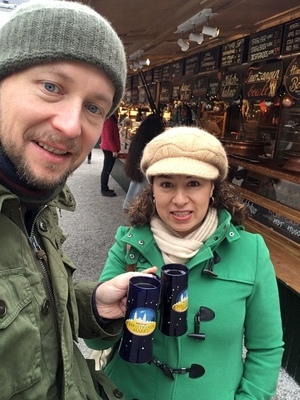 Slovakia (12/22 to 1/1)
It was finally time to put away the sightseeing hat and head to Slovakia to visit the family. Our next stop was my home town of Banska Bystrica. We took the train, with a transfer in Vienna, and later in Bratislava. Well, for some unknown reason, the Vienna to Bratislava train was canceled. We ended up taking a later train, but this one did not go all the way to the main train station and ended in Petrzalka, a large residential area south of the city. Had it gone all the way, we probably would still make the original Bratislava to Banska Bystrica connection, but because of the extra time needed for the bus (or a taxi), we ended up missing it by about 10 minutes. But it actually worked out OK, since this gave us time to grab lunch. The next train heading in the right direction went only to Zvolen, a near by town situtated on the main Bratislava - Kosice route. My dad met us there. We then went to the Banska Bystrica center for the Christmas market. We got there just in time to grab some food before the markets closed. We spent the night at my dad's house in Majer and the next day, visited my sister's mom's apartment for a pre-Christmas Christmas dinner. Here we finally got to meet my new nephew Ferko, who was born only about 9 months ago, while Petra and Fero (they all have the same first name, even Fero's dad) were still living in Minneapolis. My dad, being his usually goofy self, brought an assortment of various presents, including a loaf of bread and a can of Pringles.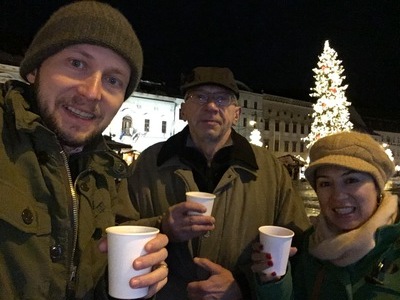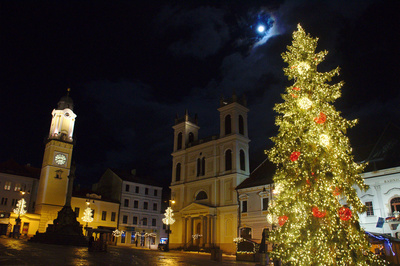 Then after lunch we left for Presov, the town Fero is originally from. Initially, the plan was to take the bus, but we didn't reserve it early enough and it was sold out. So my dad offered his car. Sandra ended up driving all the way with me navigating. The drive wasn't bad at all. Once we crossed the Low Tatras in Donovaly, we got on a freeway which took us all the way to Presov. There we were staying in an excellent Penzion Zenit. A "pension" is a small hotel, kind of like a Bed and Breakfast but in a city, that has about 5 rooms, and usually does not have a 24 hour reception. It often comes with breakfast. This is where we had the biggest room of the trip. The place was really clean and the second night, we were the only guests. We went for a walk (this was my first time ever to Presov, a really pretty city), had pastries in a baguette shop, then had dinner in "Stare Dobre Mexiko" (old good Mexico, it was not actually a Mexican restaurant despite the name) and later met up with Petra and Fero in the Dublin Pub. The next morning we went for a 5 mile running tour and later went to Fero's family's house to spend the Christmas Eve. I wanted Sandra to experience the traditional Slovak Christmas celebration. We were too late to see the live fish in the bath tub but she still go to try the various dinner courses: garlic with honey, wafers, sauerkraut soup (and also a mushroom and a fish soup at Fero's family), the fried fish with a potato salad, bobalky (dough balls with poppy seed sauce), and the many different kinds of cookies. After dinner, Sandra and I went for the midnight mass in the large church in the center of Presov town square. The next morning we left after breakfast for Kosice, Slovakia's second largest city. Most shops were closed but we found one coffee shop open where we had tea and pastries. We also saw paramedics trying to revive some lady that passed out during the church service. We then left for Banska Bystrica. Not wanting to retrace our way, I opted for a southern route through Roznava and Tisovec. This was definitely not smart in retrospect. The drive ended up being a single lane winding route through the mountains and took almost twice as long as backtracking the way we came in.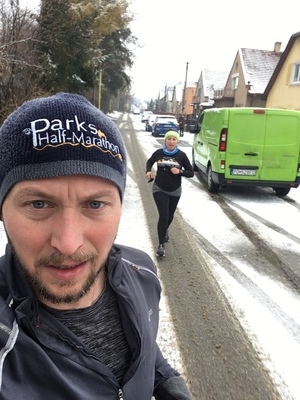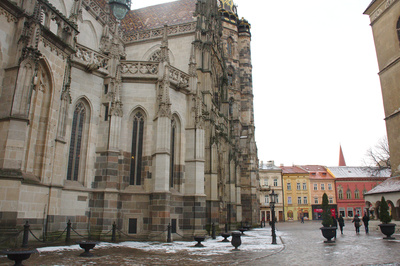 We had then yet one more Christmas dinner, this time at my dad's friend Alena. It was really neat trying out three different variations of the same recipe. Alena's sauerkraut soup (kapustnica) was our favorite because she makes it with cream, similar to what my grandma used to do. The next morning we left for Bratislava on the train. We had one full day of relaxing before my mom would come for a visit. We were here about year and a half ago (after the trip to Croatia) but we were still surprised by the amount of change. There is some massive construction taking place by the main bus station. The old town also has many new restaurants and shops we did not remember seeing before. We had a nice dinner in the rooftop Sky Bar restaurant. We also went for a 13 mile run through Bratislava and even ran all the way to the Austrian border, passing on the way a World War 2 bunker. My mom came on the 27th, and we took her on a sightseeing tour on the red Presporacik bus. We also made it to the top of the UFO restaurant. I vaguely remember being up there when my dad took me to Bratislava to get my first US visa, but that was such long time ago, it doesn't almost count. The top has a nice bar and a restaurant, and there is also an observation deck.
My dad came in on the 30th, the same day my mom went back to Prague. About a week earlier, we found that there is a big 10.5 km race on the last day of the year called Silvestrovsky Beh (Silvester Run, Silvester is the name for last day of the year, perhaps because it is Silvester's name day). Dad was going to join us (it would have been his first ever race!) but unfortunately had to head back early. Sandra and I ran it and it was actually really nice. We got lucky with the weather, with sunny skies and about 40F at the start. The major downside was that the race was extremely crowded. Despite the bibs having a chip, the timing was only based on gun time. We lost one minute just crossing the start line once we gun went off and then I spent the first 2 miles (until Stary Most) trying to make my way forward through the wall of people. The race is on sidewalks / bridges until you get to the wide bike path around mile 3. I even managed to roll my ankle on some dirt hill as I was running on the grass next to the sidewalk. Petra, Fero and Sofia were cheering on Stary Most (the Old Bridge). In the end, I ended up averaging around 7:40 pace although I was really doing closer to 7:10 for the second half, once it opened up. It would definitely be fun to do this race again, but try to line up in the front. By the way, there was a guy who ran in a suit and managed to finish 22nd out of over 1000 runners. Then after the race, it was time to rest a bit (by watching Poslusne Hlasim / I Dutifully Report movie about Good Soldier Shvejk) and we then headed to Petra's apartment to ring in the New Year. Sofia stayed up all night, chasing me with a magic wand saying "monster go away" (something Sandra taught her, hmm!). Then it was a quick nap until 4 am when our driver came to take us to the Vienna Airport. Another 6 hour layover in London later, we were finally on our way to Los Angeles. We were quite happy to finally get home. While I love visiting Europe, it is so far, especially from the West Coast. There were also many babies on the plane plus a guy next to us kept blowing his nose super loud the entire 10 hours. We both decided that it is probably the best to avoid traveling on January 1st, as this is when all the vacationing families are likely to be returning.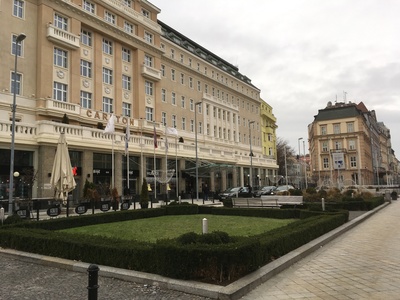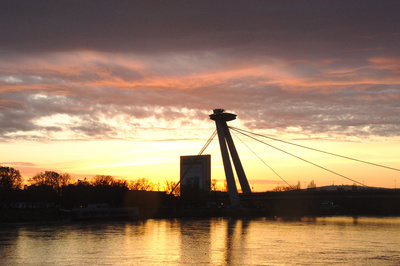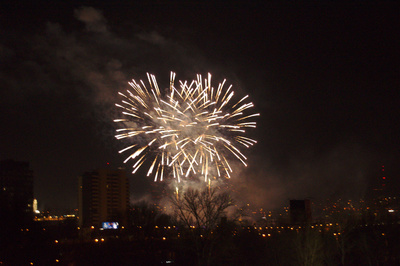 Comments or questions? message me