Elevation: 13,804 ft
Date: June 18-23, 2006 with summit on the 21st
Group Size: 5
Miles Covered: 50
Difficulty: Makes Rainier feel like a walk in the park....
Scenery: Tons of lakes, meadows and moose. Also a ton of mosquitos!
I got to say, this hike was quite a different animal than I had expected. People say that Gannett, the highest mountain in Wyoming, is a one of the toughest highpoints, perhaps second only to Denali. Still, I expected a long approach with heavy backpacks, followed by a straightforward snow climb to the top. I was right about the first part. However, the summit day was anything but a simple snow climb!
Sometime in early 2006, I got in touch with Chris Anderson, a highpointer whose website I found through the webring. Before this trip, Chris was up to 46 out of 48, with failed attempts on Gannett and Rainier. At some later point, I also noticed a post on americasroof.com by a guy named Aroh Barjatya, proposing trips to multiple western highpoints, including an attempt on Gannett in August. I mentioned Chris' plans to Aroh, and he decided to join us. Two friends of Chris also came, Doug Rice and Steve Cooper.
I should probably mention that I have not met any of these folks in person prior to this trip. We coordinated the climb through email, with me flying into Salt Lake City on the 17th and taking a shuttle to Logan, UT, where I would meet Aroh. Aroh is a doctoral student at Utah State University, doing work on Langmuir probes. What a coincidence! From Logan, we drove past Bear Lake, where I was introduced to raspberry shakes. Awesome stuff, I tell you. We didn't arrive in Dubois, WY, until around 2 in the morning. That night was spent camping in the Torrey Lake trailhead parking lot. Next morning, we found the other guys camped about a mile down the road. We packed up, and drove back to town for a breakfast at the Cowboy Cafe. Who knew, that could have been our last meal!
Days 1-3: Trailhead to Dinwoody/Gannett creek junction, 22 miles and 4000 feet of elevation gain
We got going around noon. The backpacks averaged 70 pounds, and so we started off pretty slow, taking a lot of breaks to rest our shoulders. The trailhead is at 7600 feet. About two miles into the trail we got into the Bomber Basin, a very scenic flat area surrounding East Torrey Creek. The basin is terminated to the south by the Arrow Mountain. A mile and a half long series of switchbacks climbs up the mountain, followed by a more gradual climb until a saddle at 10,896 feet. That's over 3000 feet of elevation gain!
We started with backpacks weighing 70 pounds on average. First day was spent taking it easy and enjoying the scenery.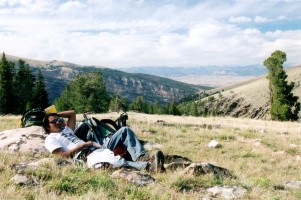 Aroh taking a nap at a clearing above the switchbacks.
We originally planned on camping by Double Lake, which is located 10 miles from the trailhead. However, the sun was going down by the time we got to Burro Flats, a prominent marshy flat spot south of the saddle, sitting at 10,600 feet. Doug decided to sleep out in his bivy, which sounded like a good idea, given that there were no clouds in the sky. Well, few hours later we were woken up by rain drops pounding on the tent walls. Soon after, lightning started hitting all around us. This was not good at all, since our tents were sticking out in this vast flat expanse like a sore thumb...
Luckily, the storm and its encore passed without anybody getting fried. Next morning we descended down to Phillips Lake, which was soon followed by Double Lake, Star Lake and finally the Honeymoon Lake. Here we also met new friends, mosquitoes. I heard that squiters on this peak were bad, but I wasn't expecting such an apocalypse. Many times it looked like it was snowing, except that the snowflakes followed us and wanted to feed on our flesh. DEET had to be reapplied every hour or so.
Second day we walked by several lakes. Second picture shows one of Steve's two favorite activities: shooting video. The other one was making postholes, aka Steveholes.
The trail loses about 1000 feet after Honeymoon Lake as it drops down to the Dinwoody Creek basin at 9600 feet. We saw moose here. This was also our second campsite. Fortunately, nothing exciting happened that night. This was another 8 mile day. We crossed the muddy Big Meadows early into the third day and arrived at the Ink Wells trail junction shortly after. This trail allows for one of the shortest approaches to the peak, but, it crosses an Indian reservation which charges an outrageously high fee (around 500 dollars!) for entrance. Not many people come this way. The views in this area were really spectacular. We soon also got our first real look at Gannett.
Junction with the short, but expensive, Ink Wells Trail. Soon after, we got our first look at Gannett (in center).
The trail next climbs a gentle slope as it follows the creek to its source. Crossing some of the many tributaries was challenging, but every time we managed to find a log, or few good hopping boulders. We camped just past the junction of Dinwoody and Gannett creeks, at elevation of 10,200 feet. Climbing parties generally camp another two miles up the trail, near the foot of the Dinwoody Glacier. However, we figured it would be better to camp away from the winds, and this spot offered the last campsite still under the tree line. This night we also practiced glacier travel and AV beacon search on a nearby snowfield; this was going to be Aroh and Steve's first glacier climb...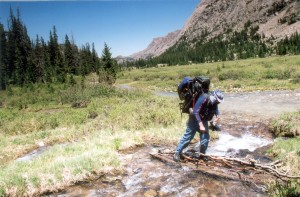 Doug crossing one of the many streams feeding into the Dinwoody creek.
Day 4: Summit Day
So after three days of hiking, it was time for the real thing. We left camp around 5:30am with small summit packs. We scrambled through a fairly large talus field, and reached the bottom of the Dinwoody Glacier around sunrise. We split up into two rope teams, with Team Alpha consisting of Doug in the front, followed by Steve and Chris. Team Bravo was Aroh and I. We continued up the glacier, skirting a large crevasse in the process. After gaining some 1000 feet, we reached a cross-over point below "the Knob", a large flat outcrop making up the Gooseneck Pinacle. A rocky field separates the two glacier, but we negotiated it without any major problems. By now, the snow started getting very soft, and many moats started opening up around the rocks. This was especially bad for Steve, who started Steveholing quite a bit.
Large bergshrund on the Dinwoody Glacier and a glacier lake at its foot.
Here we are climbing up the Dinwoody Glacier. We took a break at a nice spot with rocks.
We crossed over to the Gooseneck glacier on a snow ridge below "the Knob". This was followed by climbing over some rocky terrain.
Things started getting really interesting once we reached the Gooseneck Glacier. This glacier is steeper than Dinwoody and the exposure is much greater. Several routes lead to the summit ridge, and they range from "boy, that's steep" to "holy shit!" A large bergshrund separates the glacier from two couloirs on the northern side of the Pinnacle. The shrund was completely opened below the right couloir, but a bridge few feet wide still remained on the right side of the left chute. We crossed here, managing to punch few holes in the process. The two ropes were tied together for the climb up the couloir, with Doug providing boot-axe belay. Although we carried pickets, we did not use them. The angle and exposure were pretty ridiculous, but the snow was soft enough to make self arrest feasible. But the climb wasn't completely incident free. Aroh was in front of me when I noticed something black rolling away from him and heading down Gooseneck towards some big crevasses. It was his camera! Luckily, the camera stopped on the surface and we picked it up on the way down. The only damage was the missing summit shots...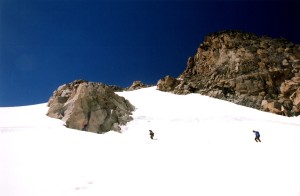 The Gooseneck glacier is pretty steep so we switch-backed few times until we got to the bottom of a prominent bergshrund.
The real fun began once we got to the shrund. We crossed it on a snow bridge on the right side of the steep left couloir. Still, we managed to punch few holes in the bridge.
We thought that we would be home free once we reach the top of the couloir. Boy, were we wrong! Although crossing the shrund was definitely the crux of the climb, the route did not get much easier. We were greeted by a large rock field, with some class 2 scrambling. This part reminded me of Disappointment Cleaver on Rainier, although the exposure here seemed greater. We reached the summit ridge as some clouds started rolling in. I started getting really worried about the weather, but they turned out to be rolls of puffies, extending all the way to Utah. The summit ridge was a long snow walk, full of frustrating moats. The drop off to both sides was pretty spectacular. Suffering from vertigo would not be a good thing! We reached the top about two hours later.
From the top of the couloir we got a new view of the summit. The rock tower looks taller because of perspective. Althought the summit looks close, it took at least 5 additional hours to reach the top. We were expecting a simple ridge walk to the top, but instead we had to negotiate multiple rock fields and an exposed steep snow.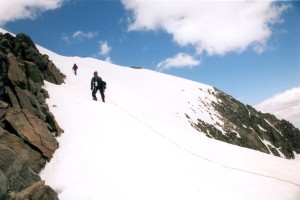 Here we are finally gaining the summit ridge. From there, it was a simple walk across a very exposed snow, many moats and a false summit until the top.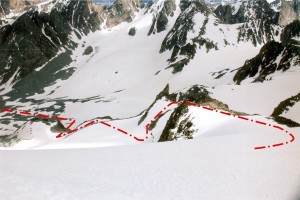 Here is our route, as seen from the top.
Success! The group on the summit of Wyoming. I am a bit blurry, but I made it!
Doug, our mountain guru, and Chris with Steve.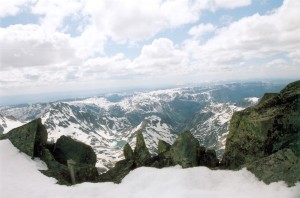 View to the other (western) side of the mountains, home of the Minor glacier and many lakes.
The return trip took considerably less time, with majority of time spent down climbing the couloir. I was leading, and I managed to find a very large moat right above the shrund. Luckily, I was on belay, so I didn't sink too deep. We picked up Aroh's camera and headed down Dinwoody. Once off the glacier, we split into two groups, with Chris and Aroh rushing back to the camp. The rest of us took it a bit slower, which turned out to be an issue once the sun set. Somehow we lost the trail less than a quarter of mile from the camp. We searched in vain for about an hour, but it finally took Aroh coming up the trail in response to our whistle blows to get us back on the right track. Sleep felt great that night! We left camp in the dark and came back in the dark. This 8-mile roundtrip (2 mile approach, 2 miles on glacier) took about 18 hours!
Of course, the trip isn't over until we get back. The angle and exposure is quite obvious in the first shot.
Days 5 and 6: Going home!
Of course, we still had about 25 miles to go until Cowboy Cafe. Chris, Steve and Doug were planning on taking it easy on the way out, so Aroh and I said our goodbyes by the Big Meadows. The two of us reached Double Lake that night and we walked out the next day. Last few miles turned out to be a real killer. Either my body sensed the proximity of the trailhead and switched to a recovery mode, or I just ran out of energy, but I really struggled with the section north of the Bomber Basin. The Cowboy Cafe waited for us back in Dubois with an awesome special: burger, fries, beer and homemade pecan pie. Good stuff! One of the waitresses was from Slovakia. This is the second time I met somebody from my home country while highpointing, the first time was in Massachusetts.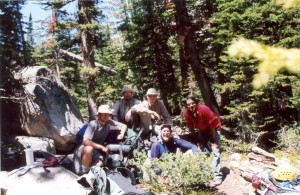 Group shot at the camp after a good night of sleep.
We did it! Our final look at the mountain...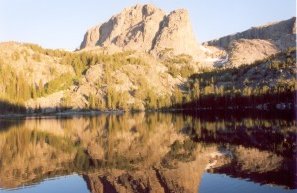 View from Aroh and my camp site by Double Lake.
We got back to Logan at around midnight, one speeding ticket and few raspberry shakes later. Shower after 6 days on the mountain felt great. But, it wasn't for long that I got to enjoy such luxuries. Next morning, I left with a friend from Virginia Tech, Bryan Bell, for a two day backpacking trip in the Uintas. The goal: highest mountain of Utah.
Comments or questions? Message me or