Sierra Club One Day Hike 2015 (MD/WV)
April 25th, 2015
Distance: 100km
Time: 14:09
I got into ultra-hiking during the three years I spent living in California. So when in 2008 I moved back to D.C., I started looking for options to add to my "resume" next to Whitney Day Hike, Telescope Peak from Shorty's Well, Cactus To Clouds, and my favorite, Rim-to-Rim-to-Rim. I found out about the Sierra Club One Day Hike, an annual event taking place in late April of every year. The standard route is 100km on the C&O Canal tow path from Georgetown to Bolivar just outside Harper's Ferry WV. So of course, I signed up.
Or sort of. I didn't learn about the event before it filled up (and it fills up every year), so the first year I ended up volunteering, doing a bike patrol from Point of Rocks. This was actually a great introduction to the trail, and I would highly recommend this option to anyone not familiar with the C&O canal. When 2010 rolled around, I put my name in the register. I thought I was ready, as I had my various hiking and highpointing experience to carry me through. I was mistaken. I set off with cheapo 10 dollar sneakers from Target and started suffering from awful blisters not even 20 miles in. By mile 42, I was done and out. I had blisters growing on top of blisters for weeks to come. Not fun!
In 2012, Sandra and I signed up together for the 100k. Our training involved hiking from Falls Church to National Harbor, which is not really that much fun of a walk. We also realized that we were not quite up for the full distance, so we switched down to the 50k. We completed the 50k at 7:42pm, 9 hours and 42 minutes after the 10 am 50k start. But I wasn't ready to give up on the 100k. In 2014 I registered again, just to miss the start by a day. Somehow I thought the hike was on Sunday instead of Saturday. 2015 was thus my third time officially registering for the 100k, second time starting, and first time finishing. This was by the way the 42nd year in a row that this hike has taken place.
To start off the recap, the hike went great. This was my first 100k, and honestly I found it quite enjoyable and I wasn't even all that tired. And best of all, not a single blister! I didn't feel any more tired than after running the 21 mile loop on Rock Creek and Capital Crescent trails we do with CAR when training for marathons. Even today, day after the hike, I am not particularly sore. I have just a bit of tightness in my thighs but I am sure that will go away by tomorrow. This is a huge difference even from the 50k two years ago. I remember the two of use barely able to walk for days! On top of that, I didn't do any hiking training this time. However, since I've been running quite regularly now for the past two years, I think all that running helped build "my base" and that's why I didn't get so affected.
I suspect the biggest factor influencing whether someone completes the hike (and on average only about 50% of people do) is the footwear. I've heard of various strategies for preventing blisters, including ones that sound quite insane, like taping your entire foot in duct tape. Uhm, no! I didn't do anything like that, but I paid attention to what shoes to wear. I decided against hiking shoes right away as they seemed as an overkill for the flat tow path. I also considered wearing trail running shoes but since I haven't done any long runs in them, I wasn't sure how they'll hold up. So I went with my regular running shoes (Saucony Ride 7, but not a particular endorsement of this model, it's just what I happen to be using right now). I ran the loop in these a week ago so I knew they'll be good for at least 20 miles of blister-free experience. I also decided to bring extra pairs of socks. I changed them out roughly every 20 miles. Besides that, I wore running tights, which also worked out well. On top, I wore a long-sleeve running shirt and a light outer layer. I carried with me a short sleeve shirt I envisioned changing into, but it remained cold enough that the shirt never left the bag. The same was true for my sunglasses and sunscreen which were useless on this overcast day. I carried a light rain jacket which helped as an extra insulation during the morning hours. It was in mid-30s at start, and "warmed-up" to the mid 50s during the day. The weather was actually quite good. It was a bit chilly for walking but perfect for running. I packed all the gear into a small hydration day pack, but used a water bottle instead of the bladder. I kept mixing water with half a tablet of Nuun, to replenish the electrolytes. Food-wise, I brought two tortilla wraps for breakfast (one with ham and cheese, the other with Nutella), a bag of trail mix, as well as several Gu gels (coffee-flavored, my favorite) and Gu Chomps gummies.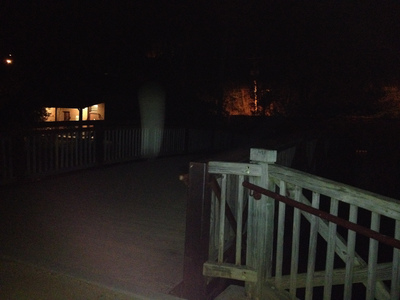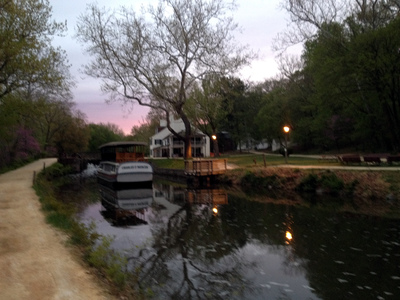 Hiking through Georgetown just an hour after the bars have closed is a pretty surreal experience. It was quite bright out, and I didn't even need the headlamp until we got few miles out of town. There were a few people who took off running at the start. My plan was to heed George's advice and start slow, finish fast. But I also figured that I need to alternate walking and running. First, even though I am a fairly fast walker, I can slow-jog faster than fast-walk, while seemingly using less energy. Secondly, alternating jogging and walking seems like a good way to keep muscles from locking up. I walked the first three miles until Fletcher's Boat House. This is where we meet with CAR for our weekend long runs. I didn't see anyone there at 4 in the morning. Slackers! Later, I got to see the sun coming out at Great Falls.
The first aid station is at Old Anglers at mile 12.19. I checked in and grabbed water before continuing on. Here I struck up a conversation with two guys, Rob and James. Rob was to be my on-and-off trail companion until Whites Ferry, where he left me in the dust. He has done this hike every year since something like 2001 and is a crazy fast walker. I would typically pass him during my jogs, only to have him catch me once I started walking again. Rob's strategy was to also spend as little time as possible at each station. I didn't linger much either, but needed at least a minute or two to refill water, grab food, and so on. He would just breeze right through. At Whites Ferry, I was enjoying my sandwich when Rob came in, grabbed the sandwich to go, and that was the last time I saw him until the end.
But before getting to Whites Ferry, I first had to get to Seneca Creek at mile 22.65. I got there at 8:01 am. This station serves bagels and muffins for breakfast. I grabbed food, refilled my water, but skipped the offered coffee. I changed my socks here as well. The scenery at this point is quite pretty as the pictures below show. The entire hike looks very similar, basically a nice level dirt path under a canopy of trees, with the canal on one side. There are also campgrounds every 5-10 miles that are popular with bicyclists. The entire tow path goes for 184.5 miles (let's not give the ODH organizers any new ideas!) until Cumberland, WV, and supposedly there is a way to continue onto Pittsburgh. I saw a group of 4 dads bike-camping with their kids, each pulling a child stroller behind their bikes. That looked like fun.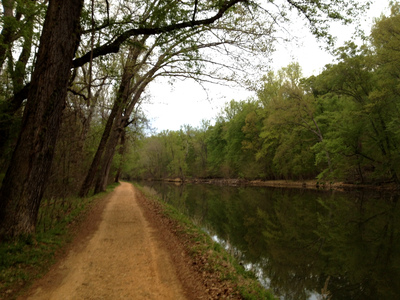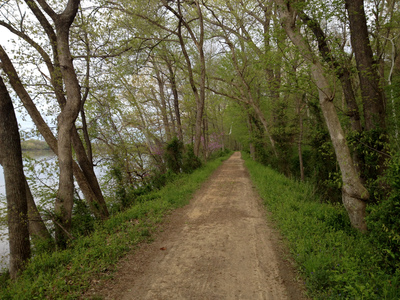 The next station is Edwards Ferry, at mile 30.68. I got here at 9:54. I grabbed salty snacks, refilled my Nuun, and kept on trucking passing and getting passed by Rob. I got to Whites Ferry at mile 35.59 at 10:53 am. This aid station serves sandwiches for lunch. It is also the start of the 50k. The 50k-ers start at 10am, but in order to get in their distance, they first head backwards towards Georgetown. I got to the lead pack just at their turn around point, somewhere half way between the two aid stations. Depending on your pace and timing, you may be passing 50k-ers for the rest of the way. But since I was in front of the pack, I didn't see that many more people on the trail, besides some four 50k-ers, and another 100k guy. And the 100 milers.
Turns out that the day of the ODH also coincided with the C&O Canal 100 mile race. Unlike us, these guys do several loops starting up north. Their first turn around point was at Noland's Ferry, which is a little way past our Monocacy Aid Station at mile 41.97 (which I reached at 12:27). When I got to them, these guys were in less distance than me, and bunch of them were walking, which made me feel quite good. I chatted up a couple that was somewhere near the front of the pack and jogged with them for a bit, which helped me gain some extra energy. Monocacy, by the way, is the place I dropped out in 2010. I didn't get there back then until 4:55 pm, which is about 4 hours and 30 minutes later than this time. I was happy not to be suffering from blisters this time, however, by now I was starting to feel quite tired. I think that physically the section between miles 40 and 50 is the toughest. Your body is exhausted, but you still got quite a ways to go before you start "smelling" the finish line. At Point of Rocks at mile 48.16 (2:00pm) I got a visitor, my personal cheer squad. Wifey came out to cheer me on, and also brought my resupply bag. I had in it an extra bag of trail mix, but as I was only half-way through my first one, I didn't take it. I also had a sip of Pepsi, and grabbed extra gels and gummies. I also grabbed and put on fresh socks, and dropped of with her an extra water bottle, sunglasses, and a running cap. This station was also serving hot chicken soup which tasted great.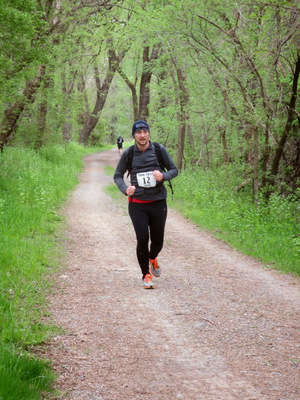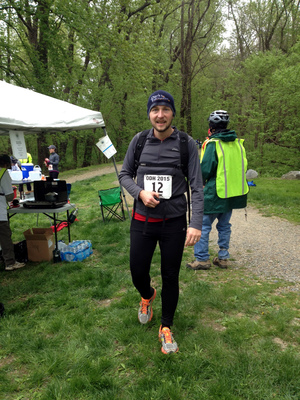 But I still had some 14 miles to go (just a half a marathon at this point!). I got to Brunswick at mile 54.77 at 3:33 pm. From here, it was only about 6 miles to the bridge across Potomac that takes you into Harper's Ferry. This bridge was the mental end goal for me. I knew that once I crossed it, I'll be almost done. It took forever for it come into view. You get a glimpse of the larger automobile bridge from a while back, but the second pedestrian bridge doesn't come into view until you are almost in front of it. I also thought that it came before mile 60, so it was quite disappointing to see this marker come and go, with still no bridge in sight. The good thing about being closer to town is that you start seeing more people out to cheer you on. I texted a selfie from the bridge to Sandra, not knowing that she waiting for me on the other side. I then kept on trucking up the hill known as High/Washington street, until reaching the Bolivar community center, the end point, at 5:09 pm, 14 hours and 9 minutes after starting. Rob was waiting inside. He said he completely took off after Whites Ferry. He has been recording his mile splits since the first time doing this hike, and I am sure he shattered his PR by a huge margin.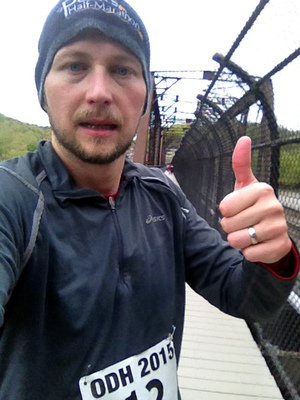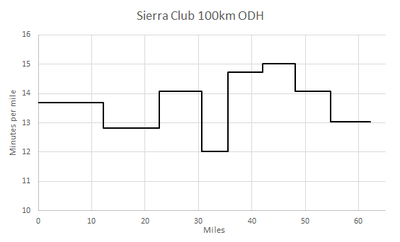 Few more pictures
Mike D., who has been organizing this hike for as long as I remember, also took bunch of pictures. I added few of his photos below.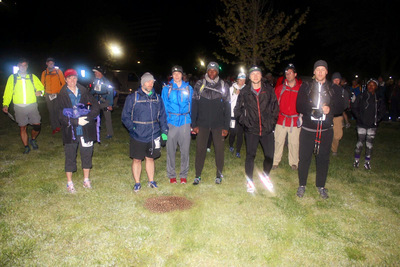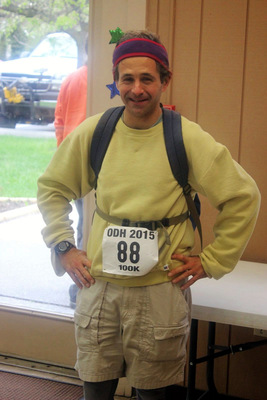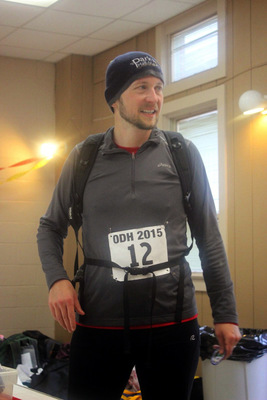 Comments or questions? message me