2017 Los Angeles Marathon
Date: March 19th, 2017
Time: 3:29:59 (8:01 pace)

This was my third time running the LA Marathon, with the second time on the "Stadium to the Sea" course. Just as last year, the race was well organized. The only exception was the post-race one hour gridlock we got stuck in trying to leave Santa Monica - the police department really ought to come out and direct traffic through the jammed intersections. The starting line was not terribly crowded for a race this size (about 20k finishers). We arrived little after 6am for the 6:55 start and there was no line for the porta-potties. The lines got longer closer to the start, but since the race begins at the Dodger Stadium, I just used a bathroom in there. As this was Chris' first ever marathon, he was assigned to the open corral. I instead headed to mine, hoping to run into Alex from Capital Area Runners. George mentioned that a new CAR member will be running so I figured it would be nice to say hi. It was not hard spotting him in the bright red CAR singlet. He was running with his girlfriend who is originally from the LA area.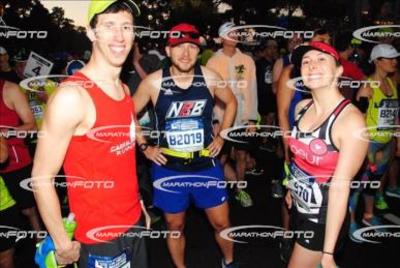 Soon after that, we were off. My original goal was to run around 3:25, but my training sort of fizzled out this year. I was actually hitting higher weekly mileage (55+) in the "pre-training buildup" than during the actual training (45+). I wasn't injured or anything like that, but just got really tied up with work plus sort of started lacking the motivation to keep going on two daily runs. So anything sub 3:30 seemed like a hefty goal but I managed to make it by a hair! Chris had a much better run. Not only he completed his first ever marathon without bonking, he did it in a lightning fast 3:19:24, which is almost 6 minutes faster than his BQ time!
I felt like this was my first ever marathon that I actually raced. LA Marathon is big for first-timers, with over 50% of the field composed of new marathoners. The marathon passes through many famous LA neighborhoods, giving the runners plenty of sights to look at. This year, all these sights just passed by unnoticed by me. I remember seeing the Walt Disney Concert Hall, but that was only since I knew there is a big hill leading to it. Hollywood and Sunset Blvd were a blur. I remember seeing the Hollywood sign last year, but have no recollection of it from this race. I paid attention for Rodeo Drive since that was where Sandra and Cody were supposed to be cheering. But after I didn't spot them, I just fell back into a spaced out mode until I heard Sandra calling out for me around mile 21. Turns out her and Cody decided to move farther out. I think Cody wanted to pace Chris for the last 5 miles so wanted to be in a position to do that. She handed me a bottle of Gatorade which made a big difference. For a second it made me feel like one of the elites with their support crews and special drinks table. Despite running with a water bottle and grabbing cups of water or Gatorade at the aid stations, all that managed was to sustain a certain level of dehydration. It was hot today, and that whole bottle helped replenish my fluid levels.
Despite being a net elevation loss, LA marathon is quite hilly. The hills in the second half are not big, but after running over 20 miles, even a tiny hill is challenging. I powered up the last hill toward mile 23 where I knew NBB will be hanging out. I didn't see their tent in my spaced out mode until I heard Amir calling out my name. I originally planned to grab a Gatorade here but since I just got one two miles ago, there was no need. From here, the course follows a nice downhill for the remainder of the race allowing you to get a nice "kick" on the way to the finish line. I managed 7:24 for the last mile and 6:52 for the final 0.2.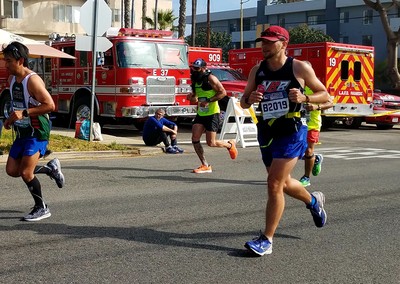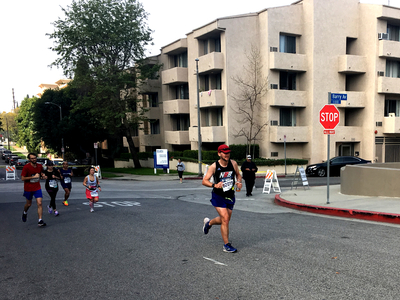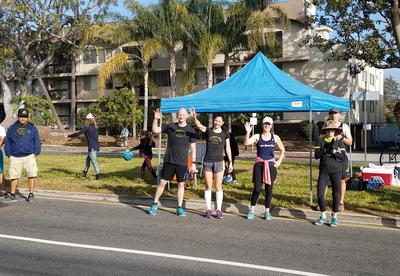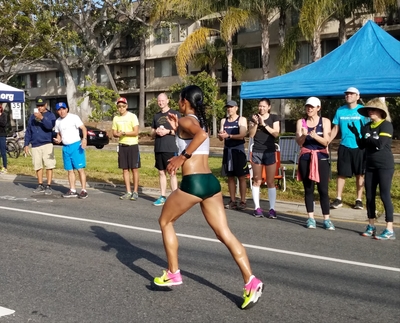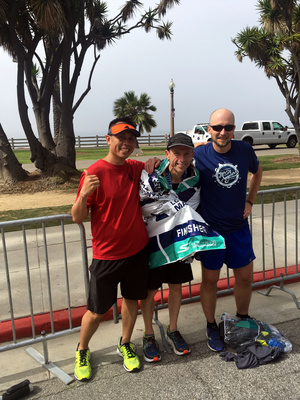 Thoughts
The race went pretty well for me. I had some possibly yoga-related hamstring / calf / ligament pain (can't quite figure out which as it seems to change day to day), but it didn't bother me while running. But there were two downsides: first I didn't manage to reach my goal weight and second, probably related to the first, I had to once again stop to use a portapotty for "#2" during the race. This happened around mile 10 and cost me about 90 seconds based on the Garmin data. Chris was much stricter with his diet, and managed to drop about 30 lbs in the 4 months leading to the race. My weight loss was much less drastic, having lost only about 10 lbs in the same time period. I also seem to have overdone it with my carbloading as my weight shot up 8 lbs on the day of the race. I was hoping to be around 168 lbs (the upper end of normal weight for my height) but instead ballooned well into the overweight zone at 181 lbs. My next marathon won't be for over 8 months, and I need to spend that time really getting my weight in control.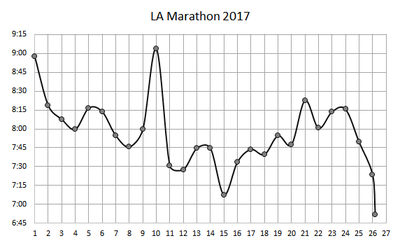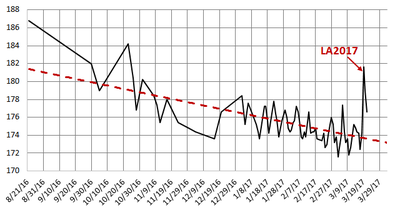 Training
I trained for the race with Chris using George's plan, which consisted of weekly progression runs with a gradual increase in distance, leading to three sets of 21-mile long runs and 4-3-2-1 pickups. The first of these is run as a progression with 7 miles at MP+1:30, followed by 7 miles at MP+0:45, and finally the final 7 miles at your marathon pace. The pickups are 2 easy miles at MP+1:30, followed by 4 miles at MP, then 1 easy mile, 3 miles at MP, 1 easy, 2 at MP, 1 easy, 1 at MP, and finally 2 easy to complete the total of 17 miles. We ran most of these either from Santa Monica or Dockweiller beach, however, managed one destination run in Anza-Borrego desert. One of the 21 mile progression runs was on the hilly Dirt Mulholland trail in the Santa Monica mountains. We also penciled in few checkout races, with the first being a local 5K in Moorpark. This was a nice race, and apparently not very competitive as we both managed to win our age groups. Our checkout half marathon got cancelled, but Chris found some open-course no-frills replacement. Having run that particular race before, I instead went cross-country skiing in Mammoth. However, we fit in one more race, an 8K in Brea. This was a more competitive race. Despite running at a pretty good clip for me (6:53), I came in only 12th in my division.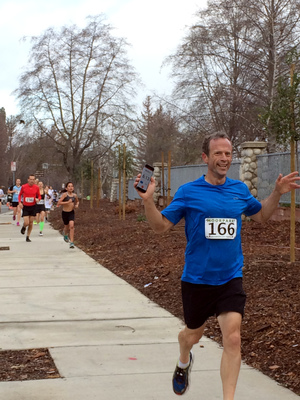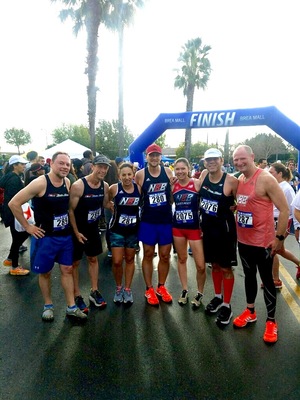 Comments or questions? message me