Date: December 2nd, 2017
Time: 11:48:17 (14:09 pace)

In early December 2017 I ran what I consider to be my first true ultra-marathon, Ray Miller 50 miler. I have done three prior races at an ultra-marathon distance: Sierra Club 50km and 100km One Day Hike (ODH), and Bulldog 50k. However, the ODH is totally flat and Bulldog at 50km is just barely longer than a marathon. This race is quite hilly as the map below shows. It starts off almost at sea level at the Ray Miller trailhead off the Pacific Coast Highway several miles north of Malibu, CA. It then climbs for 3 miles up a steep hill until reaching a fire road. There is then a bit more uphill until you reach the first aid station, Hell Hill, at mile 4.5. There you turn left to complete the first "lobe" going clockwise around Mugu peak. You will be treated to some nice ocean views here. This is also where Howie Stern was taking photos of runners. You then reach the Hell Hill aid station again for the second time. You again turn left, heading north on Guadalasca Trail. This second lobe starts off going uphill but eventually drops you down to Wood Canyon. The climb from there to reach the aid station for the third time gives it its name. The final 1.5 miles are hellish. The terrain is not technical as you are on a fire road but the grade is brutal. I grabbed some watermelons and gels before continuing onward. This is mile 16.
The course next heads down the Backbone trail to the Sycamore Canyon fire road. The 50k people head here directly to Danielson ranch while the 50 milers get a "fun" extension on Coyote and Hidden Pond trails. I think the Coyote trail is the toughest part of the entire course. It's steep, endless, and uneven. You finally reach the top, just to realize that was a false summit and there is more hill to climb. From Hidden Pond you head to Danielson Ranch on the Sin Nombre trail. Danielson ranch at mile 23 is aid station 4. From here, you have an almost 3,000 ft climb ahead to reach Sandstone Peak, the highest point in the Santa Monica mountains. To make things more fun, from the top you head back down, dropping about 800 feet, to reach aid station 5 at Mishe Mokwa. This station is at mile 33 and you can have drop bags sent here. From there, it's back up the hill to backtrack on the Backbone trail to Old Boney trail. Then you have a relatively enjoyable downhill until you reach the final aid station at the junction with Sycamore Canyon fire road at mile 44. You are now basically at the sea level. Again to spice things up a bit, you next climb up a 1,000 ft hill on the Fireline trail. The end is then finally in sight as you descent back down the Ray Miller trail to the finish.
This race was originally supposed to be held in mid-November but due to some park service scheduling issue, had to be pushed off to the first weekend in December. I was very happy with this change. My primary fall race was the Ventura Marathon, so this delay gave me two extra weeks to get ready. It was still quite difficult to train properly while also training (and recovering from) the marathon. I did two long runs on the Ray Miller course in August. The first one was a 16.5 mile "first lobe", while the second one was 19 miles going to Hell Hill, and then following the 50k course (so straight to Danielson) to the finish. I then took time off from trails to focus on the marathon. Then Saturday November 11th, 3 weeks after the marathon, I did a 32.5 mile run in which I followed the 50 miler course all the way to Danielson from where I headed straight down Sycamore to the Fireline trail and the finish. The next day I came back, and ran from Mishe Mokwa to the Old Boney trail junction (where the 50km course goes straight) and back for 12.8 miles. This gave me 45 miles over the two days. With these training runs, I managed to cover the entire course in pieces. This was really helpful come race day.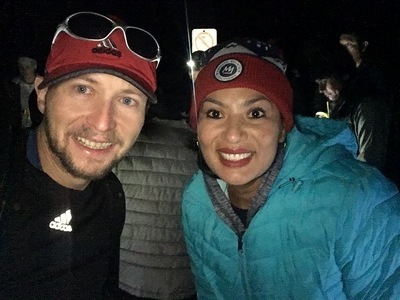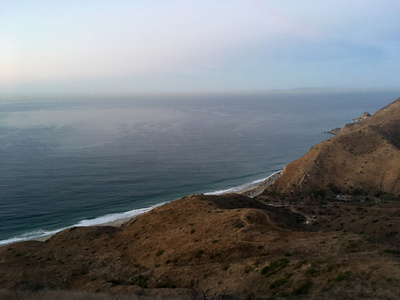 What was less helpful was doing too many races too soon. I gave myself 3 weeks to recover from the marathon but perhaps that was not enough. 10 days after my 45 mile weekend I ran the Conejo Valley YMCA Turkey Dash 5km turkey trot. It was really hot and I pushed myself trying to break 20 minutes. I failed to do so but at least PRed in 20:13. Still, I felt like crap at the end. Then two days later, we went to the beach for a 14 mile progression run. I completely bonked and started getting pain / cramps in my quads over the last two miles. In hindsight, this was an omen of things to come. I cramped up reaaal bad on Ray Miller! I was fine over the first 18 miles. I then started getting a bit of pain in the quads heading up Coyote but it didn't start getting bad until reaching Danielson at mile 23. I even started contemplating dropping out as it was very painful to get going again. The climb to Mishe Mokwa was absolutely brutal. My legs would completely lock up. Not really having any experience with this, I didn't know what to do. However I found that doing squats helped. I would also try to stretch against a tree, although this was often a mixed bag. Sometimes I was somewhat cramped up, and after stretching, I would be totally cramped up, barely able to move. I took about a 30 minute break at Mishe Mokwa where Sandra was waiting for me. Some volunteer had brought a dough roller which was really helpful. I also changed shoes here. I started the run in pretty old New Balance Leadvilles and I think they were way past their expiration date. I put on almost brand new Solomons for the way back. Not sure if it was the new shoes, the dough roller, or simply the fact the rest of the way was mainly downhill, but the cramps were not too bad for the rest of the course. My quads were still in pain, but at least I could move the legs. I was drinking plenty of Nuun / taking salt pills during the race in case somebody wonders if the lack of electrolytes was the culprit.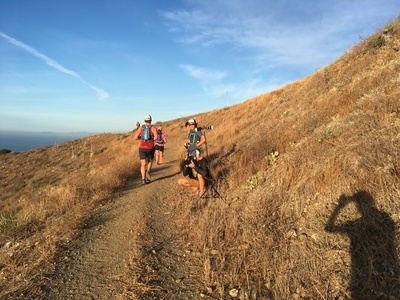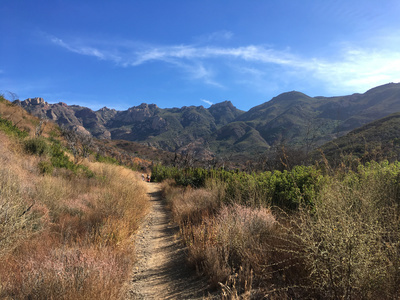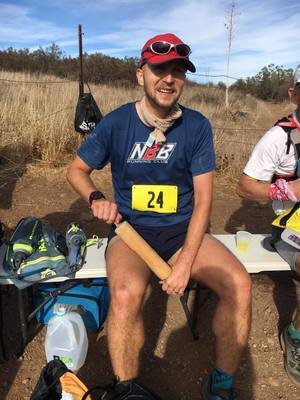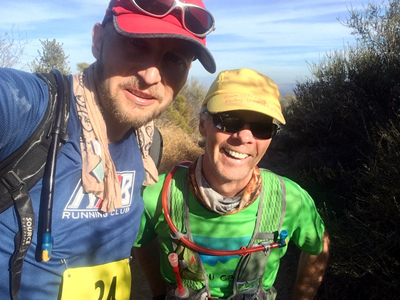 It was nice finally reaching the end! I was hoping to finish before dark but at least I got to see a beautiful full moon rise. The downside was that I couldn't find my spare batteries. The headlamp barely gave out enough dim light to let me keep walking but running was difficult. I ran down the final 3 mile downhill at a "brisk" 12 minute mile - quite a slow down from the typical 7:30 minutes per mile I was hitting during the training runs. In the end, I finished in a little under 12 hours. I was hoping to come in about an hour faster, but the cramps cost me at least that much time. It got really cold at the finish. Being a novice at these things, I wasn't quite ready for this cold. I had a long sleeve shirt with me in my backpack, but it was not enough. The finish line station had hot minestrone soup and I ate about 4 bowls trying to warm up. It wasn't working though as I started getting hypothermic with uncontrollable shivers. It may be good for the organizers to have few space blankets and hot tea at hand for unexperienced novices like me. Luckily, Sandra had with her a warm jacket she let me borrow. She also eventually walked over to the car to bring me the long pants I left there in the morning - putting them on made a huge difference! About an hour after me, first Mallory and then Roger came in (we carpooled together). Our other Future Track friend Dave finished about an hour before me so we missed him. We ate a bunch of turkey sandwiches before finally heading back home to wrap up this really long day! The next day, Sandra and I met up with our Capital Area Runners friends Robin and Richard for a bit of wine drinking in Malibu wines followed by dinner in the nearby Malibu Cafe (what a neat place!). To summarize, this was a really nice race. I think I will try it again next year, and hopefully not cramp up this time.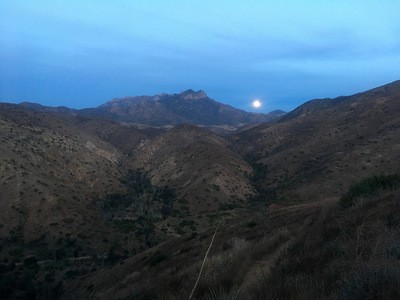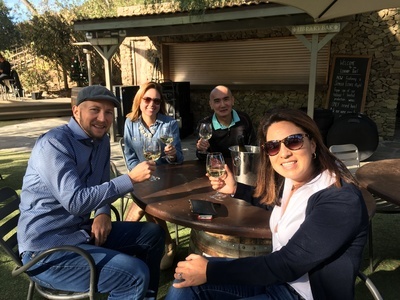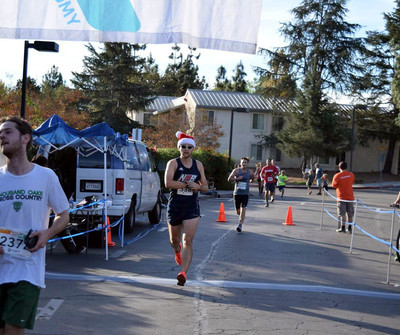 Comments or questions? message me