2020 pandemic trip to Yellowstone and the Grand Tetons. So many animals!
Date: June 28th, 2020 to July 2nd, 2020

As we all know, 2020 was a year nobody imagined. In the early spring, California, along with the rest of the world, was in a lock down. Yet, as weeks passed by, people started venturing out again and toilet paper returned to store shelves. By the summer, Sandra and I were looking for places to visit to escape our Thousand Oaks bubble. At this point, long before COVID-19 vaccines became available, air travel still seemed risky. City visits were also out since the benefits such as restaurants and museum still mainly remained shut. We thus packed into my 100,000 mile, 10 year old Kia Soul, and took off for a drive to Wyoming to spend some time away from crowds (or so we thought) in the Yellowstone and Grand Tetons national parks.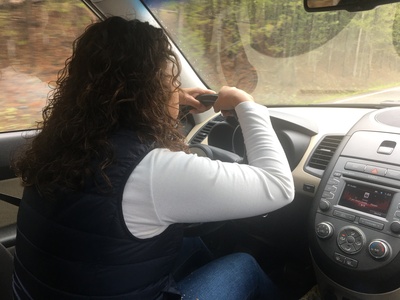 We spent the first night in a motel somewhere near the Utah - Arizona border. This was our first time sleeping outside our home since pre-pandemic. It was still unclear just how long lived the virus is on surfaces, so spending hours breathing in air in a room just recently used by others didn't seem particularly safe. We may have even slept in our face masks. At the same time, we also noticed that while in SoCal pretty much everyone wore their masks religiously, this was far from the norm once we crossed the state borders. At home, people masked up just to pump gas, while in Nevada, Arizona, or Utah, masks were a rarity even inside the gas station convenience stores. One peculiar challenge of traveling during the early days of the pandemic was that most fast food restaurants completely shut down their indoor operations, and as such, gas stations remained as the only option for a bathroom break. But we arrived in Wyoming without any issues. That night, we were originally supposed to camp near the Tetons, across the border in Idaho to reduce time spent in hotel rooms. However, the weather wasn't looking good, with snow shower (in early July!) forecast for the area. So we grabbed a last minute room at the Mountain Modern hotel which was really nice. Turns out that Jackson is an amazing city that we probably wouldn't have the chance to explore had we camped as planned. We walked through downtown to an ice cream place, where we enjoyed our cones while a guy near us kept getting into intermittent coughing fits. Covid? We also had really good barbecue at Big Hole. The next day we drove through Yellowstone to Montana's Silver Gate / Cooke City where we had rented an AirBnB cabin. I was quite curious to return to this area after my rather eventful climb of Montana's highest mountain, Granite Peak! The cabin was really nice, but the only downside here is that there is very little internet connectivity here. My AT&T cell phone had zero coverage for almost the entirety of the time here, and the cabin had only a very limited satellite connection. Its a good place to come check out from the work grind!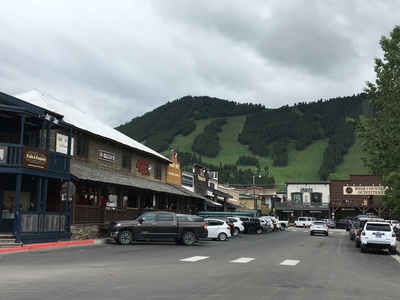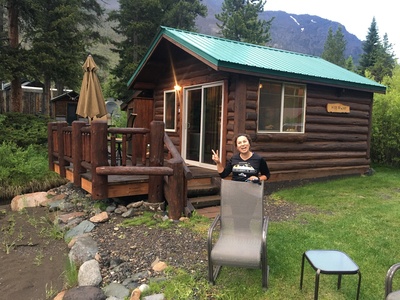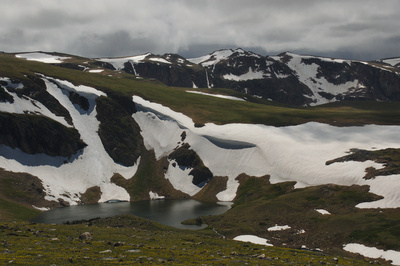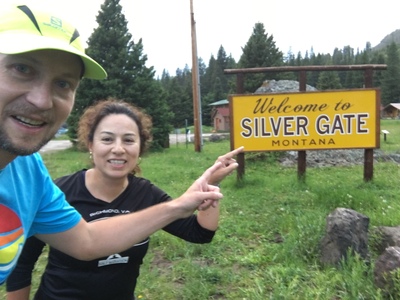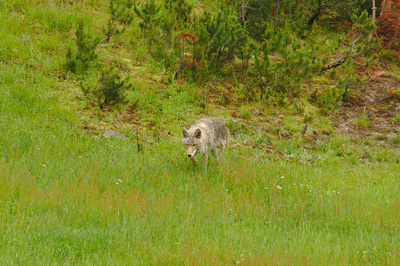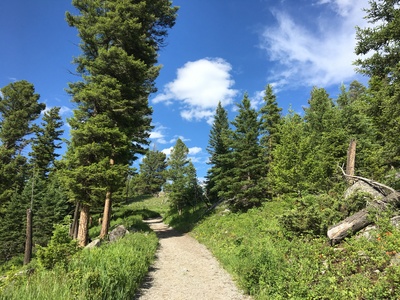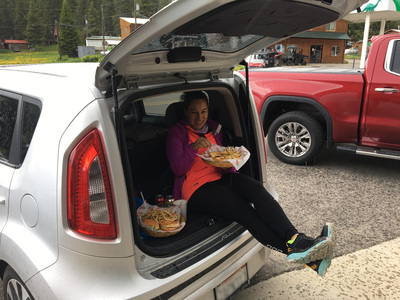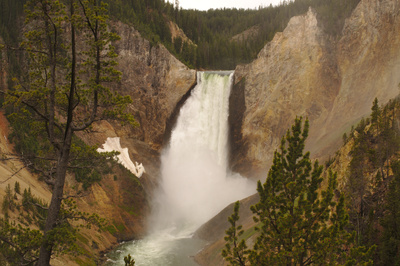 Of course, we got to see the many geysers Yellowstone is famous for. We were quite surprised how crowded it was here. Clearly we were not the only ones wanting to get out of our pandemic lock down! Only a half of visitors wore masks even while in line on the packed walkways.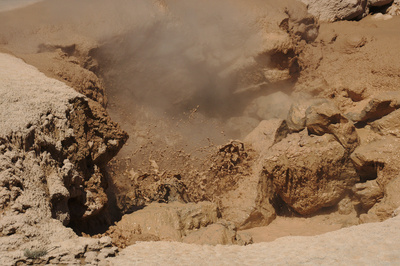 After two (or was it three?) nights in the cabin, it was time to start heading back. We decided to spend another night in Jackson, however, in a different hotel as the one we stayed in on the way up was sold out. This gave us the chance to explore Jenny Lake. We took a ferry across and then walked all the way back around it. We didn't spot any bears here, which was quite good. The encounter with the one in Montana was quite sufficient. It didn't bother us but also didn't seem to mind we were only about 10 meters away on the path as it foraged for berries.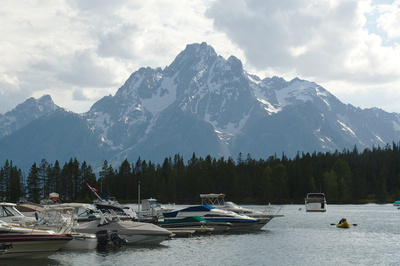 We passed by Utah's Bear Lake on the way back so that I can introduce Sandra to the raspberry milkshakes that Aroh introduced me on our way to Gannett. It was here that we had a little oops with my car starting to show its age. It was handling just fine getting in, but once we started after lunch it was clearly not running at full power. Trying to climb a hill just outside the lake I was holding up traffic as it would not go more than 20 mph. Luckily, like magic, pulling over and restarting the engine fixed the issue. I was concerned shutting off the engien when stopping for gas, food, or overnight, however, the problem did not return and we made it back to SoCal without any more incidents. Later I found that some ignition sensor broke, so the car though it was not on? Seems like too much technology! Yet despite this being a very nice drive, it is also quite long. We can't wait to return, but next time we fly to Jackson!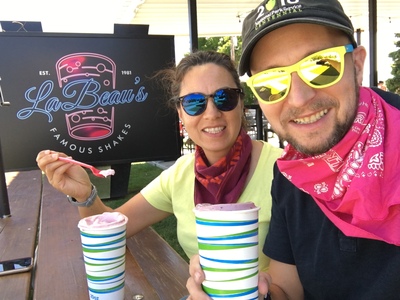 Comments or questions? message me