| | |
| --- | --- |
| French Polynesia: Tahiti, Moorea, Bora Bora, and Huahine | 1 2 3 4 |
Trip Date: June 8th - June 18th, 2021

It's a safe bet that French Polynesia, with its picturesque Bora Bora, is on everyone's bucket list. Just as many newlyweds, we contemplated heading there for our honeymoon, but instead opted for Vietnam and Cambodia. But the bug to visit Tahiti and the surrounding islands remained strong. So in the late spring of 2021, as the world started slowly re-emerging from the COVID shut downs (this was prior to the Delta variant emergence), we decided to finally book a trip there. Even with the vaccination, destinations featuring outdoor type activities seemed like a smarter choice over packing into city museums or cafes. While in the US the government has to beg people to get vaccinated, the rest of the world to this day suffers from a shortage of doses. To reduce the spread of COVID and to prevent overwhelming the limited medical system, the French Polynesia government implemented a total ban on foreign tourists throughout 2020 and early 2021. However in May the region started reopening, with tourists from the USA being the first authorized to enter, even before the citizens of France. We found ourselves in this early wave, which was excellent. The hotels were almost completely empty but also fully booked not many weeks in the future. It also meant that we didn't have queue for a restaurant table nor had any issues getting last minute car or boat rentals. This ended up being such a wonderful trip. We got to go hiking, boating, snorkeling, biking, stand up paddle boarding, and my favorite, I got to run all the way around Bora Bora!
Tahiti is definitely not a budget destination, as everyone knows. Not too long ago, before the pandemic, our friends Dion and Liz made a trip there using a Costco vacation package. These Costco packages seem like a good way to travel. For instance, there is currently a 5 night deal to the Le Bora Bora Pearl hotel where we stayed for $6,200 per couple. This includes air fare and food at the hotel, which is quite expensive (count at least $100 a day per couple). Instead, as usual, we did our own à la carte trip with the cost breakdown shown in the second picture. In the end, the cost was similar to going with Costco, but we got 9 nights instead of 5. We also got to visit 4 islands instead of just one, rented a car twice, and got to tour Bora Bora lagoon by a boat. Our cost however did not include the international air fare, as I managed to use my United miles to once again get free flights. This time we didn't get to go business as we did on the way from India, but still, not having to pay for the tickets is a great help! I keep repeating this here, but if you like to travel, make sure to get a reward credit card such as Chase Sapphire or Chase United Explorer as they make collecting travel miles extremely easy!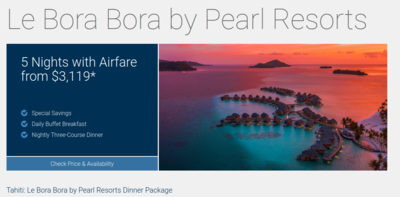 Organizing a Tahiti trip yourself involves a bit of planning. First, just getting there in the age of COVID is not trivial. At least 6 days prior to the trip, we had to register on a ETIS website to get a sort of an electronic visa. This registration also involved filling out a separate form with the High Commisioner to French Polynesia, but it is not clear if this step is still required. The latest info seems to be here. This second document had to be printed out. The United agent in San Francisco was making sure this was the case, and passengers without a hard copy found themselves scrambling to get to a FedEx store outside the terminal. You also need to be vaccinated. Finally, multiple COVID tests are required. I managed to get through the first year of the COVID pandemic without taking a single one, and here I found myself taking 4(!) tests in the matter of two weeks. First, you need a negative PCR test just to get on the plane. Then, on the arrival in French Polynesia, you get to take a rapid antigen test right after passing through passport control. You cannot leave the baggage area without a negative result. You are also given a take home test that needs to be dropped off at your hotel reception or a clinic four days post arrival. Finally, getting back to the USA requires a yet another rapid antigen test.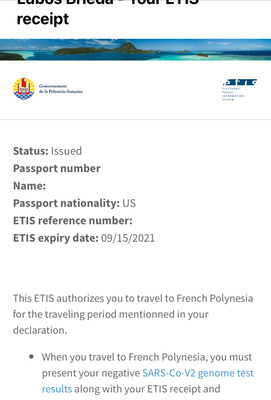 Then there is the decision of where to go and for how long. French Polynesia is made up of 118 islands, although most tourists stick to the Society Islands archipelago. Yet even these 14 islands are too many to visit on a single trip. You always start on Tahiti, as this is where you land. The nearby Moorea is reachable by a ferry and is thus also very popular. Skipping Bora Bora would seem like a sin. This then leaves you with few other options such as Tahaa, Raiate, Maupiti, or Huahine. We settled on the last one (we figured 4 islands is a good number), mainly due to the flight schedule. It was a good choice. Snorkeling here was unbelievable and the hills gave us a good bicycle workout. To get around, Air Tahiti offers a relatively affordable Bora Bora pass for 465 Eur (about $550) per person. It allows you to hop around Tahiti, Moorea, Huahine, Riatea, Bora Bora, and Maupiti, with the caveat that you cannot return to Tahiti except to complete your journey. Not all islands are serviced daily, at least not with direct flights, which required us to reshuffle the itinerary a bit. However, what we ended up with worked out great. We started with 2 nights in Tahiti. We then took a ferry to Moorea (about $15 a person) and spent two nights there. From Moorea we flew to Bora Bora on a direct flight. After two nights (sufficient!), we took a flight to Huahine with a layover on Raiatea. This gave us about 2 hours just to enjoy this island, although there really wasn't much to do besides having a drink at an airport bar. After 3 nights in Huahine we flew direct back to Tahiti on an afternoon flight. We flew out back to the USA that same evening.
Tahiti
The flight to Tahiti took us through San Francisco, as usual. I really wish United had more international flights out of LAX. For going to Asia it's not really a big deal, but having to route through San Francisco to let's say go to Cabo San Lucas is just ridiculous. After a 2 hour layover, we hoped on the 8h 40m flight to Papeete, the capital of French Polynesia and also its largest city. This flight was quite uneventful. It was on a 787. While I was quite excited to fly on these when they first came out, I am now really starting to dislike these planes for their electronic window shades. There is nothing really wrong with the design, except that it gives the cabin crew control to lock them out. And boy did they. The shades were dimmed for the entirety of the flight. If you hoped to get a glimpse of the islands - or just the ocean - on your approach, too bad! It was dark windows, dark cabin mode the entire way. Want to work or read on the flight? Don't forget to pack a lantern!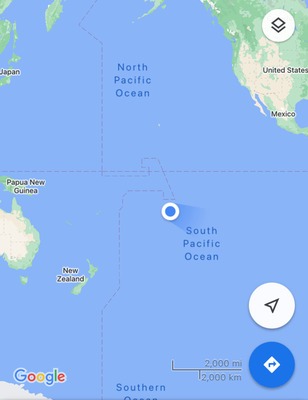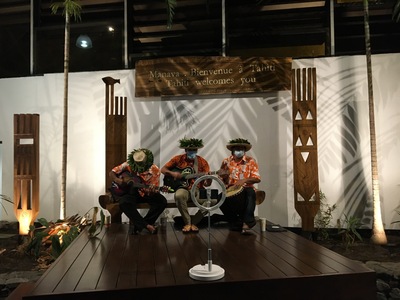 After making it through passport and COVID checks, we proceeded to the Europcar counter to get our car. At least here on Tahiti, renting a car is a must if you want to do anything outside the city. The hotel I booked was very much outside the city. In fact, it was on the opposite side of island, which turned to be much bigger than initially expected. Just by looking on the map, I figured it will take about 30 minutes to reach it, but it actually took us around hour and half. We were staying at Vanira Lodge located in the village of Teahupoo in the smaller Tahiti Iti section of the island. This eco-lodge seemed really cool from the pictures and hence why we booked it. We figured that given our island hoping itinerary, it will be good to try different types of accommodations.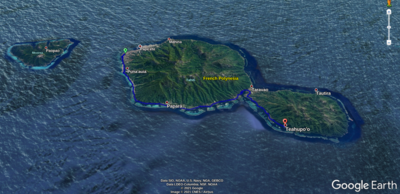 We got in around 9 pm during a light rain. The hotel is up a steep dirt road. I knew that the reception won't be open anymore and that we should just check in, but I forgot to print out my actual reservation with the name of the cabin we booked. This hotels essentially consists of 10 different individual cabins. I figured I just login to my reservation, but as we quickly found out, cell phone data service with AT&T is essentially non-existed anywhere in French Polynesia. The phone would claim there is data service available but websites would never load. So after coming in, I just walked around the dark cabins with my headlamp (that Sandra made fun of me earlier for bringing!) looking for one that may be ours. I found a cabin that looked ready with sheets on the bed so we just took it. Turned out this, Haari, was indeed the correct one. There was a cool looking crab walking right outside as we entered.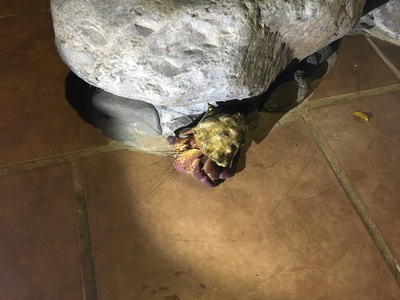 During my night walk, I noticed that all the bungalows were dark except for one. The next morning, over breakfast, we met the other couple. They were French, but have been living in Papeete for over a year, with the wife teaching English. This was their weekend getaway from the city. The second night, an American couple wrapping up a multi week trip also joined us. That was it. Before breakfast we also "hiked" up a trail above the hotel. Great views, but what a steep terrain! There are ropes the whole way and you basically need to pull yourself up. Then after breakfast, we first drove up to the lookout point on our small island, but this was disappointing. However, we noticed a neat jumping spider in the car. There are some really crazy animals here that we have never seen before. Next, we drove to Vaipahi Water Gardens close to the "throat". I figured this will be some botanical garden where we need to pay to get in, but it was free, and was really a starting point for a long hike into the mountain. We completed the great circle. It was beautiful, but as you can tell from my pictures, super humid! I was totally soaked with sweat.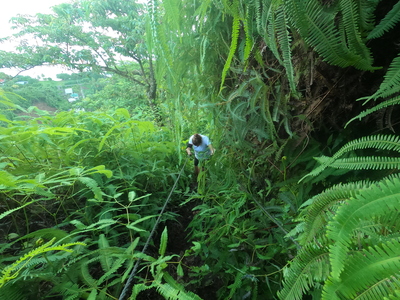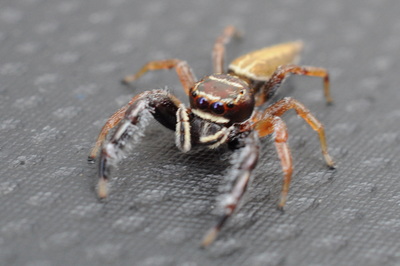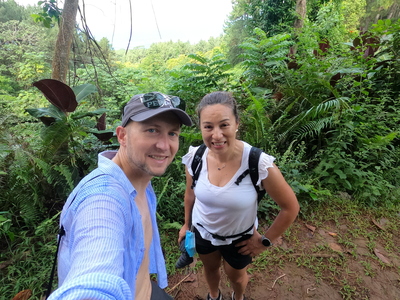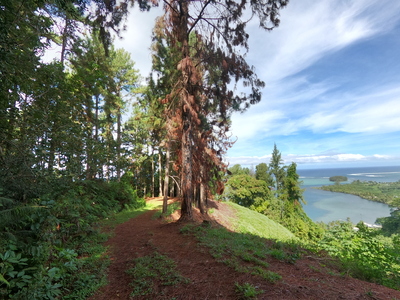 After returning, we walked through the water garden proper, but there wasn't too much to see here, besides learning about mythology from various information tablets. Next we grabbed lunch at Restaurant Bar du Musee Gauguin, which is near the museum of a famous French artist Paul Gauguin. The museum was closed so can't report on what it looks like. The food at the restaurant was good, as was the case pretty much everywhere. Writing this now I am starting to get cravings for some fresh fish! We next drove up on the opposite side of the island to the Faarumain waterfall. This was a bit a let down. I guess if you like waterfalls it's nice to see but it didn't look all that spectacular. Right by the waterfall is a famous blowhole, but I did not realize this until coming back so we totally missed it!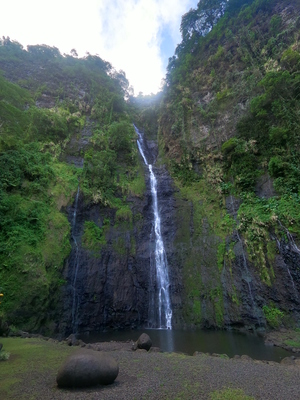 We then drove back to the hotel but went to the end of the road, about a mile past the hotel. There is a neat black sand beach here. This is also where you can catch a boat to the edge of the lagoon which is famous for massive waves. This is in fact where surfing of the 2024 Summer Olympics is supposed to take place. I will make sure to watch! That night I tried taking star photos but without a tripod and a remote control, it wasn't easy. But it's just so weird being in the southern hemisphere. You look at the night sky and there is nothing there you recognize! I was happy to have a sky map app installed on my phone. Our dinner was a baguette and ham that we picked up from a near by grocery store. If you like bread, especially baguettes, you will find yourself in heaven. You can buy them everywhere, even at gas stations!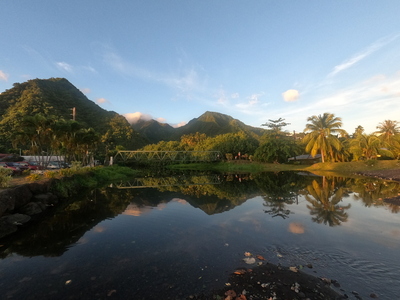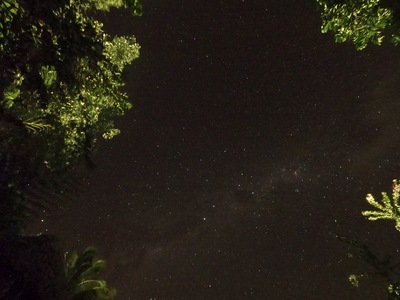 Comments or questions? message me