| | |
| --- | --- |
| French Polynesia: Tahiti, Moorea, Bora Bora, and Huahine | 1 2 3 4 |
Dates: June 10th - June 12th, 2021

Mo'orea
In the morning we headed back to the Tahiti airport to return the car. Here I almost got in an accident. I was going straight through a traffic light with another car in the opposite direction turning left. Following American customs, I assumed that I have the right of way, as I was going straight, but apparently the other car was on the "main road". We don't have this concept in the USA so it's something you really need to pay attention for when driving overseas. After returning the car, we took a cab to the ferry terminal. I figured we will have some time here to walk around the near by markets but there was a boat leaving just as we got there so we hoped on. Reservations are needed only for cars. Otherwise, you just buy a ticket and get on the next boat. The ferry ride took about 40 minutes, which was just enough time to grab a beer and a baguette. We didn't have a car reservation for Moorea, as I thought we will get around with a taxi. But after seeing that there really aren't taxis driving around looking for tourists, we figured having a car would make our life easier. Luckily the Avis by the ferry dock had one last car left so we took it. I bet that during the more typical travel season, you need to make car arrangements weeks in advance!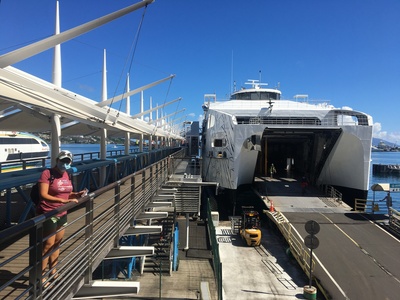 Moorea is so pretty! Even if you don't get a car, make sure to find a tour to drive you around. We booked two night at Fenua Mata'i'oa in the north-western part. Since we were early, on the way there we stopped by the "Belvedere", or the lookout point. This is also a starting point for various trails through out the island. We were not prepared for a serious hike, we just did a little circuit near the parking lot. But it was still amazing, with really neat tall trees. Of all the places we visited, I wish we had an extra day here in Moorea just to get in more hiking. This place is a paradise of outdoor activities. The trials are well marked and even include maps for bicycling routes.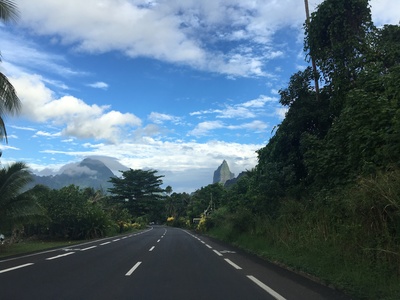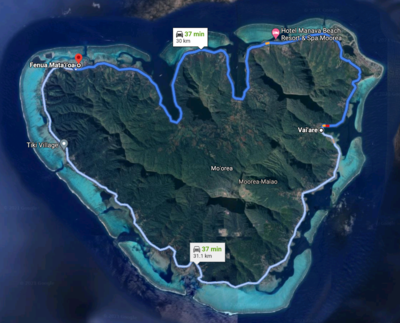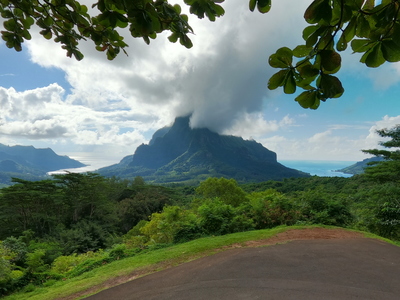 We then checked in to the hotel. Fenua Mata'i'oa is one of the most unique hotels we have ever stayed in. It's sort of a mix of an art gallery and a botanical garden, right by a crystal clear water. And to top it off, we were the only guests here the first night, if you don't count the many cats! Speaking with the owner, a French lady who grew up in French Polynesia, the hotel was fully booked starting the following week. We definitely picked a good time to visit. One curiosity is that all workers seemed to be transgender "third gender" or mahu. An information book in the room even discusses how these people are traditionally employed by the hospitality industry and this indeed seemed to be the case in other places as well. Normally the hotel has an onsite restaurant but as it was not busy, the restaurant was currently closed. But the bar was open.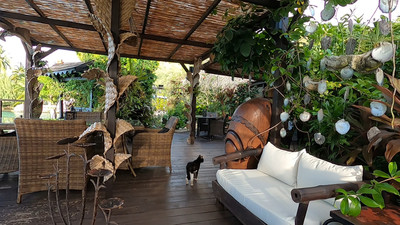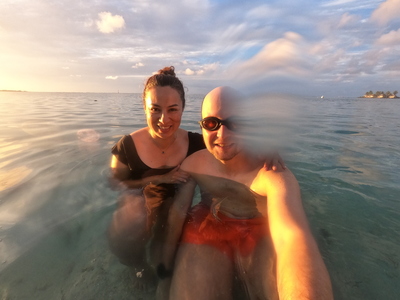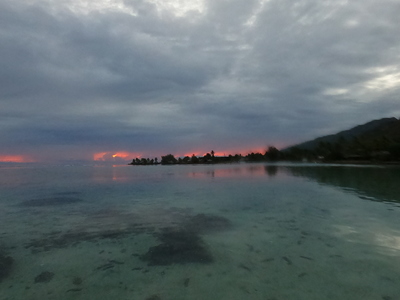 We started the next day with a continental breakfast. It was a bit pricey, around $80 a person, and essentially included just various pastries without any eggs, so it's not the best deal. But it was a nice experience to have just once. We then headed over to the Manutea Tahiti - Rotui Juice factory and distillery. This place produces fruit juices sold around the islands. You can also taste various flavored rums and pineapple wine.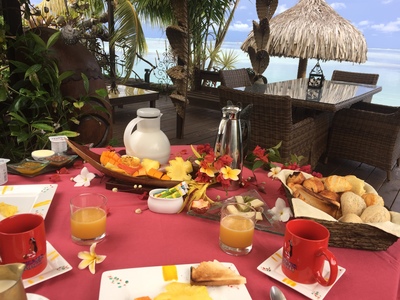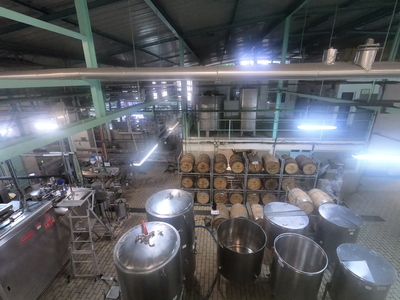 We then returned to the hotel to take out a kayak. Near the hotel, on one of the private island "motus" is a popular restaurant called Cocoa Beach Moorea. This is apparently the place to be but as it was raining, it was closed. You can request a boat shuttle, but as we were so close, we figured we can just kayak over to see what's up. On the way we passed by a large teenager boat party. Spring break in French Polynesia? We also spotted a group of snorkelers playing with rays as you can see in the time lapse video below.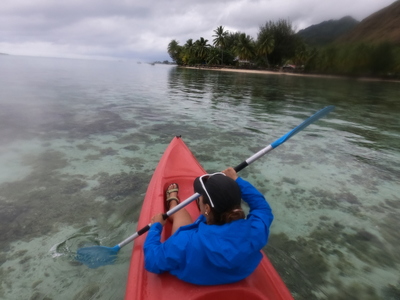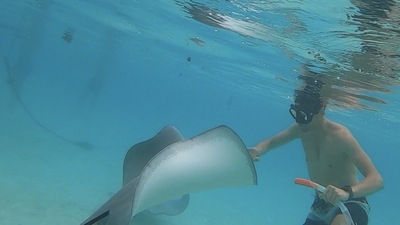 That evening we had early dinner at Moorea Beach Cafe. This was an excellent place to watch the sunset while enjoying excellent wine. I imagine that during the peak season, you need a reservation weeks in advance, but we just walked in, and were one of the few guests. The next morning, we took the southern route to drop off the car at the ferry terminal. We then got a free ride to the airport to catch a direct flight to Bora Bora.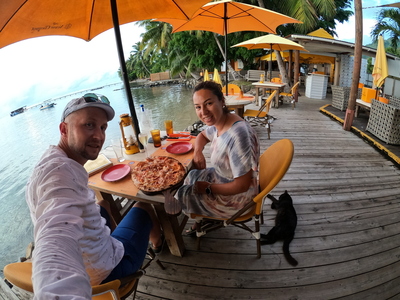 Comments or questions? message me