| | |
| --- | --- |
| French Polynesia: Tahiti, Moorea, Bora Bora, and Huahine | 1 2 3 4 |
Dates: June 12th - June 14th, 2021

Bora Bora
One curiosity about flying with Air Tahiti is that there is apparently no set schedule. The flights seem to take off as soon as everyone checks in. Given how close the islands are to each other, it is quite common, at least was for us, that the flight lands at the destination even prior to the scheduled departure. This is what happened on most of our flights, including the one from Moorea to Bora Bora. Doing everything last minute, I forgot to check with the hotel about our transportation options. Most of the fancy hotels in Bora Bora are on the small motus lining the lagoon, while the locals live on the main island. Reaching them requires, obviously, a boat. A quick search on Google seemed to indicate that you need to schedule a pick up with the concierge ahead of time. Not having done so, and not seeing a rep from our hotel on arrival, we just jumped in the free Air Tahiti shuttle to Vaitape, the main town on the island. There we found a taxi to take us to the point where a hotel to main-land shuttle drops off. This is a spot essentially right across the lagoon, where the hotels have a regular hourly service going back and forth. Our friendly old taxi driver Danny (I think he was at least 70) shooed us past the various stray dogs and showed us how to reach the hotel using the phone receiver. The receptionist was glad to hear from us. Apparently, they went to the airport to pick us up, but as our flight was super early, their boat got there only after we had already left on the town shuttle, and as such didn't know what had happened to us. No biggie, we actually enjoyed seeing the town, given that we are not really the "sit in a resort" type of travelers.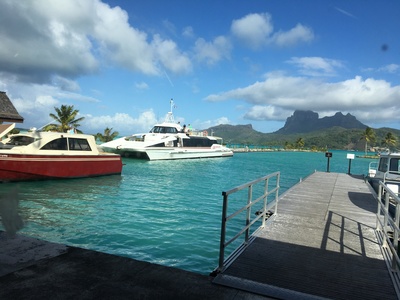 We had booked two night at the Le Bora Bora Pearl Resort in an over the water bungalow. These are quite expensive, but you just can't go to Bora Bora without having this quintessential experience. We enjoyed lunch on the beach while the room was getting ready.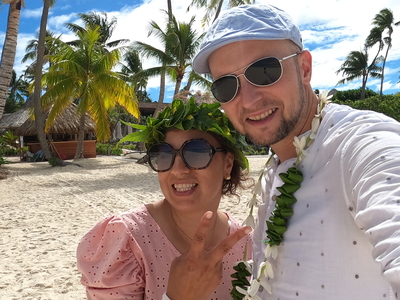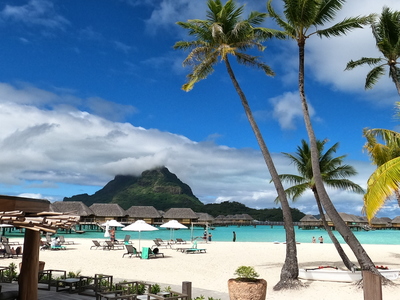 We then checked into the room. It was definitely nice! My favorite part was the clear window in the floor through which you could see the carefully placed corals.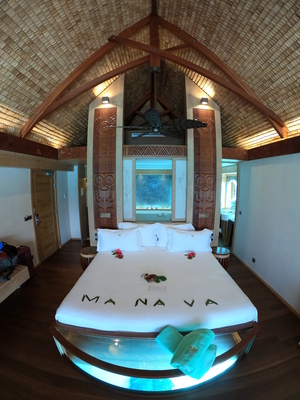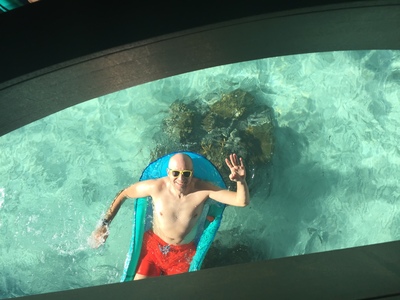 We spent the rest of the day just relaxing. We both tried paddle boarding. This was our first time. The water was quite choppy, probably due to the wind, so we didn't try standing up just yet. Also I got to fly my kite. I wanted to try taking some aerial photos (I call it my "organic drone") but never got around to it. We had dinner in the resort restaurant. The food was delicious and prized fairly comparably to what you may expect to pay here in Los Angeles.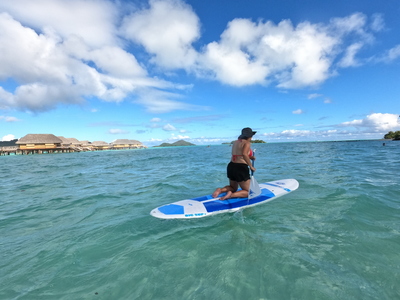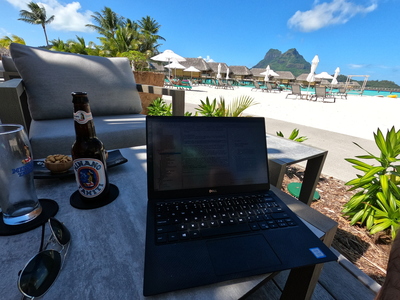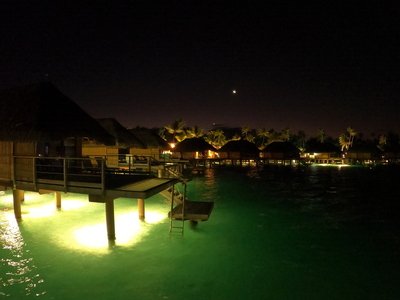 Based on my YouTube "research" it seems that everyone's ideal Bora Bora vacation involves lounging around the over the water bungalow and going snorkeling. While both are nice, doing so for 5 nights as offered by the Costco package, would likely make me go nuts of boredom. Instead, my goal for this island was to try running around it. Doing my earlier research I read that the road is about 20 miles long which seemed like a perfect distance for a long run! So the next morning, Sandra and I woke up early to take the predawn shuttle to the main land. The captain probably thought we are nuts, and warned us of dangerous dogs. There are indeed tons of stray dogs here - and on all the islands - but they all seem either friendly or at least completely indifferent to people. Of course, it takes only one angry dog to ruin your run, but we never encountered one like that. We started running clockwise, towards the airport. Sandra ran with me for the first 5 miles before turning back. Then I was on my own. I really enjoyed this run. The scenery is absolutely spectacular and the weather was not bad either. It was a bit humid in the morning but actually dried off once the sun came out and stayed in mid 80F. The lightweight outfit from rabbit probably helped too. The only downside was the lack of water. I figured there will be some street-side kiosks but given it was a Sunday, and not so touristy yet, I couldn't find any. At least, not any selling water. There were plenty of trucks selling rice and pork and similar dehydrating things. About a mile from Vaitape I ran into a lady selling fresh mangoes. Oh my god, these were amazing and tasted nothing like the potato-quality ones found in US grocery stores. Soon after, in Vaitape, I finally refilled my 16 oz water bottle in a grocery store. I made it back to the hotel just in time to grab left overs from the breakfast.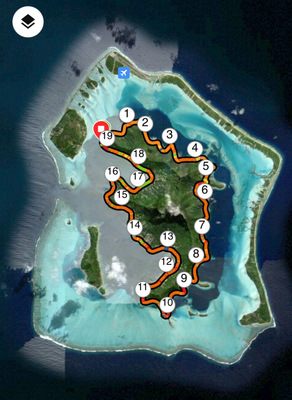 In the afternoon, after I relaxed a bit, we headed back to the island again, where we were met by the owner of Le Plage Bora Bora boat rental company. We made a reservation for pontoon boat the night before. I actually passed by the store on my run, and the owner was quite confused what I was doing at his place so early in the morning - I just wanted to pop in to check the place and also to see if he had any extra water, which he didn't. Renting the boat was another great thing that I highly recommend. You can book a snorkeling excursion through a hotel, but this was probably the same cost ($280 for the two of us for 4 hours), and you get to plan your own trip. While you could probably make it around the whole island in 4 hours, we opted for a more leisurely pace and just headed 2 hours out. The boat pick up is at the southern tip, 6 o'clock position, and we made it past Four Seasons at the 2 o'clock spot. Dark clouds were forming behind us but the storm never reached us. But on the way back we had bit of an adventure. We were almost back, when we saw a ray, and trying to find it, managed to get tangled up in the rope holding up a buoy. After about 20 minutes in the warm water I finally managed to release the propeller and got us moving.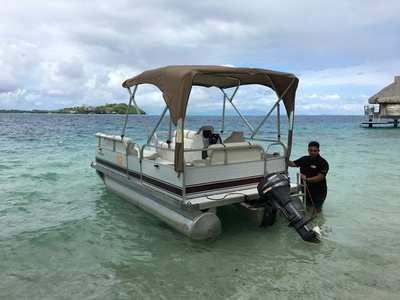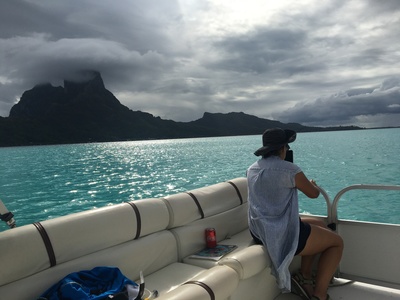 After this bit of excitement, we grabbed dinner at Bora Bora Beach Club. This was another excellent place to watch sunset. Turns out this restaurant had a free shuttle back to our hotel so we didn't have to pay for a taxi ride. Then the next morning I went for a long swim around the property, and it was time to move to our next destination.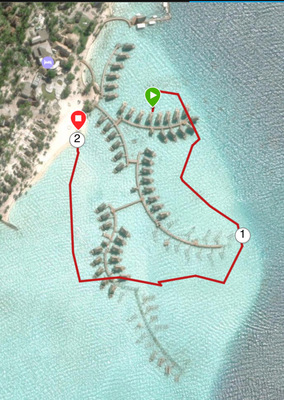 Comments or questions? message me