Date: March 14th - 19th, 2022

2021 was a really tough year for me. Between the lock downs and work from home transition 2020 was nice and quiet. However, by 2021, the work from home culture was in full swing. A five day 9-5 work week has morphed into a nondescript blur with home life. The office has infested our homes and soon it felt like we were living at work, instead of working from home. Combined this with a multitude of projects I was supporting, I started getting really burned out. The main issue was that despite constantly "working", I was never getting anything done. Most of my time was spent in meetings or in attending to various bureaucratic requests (such as filling out various monthly budgetary forms). Sometimes around this time I also started reading Cal Newport's Deep Work and it really spoke to me. The thesis is that we spend so much time pretending to work but not actually doing anything productive. He distinguishes these two modes as shallow and deep work. In my case, shallow work involves all the various meetings or forms that "need" to be attended to filled out. The author also discusses the importance of finding a way to focus, to achieve "flow". He mentions a colleague who would just book long international round trip flights solely to have some alone time in the air. That to me is not pallatable, as I actually can't work on airplanes between the dim light and the sleep-inducing low pressure. However, spending a week alone in the woods sounded really tempting. So, during the USC (where I teach these days) spring break, I found an AirBnB listing for a cottage in Ferndale, CA that looked amazing (and it was, I really liked this place). Ferndale is a Victorian town in Northern California's Humboldt county. I first passed through here in 2014 on a way to a Ragnar Relay and then returned in 2016 with Sandra for the Avenue of the Giants marathon. I really like it up here. This is by far my favorite part of California. Everything is so lush and green, with running paths shaded from the sun by the massive trees.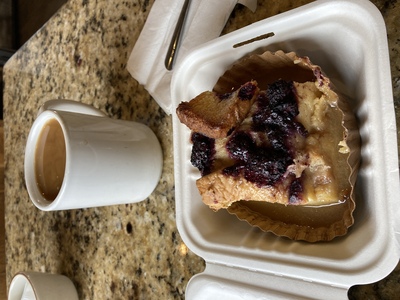 Below is a video posted to YouTube highlighting this trip. But basically, after flying into Eureka and getting a rental car, I stopped at Toni's 24 Hour Restaurant for late breakfast. This diner has been around since 1976. I went with bread pudding which was spectacular. I then headed to Fernadale to check in. Since this is an AirBnB, you basically just let yourself in using the provided lock code. The cottage is located in the back yard of a larger house. I believe the house was rented out to some other visitors but I never saw anyone there, outside of their car changing location. The cottage is located on the outskirts of Ferndale, which by itself is an extremely adorable town. The highlight is the Victorian Inn hotel and restaurant, but the main street is lined with various old buildings. This is where you will find a live action theater, coffee shop, various pubs, as well as a grocery store. I stocked up on some essentials like eggs, tortillas, and berries that I hoped to last me for the next 6 days. My plan was to essentially lock myself in, and spend all time writing, except for a daily run. I mostly stuck to the plan although I ventured into town daily to avoid beign a complete hermit. The first night I went to the theater to watch a play. It was my first time in a live action theater in at least 2 years.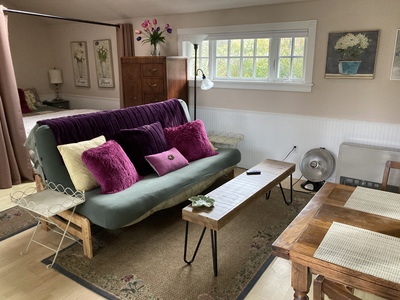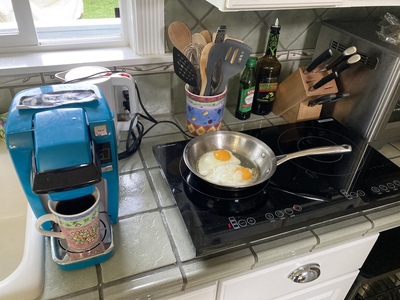 My first run was in the nearby Russ Park. I just ran from the cottage. I was so happy to be back among trees and greenery. But by far the most amazing experience was finding a green pond. In my native Slovakia (actually this is more Czech) we have a fairy tale legend that there are green men who live in ponds and drown unsuspecting children to claim their souls. This pond very much liked like a place where one would find such "vodniks".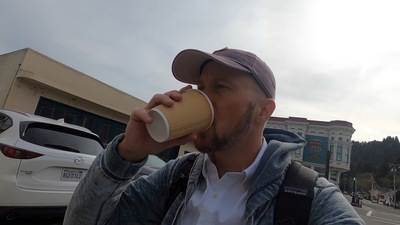 Another day I made it to the nearby beach. My route finding essentially consisted of playing with Google Maps and looking for trail heads or marked trails. Close to Ferndale I noticed a trailhead called Lost Coast Headlands. From there, the path snakes down to the beach. Next I noticed another trail head about a mile down called Guthrie Creek. I figured I can make a loop out of this, and that is what I did. This was such a magical run. Besides few people in the parking, I did not see a sign of life on the way down nor on the beach. The beach was so pristine. There were not even bird prints in the sand. It reminded me cross country skiing after a fresh powder. I started running towards the other trail, but also realized that I did not have cell service here and I failed to cache the route into Google Maps. As such, I was not really sure how far to run and where to turn. Then, as if by magic, another runner appeared. I asked her if she knew how far to the trail, and she pointed to the hill right by us that it is there. I would have totally missed it if it weren't for her. Such good luck!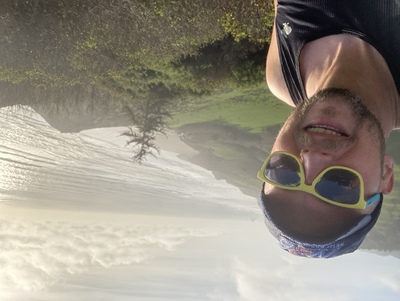 This run was really satisfying in helping to clear my head. The main thing I realized here was that in order to regain my work-life balance I need to start cutting out meetings. I am writing this report almost a year later, and I am happy to report I managed to stick to this. These days, my calendar is almost completely empty, except for a single twice-monthly meeting with a long-term client. Not having recurring meetings is absolutely the biggest difference you can make to achieve deep work. If you are anything like me, there is a huge time loss in re-orienting between tasks. I often would be doing some work on project A, but then had to stop because meeting for project B would come up. After that meeting, it would take me another hour to refocus back on task A. By not having meetings, and just communicating with clients over email (of course with limitations, as some meetings are needed) let's you wrap up A, and then fully devote your focus on B. Then later that day, after more writing, I went for dinner to the Victorian Inn restaurant.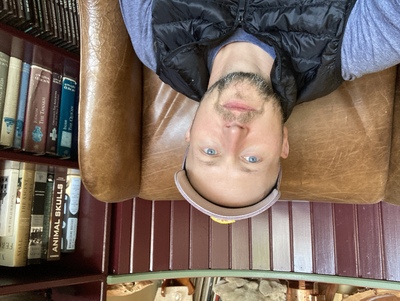 The next day I finally made it to see the big trees. I drove down to the Avenue of the Giants and first made the turn to the "Big Trees" area, where I did a 5 mile loop through the massive landscape. I then came to the main Founder's Grove and jogged around there bit more. Then, on my final day, I went to the Headwaters Forest Reserve north of Ferndale. That area was probably my least favorite scenery-wise. If I had more time, I would have gone all the way past of Eureka to the Redwoods National Park. Next time!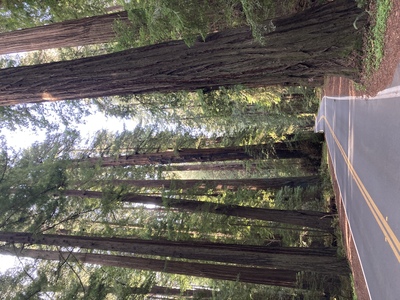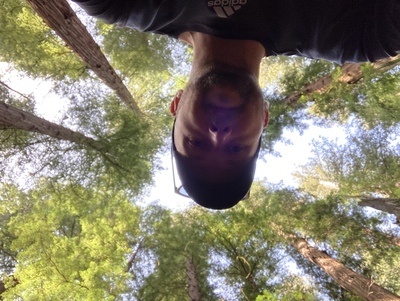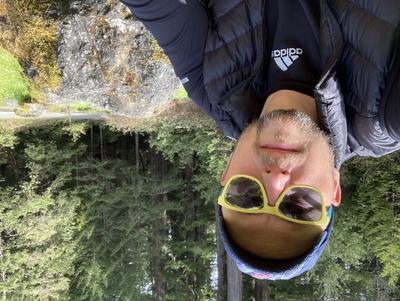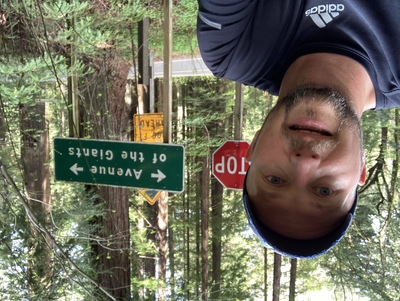 Comments or questions? message me