Paris, Versailles, and Reims, France
Date: March 15th to 22nd, 2023

Here is a report from Sandra's first, and my second (after a quick taster with my mom) visit to Paris. We were there during the "garbage strike of 2023", however the defining feature of this trip were the many absolutely near misses when it came to our transportation. My usually satisfactory timing was way off on this trip! It started with our flight out of LAX. We had a 10:40 am flight to San Francisco to make the transatlantic trip to CDG. However, we almost did not make it. Traffic was particularly bad and Google was telling us that we will arrive just as the flight was about to start boarding. This would normally not be an issue if we were in an Uber, but as we were driving, we first had to park the car, and then make our way to the airport. Somewhat luckily, Sandra took the HOV lane which for once was actually moving significantly faster than the regular lanes of traffic. I personally don't like taking the HOV lane when I drive as I find it to be just as slow as the regular lanes with the added bonus of being stuck in it, but this time it was truly a major time saver. We used to park at Joe's Parking, but I just found out that the new LAX Economy garage opened up so figured we will give it a try (it is also much cheaper than Joe's if you prebook). It's a nice facility! We parked on the first row at an EV charger. Here we wasted more time, since I think you can park there only if you are actively charging, but of course, this required setting up a yet another charging app. Capitalism and competition and all that, yay!, but can we please get away from this proliferation of charging apps? My phone is essentially Mail, Photos, Google Maps, Google Translate, and like half a dozen of different EV charging applications. Anyway, we got to the bus pick up zone about 15 minutes before boarding began which would have been ok. But then of course, no bus. Better said, no bus in service. A bus showed up after about 10 minutes but just drove by. We were seriously contemplating just trying to walk to the terminal when an in service bus finally showed up. Luckily, the United terminal at LAX never has a line for security, so we got to the gate just as they started pre-boarding. Little did we know that this was actually not the tightest connection of this trip!
But anyway, we made it. In SFO, on the way to our gate, we passed by a robotic cafe barista. It's basically a booth where you can place an order for a coffee drink, and then a robotic arm prepares it for you. Kind of a neat tech demo, but I can't imagine how this would ever be more cost effective than paying bunch of high school kids minimum wage. We then sat down for lunch (if remembering correctly), and then boarded our 2:50 pm flight to Paris. I managed to snag upgrades to Premium Economy for 20,000 miles per person per directions. Both directions cleared. In the beginning, when I first started accumulating United miles, mainly thanks to credit card spend, I used to think that miles are best used for free flights, such as our trip to India. However these days, I am realizing that their best use is for upgrades. By paying for Economy, I still get to collect PQPs needed to maintain the Star Alliance status, but we also get to travel in a bit more comfortable way. The service (really meaning food) in Premium Economy can be a bit hit or miss, but on this leg it was wow! The dinner was absolutely amazing. Sandra picked beef with potatoes and the meet was melt in your mouth tender. I had a spaghetti squash option which was also delicious, although not really filling. But it is good seeing United starting to offer fresher vegetarian options than "pasta". We also got the usual goodie bag with socks (which I now have a good collection of), shades, toothbrush, and so on. One wrinkle was that the seat back pockets for both of our seats were not velcroed on the bottom so whatever we put in them just fell through. I managed to reattach mine, at least partly, after about an hour of yanking on it, but we never got Sandra's to function as a designed - a pocket. This flight went pretty quickly for me. I normally have hard time sleeping, but must have dozed off for at least several hours as the flight didn't feel longer than a trip to D.C.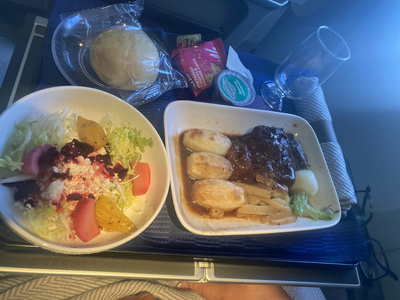 Day 1, Thursday, March 16th
We got to Paris at 9:40 am. After immigration, we boarded with our carry on bags onto the really crowded RER B line that took us all the way to the Luxembourg station near which our hotel was located. And when I say crowded, it really was. Which makes it a perfect hunting ground for pickpockets, which Sandra's cell phone fell a victim to. We however didn't realize the phone was gone for quite some time. After getting off the train, we made it to our hotel, Le Clos Médicis, to drop off the bags. We then went for a stroll, and to get lunch, before the room would be ready in the early afternoon. Sandra figured that she must have left her phone in her backpack in the hotel, so no big deal. It was only when we returned later that she realized it was gone. What made this worse was that Sandra couldn't remember her iCloud password, since she had it stored only on the phone. In the evening we ventured back to the Luxembourg train station just in case it got turned in, as there was a small possibility that the phone instead fell out when we were rearranging bags on a station bench after we disembarked. But no luck. We also walked over to the Apple store at Le Gran Marche, but without a cellphone, there was no way for them to access the iCloud. In essence, they needed T-Mobile to issue us a new SIM card, which would allow some other phone to receive an authentication link. But, as an e-SIM was not available to us, we couldn't do this until returning back to the States a week later.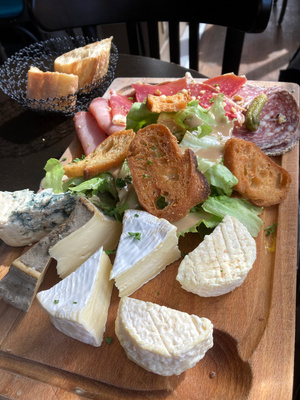 Our hotel was a short walk from the Seine and the Notre Dame. The cathedral is still under construction. Here we inquired about the hop-on hop-off buses but they didn't seem like the best deal. Instead, we saw an offer for the hop-on hop-off boat, called Batobus, for only 20 euro per person. I definitely recommend doing this, just for the experience of being on the river. We rode it from the Notre Dame station around the Ile Saint Louis towards the Eiffel Tower. We walked around but didn't get in line to go up. We then crossed to the Trocadero and made our way to Arc de Triomphe. We then made our way down Av. des Champs-Elysees towards the majestic Pont Alexandre. Here we caught the boat again, and rode it back towards Notre Dame. We then made our way to the hotel to check in, passing the famous Shakespeare and Company bookstore on the way. While this is the famous one, it is really just one out of probably hundreds of bookstores in this town. While bookstores are closing left and right in the US, it is really amazing seeing how just about every city block has a small bookstore on it.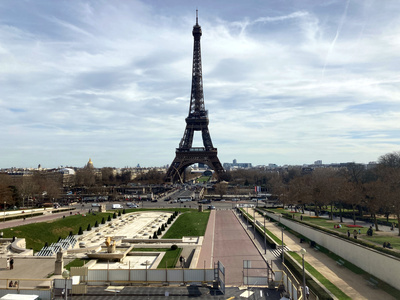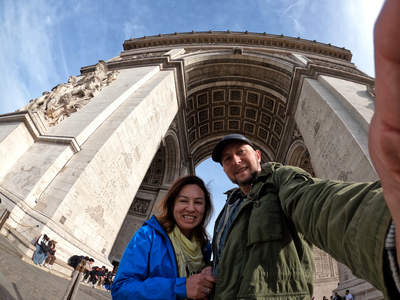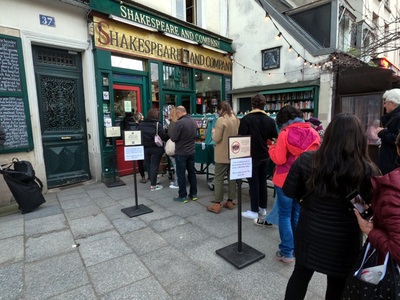 Earlier on our walk, while getting back to Invalides, we also saw our first protest march. The two defining features of Paris during this visit were the piles of trash and an insane number of police vans everywhere. This day, Thursday, there was a planned march from the Senate building to Plaza Concorde since the following day, the government was supposed to vote on implementing Macron's new retirement plan. In essence, this plan raised retirement age by 2 years although supposedly there are also some additional requirements on the number of years one has to work. For most people, this raises retirement from 62 to 64, but garbage workers get a break and retire at 59 instead of 57. Now, not trying to get into this as an outsider, but I imagine that the majority of the US population would be perfectly happy being able to retire at 59, but apparently this was sufficient to lead the garbage workers to strike, leaving the city with piles of uncollected trash. Now, this wasn't really as awful as it may be, since only half the city is serviced by the municipal trash company. About every other arrondissements receives trash service from private firms which continued to work, although they also found their access to the public incinerators restricted. The march we saw was completely peaceful. Things only escalated slightly the next day, once Macron decided to ram this new policy without an actual vote. This led to nightly fires, but these were all localized. We never actually got to see anything burning or really any signs of the discontent, outside the garbage bags and the massive police presence. This really made me realize how much the media sensationalizes events. By watching the TV, one may think that half the city was on fire, while life went on almost business as usual.
Day 2 (Friday), Versailles and Le Precope
The next morning we made our way to the Versailles using the Metro. We had the museum pass, so visiting was free but we still had to book a free time entry slot. Luckily, the availability was good as we only did our booking the night before. We first toured the palace which was surprisingly packed. I figured that March will be a low season in Paris but everything was really packed. Maybe it is the spring break crowd. Afterwards we walked through the gardens and visited the Trianon. The gardens were not as pretty as during my last visit with my mom since flowers were not yet in bloom, and also, all statues were covered up, perhaps to protect them through the winter. Also, most, if not all, of the various center features in the individual "squares" were locked up. But it was still really nice being here. The Versailles gardens are really amazing. Furthermore, they are never crowded. It seems that most people just come for the castle and go back home after touring the Hall of Mirrors and the like. They are really missing out. After meandering through the Queen's Hamlet and the Orangerie, we made it bak to the La Flotille restaurant where I had lunch with my mom before. As we were walking in, we saw one of the waiters get in a shoving fight with some customers. Something like this would likely lead to an immediate dismissal in the US, but things are different here. After doing their questioning, the management seem to have concluded that the customers were at fault. Of course, us wanting to gossip, we grabbed a table right by the door, by the bar. Although, with our limited (really non-existent) understanding of French, we couldn't really get the juicy details.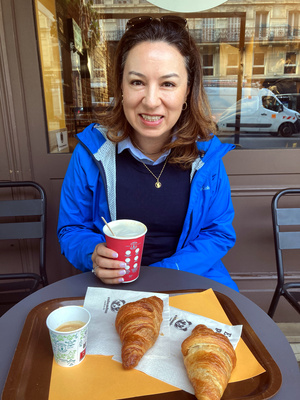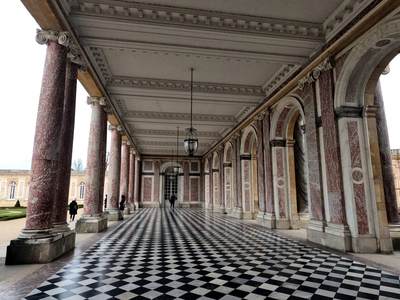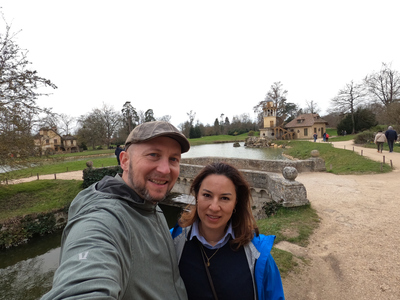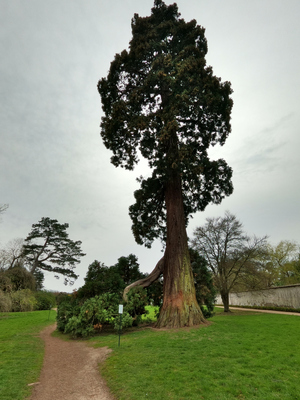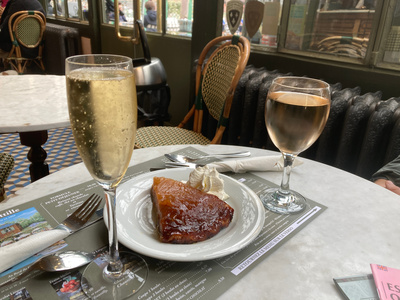 That evening, back in France, we had a dinner reservation at Le Precope. Dating back to 1686, it is Paris' oldest cafe. The list of their former customers include the likes of Marie Antoinette and Napoleon. Given such credentials, one may think this place will be super expensive but it wasn't the case at all. We had an excellent dinner which hit highlights such as an aperitif, foie gras, escargot, main courses, a half bottle of wine, a cheese course, and coffees, for the total price of 165 euro (about $180), tax and service charge included. Just for comparison, a fairly typical lunch back in California the following week set us back $80 for significantly less and worse food (a bowl of soup, a cheeseburger, one beer, and a glass of wine). Our main courses were two house specials: a "calf's head casserole in 1686 style", and a "braised beef cheek with macaroni". The cheese course was by far the best we had during the trip with three exquisite type of cheese.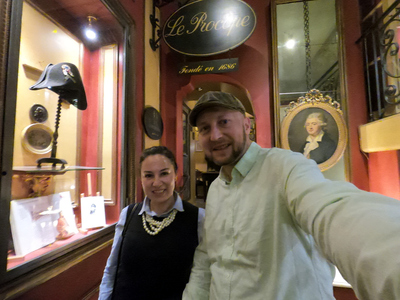 Day 3 (Saturday), Reims and Montmarte
The next morning we had tickets for the bullet train to take us to Reims, which is about half way to the Belgium border. I couldn't sleep the night before, partly due to our next room neighbors who throughout our entire stay kept humping like rabbits multiple times a night. Our train left at 8:28 and somehow in the dazed and confused state, I thought we were already late to make it as we woke up around 6:45 (my original alarm clock was set for around 5:30). To catch it, we had to the RER B to Gare du Nord. It was only once we disembarked there that I checked the tickets and noticed we are leaving from Gare de l'Est. I had bit of a freak out, thinking we went to a wrong station, but then realized that this other station is just a short walk away. We made it there just as the train started boarding. This the next train to Reims was not for few hours later and it would cause us to miss our scheduled tour at Veuve Clicquot. Visiting this famed Champagne house was on Sandra's to do list. I didn't quite realize how popular the tours are, and thus looked into booking only once we arrived in Paris two days ago. Most regular tours were booked for the whole week, but I luckily was able to snag tickets to a slightly more expensive, but I think a better deal, tour of the cellars with tasting of 4 different kinds of bubblies. The only problem was that the only availability was for a 9:40 am time slot. After about 45 minutes at almost 200 km/h, we arrived at Reims with about 20 minutes to spare to make it to the winery. There is a line of taxis outside the train station, but it took us a little bit of time to explain where we were going. Apparently "Veuve" is pronounced as "Vuff", not "Vue". Also, we happened to have just enough cash to pay the charge. Everything up to now was paid by credit cards, and I had not yet gone to an ATM. Luckily we had some bills and coins left from a prior trip. The tour was in English and gave us a nice overview of the house's history as we meandered through the cool cellars. After finishing four glasses of champagne, we walked back to Reims. Here we noticed the massive Cathedrale Notre-Dame de Reims. I did not even know about this cathedral until literally seeing it, but wow. It absolutely insanely huge from the inside. The cathedral in Prague, which I always thought to be massive, likely doesn't even reach the "first floor" of this ceiling. The cathedral dates back to 1210 and became the primary coronation location of the French kings. We then grabbed a small lunch at the Place Drouet d'Erlon plaza and then had more champagne at Hotel Continental bar before taking the 4pm train back to Paris.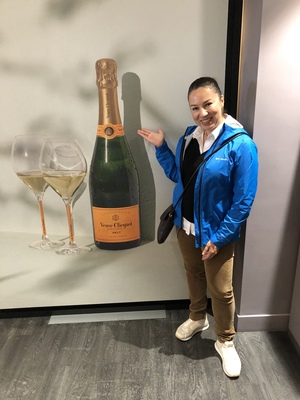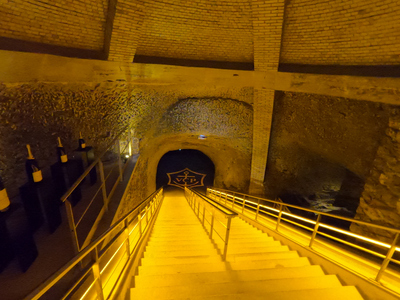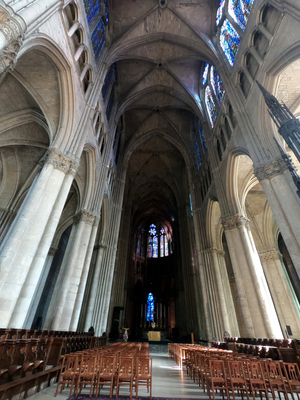 Since we were already "in the area", I figured we can next head from the Paris train station to Montmartre, to visit the Sacre Coeur basilica and to get nice view of the city. This area was crazily packed, which is not unusual. The line to enter the basilica was long so we decided against it and instead grabbed hot wine offered on the streets. We then meandered our way back down towards Moulin Rouge and hotel Le Chat Noir. From there, I meant to take the metro back to the hotel. As we boarded, we started hearing bunch of announcements and noticed people starting to leave through the train's open doors. After about 10 minutes of this, we concluded that likely the train was not running. This was indeed the case due to the protests. Our long day got even longer, and by the time we reached the hotel, we had over 16 miles walked for the day! We ended up walking over 70 miles in the week we spent in Paris, which is more than we normally do running while training for a marathon.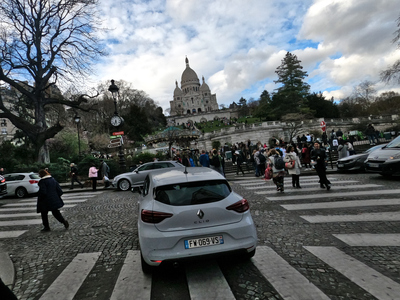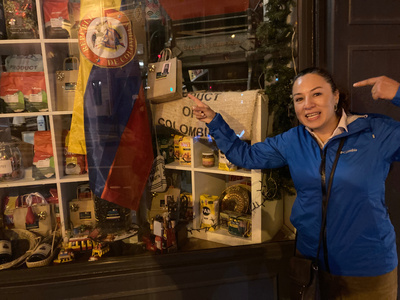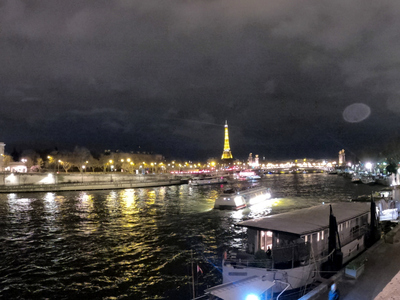 Day 4 (Sunday), The Eiffel Tower and the Louvre
I think the only museum booking that we made before leaving US was for the Louvre. Even this was bit last minute as we only managed to find an opening for 2pm on Sunday. This would give us about 4 hours before the 6pm close. The entry was also free as part of the museum pass. Before going there, we made our way to the Eiffel Tower. Originally I wanted to go the following day, but luckily, checked the website and noticed that starting Monday, the Eiffel tower was to be closed for renovation. We didn't have an e-ticket as they were sold out so had to make the line for in-person tickets. Today was also the first day we got substantial rain despite the weather app forecasting rain on a daily basis. It was also the one day I did not pack the umbrella. We got little bit wet waiting in line, but the big rain didn't arrive until we made it under the covered section. I like the view from the top. It's a nice view to get oriented around. Here we also grabbed macaroon and more champagne for the proper experience. We ended up walking down from the lower floor.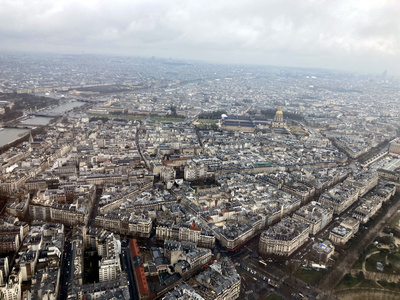 We then made it to the Louvre. This was my first time here. This museum is absolutely breathtaking (once I get over the queasy feeling that perhaps some of these antiquities should be displayed in the countries of origin from where they were plundered). Although everyone comes here to take a look at Mona Lisa (or La Jocande in French), we started with the Greek and Roman sculptures, which were really amazing. We also visited Napoleon's Apartment. It's hard to capture the glamour in pictures. After seeing this, go to Versailles for the gardens, but come here to experience the grandiose palace living. The line for Mona Lisa was ridiculous, as expected, so I just took a picture from far away. We instead took a nice look at the massive Wedding Feast at Cana painting across from it. In the 4 hours spent here, we probably got to see only about half of the exhibits. We saw part of the Egyptian section but did not see all the famous mummies. We also completely missed the Arabic section, which also houses the Code of Hammurabi. We will need to add a repeat visit for a future return to Paris! On the way back, we found ourselves at the Pub St. Germaine, just next to Le Precope, to watch a Formula 1 race. This was a very nice pub.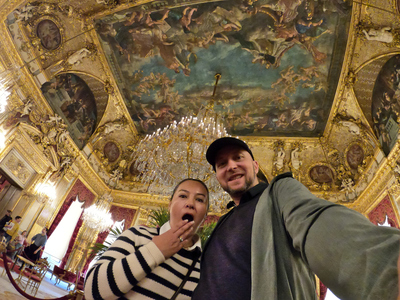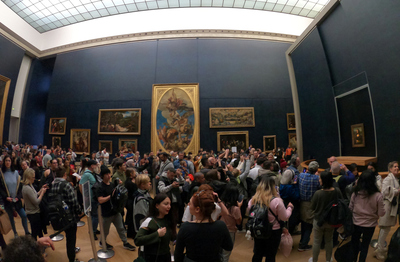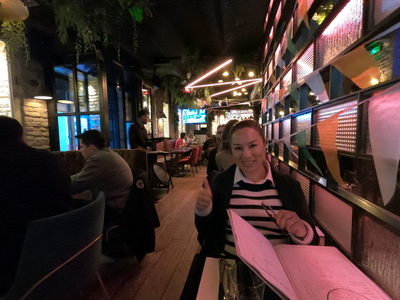 Day 5 (Monday), Museums
The next day was the last day our museum pass was valid, so it turned into a cultural marathon. Unfortunately, many museum are closed on Monday so some I hoped to visit, like Rodin or Orsay, were off the list. We started with a Parisian breakfast of a croissant, bread, orange juice, and an espresso in a cafe by the Pantheon. There, we got to walk past the tombs of many famous icons, including Voltaire. Next we walk down to the river, and walked through the ornate Sainte Chapelle, and the much more stoic Conciergerie. This former royal palace dating back to year 500 illustrates the simpler, pre-Baroque Gothic architecture. From there we walked to Centre Pompidou, which houses a modern art museum. Here we really got to benefit from our museum pass, since with it, we just walked right in, instead of having to queue up in the quarter-mile long line outside. I really enjoyed seeing the multitude of elementary school tour groups, something I don't remember encountering in the US. A week later, back home, news broke that a principal in some elementary school somewhere in USA was fired because children were shown a picture of Michelangelo's David. Maybe if the galleries in the USA displayed paintings of guns, instead of the occasional exposed breast, more American children would get to go to experience art.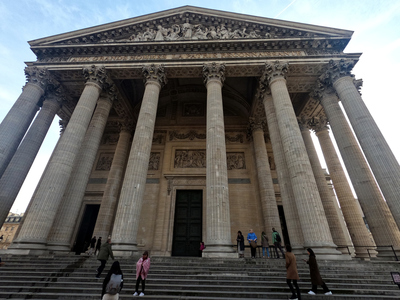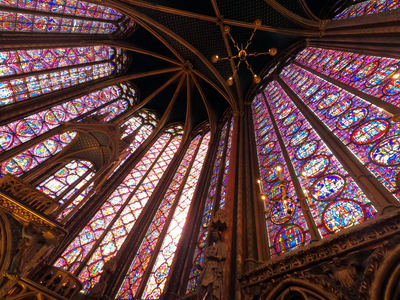 Next on the itinerary was Mudee de l'Orangerie. This one had a massive line, even for museum pass, so we skipped it. Instead, we made our way to the Hotel de la Marine right next to it to tour the lavish apartments which used to house the king's "intendands" responsible for overseeing the crown's jewels. The building also used to house a lot of ceremonial weapons, including two canons which were raided and subsequently used to start the march on the Bastille. I don't think this place in the must see list of many, but it should be, especially if you are interested in the Baroque and Rococo styles of architecture. The museum also houses the chic Cafe Laperouse Concorde where we had some pastries and small lunch. We then wrapped the museum day at the Army Museum where we also got to tour Napoleon's tomb. It was a long time day but we barely scratched the surface of the art that Paris has to offer. To change things up, we dined in a Moroccan restaurant where we got a large "couscous". In the USA, couscous means just the grain, but here it implies a dish featuring various meats and vegetables accompanying it. This was my first time ever having a traditional Moroccan food.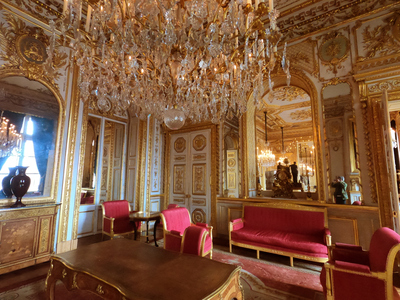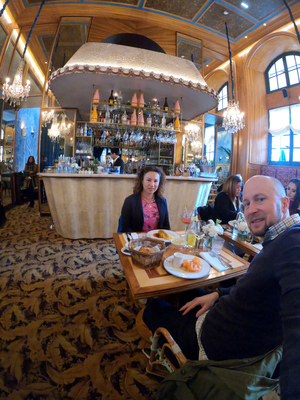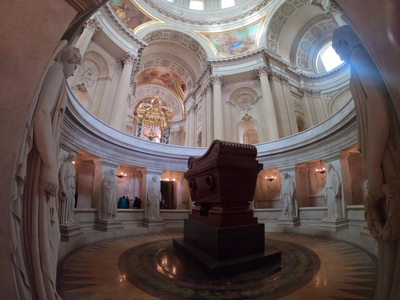 Day 6 (Tuesday), Shopping
The next day was dedicated to the other popular activity in Paris: shopping. But first, it was time to finally make it to the Luxemborg gardens by our hotel. We then returned to Le Bon March, and then headed to Galleries Lafayette on Haussman Boulevard. This spectacular building has a rooftop observation deck. Sandra picked up some shirts here. We then also went to Printemps, which is the other historical department store. Here we got few more things, including a blue-and-white striped scarf for me. From there, totally by chance, we found ourselves on the Place Vendome. This square houses some very notable establishments, including a Louis Vuitton and Ritz Paris, which according to Wikipedia is ranked among the most luxurious hotels in the world. It is quite nice on the inside, especially if you are a fan of the gold plated decor. We had a nice light lunch of a charcuterie and wine in a cafe in the Madeleine district. Then that evening we had a wonderful dinner in a small cafe close to our hotel called Au Pere Louis. I had fried Camembert cheese. We also got amazing deserts, including a French-style apple pie. It basically consists of a thin crust topped with a thick layer of baked apples. Excellent!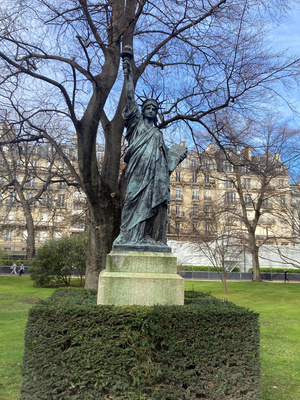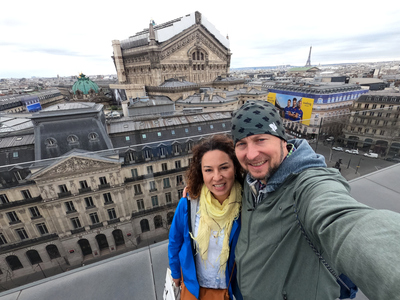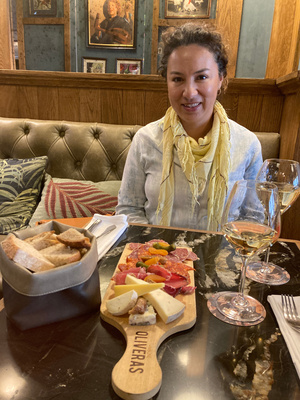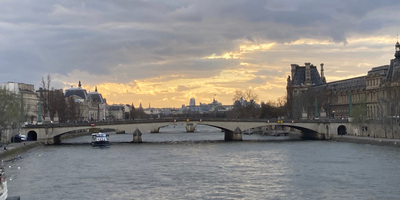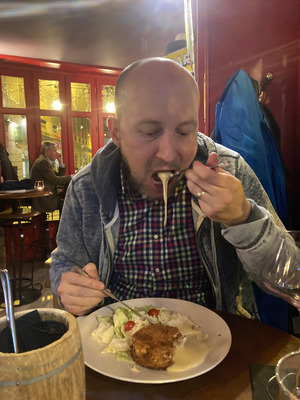 Day 7 (Wednesday), Trip home
The next day it was time to make it home. How we made this, however, remains as mystery. I made the mistake of using our departure, and not the boarding time, for scheduling our hotel departure. The flight was listed as leaving at 9 am, so with the 45 minute train ride, I figured we will be ok as long as we were on the train before 7 am. There were few issues here. First, we did not quite leave before 7 am. It was probably around 7:15 by the time we were at the Metro. It took 10 minutes for the train to arrive but that was not the worst of it. Soon after leaving, we came to a stop. The announcements were only in French so we couldn't quite figure out what was going on. We disembarked at Gare du Norde as we figured we will take a cab here. Luckily, we did not actually get out, but found an attendant who told us that going by car will be much longer than the train. We thus found ourselves back on the next train, and slowly made our way to Charles de Gaulle. We were still about a station away when I got the notification that our United flight was ready to start boarding. Originally, we hoped to check our bags, and go to the customs window to get taxes refunded, but both of these were out of the question. The line for passport control was insanely long. This was the second mistake. Part of the reason why I didn't plan an earlier departure is that I saw on the airport website that we should *not* arrive earlier than 2 hours before the flight. It likely says this as they don't want to crowd the airport with people waiting for later flights. But, even 2 hours is no time to make it across the passport control. But perhaps luckily due to our late arrival, we were escorted all the way to the front, skipping perhaps 500 people in the process! After the bag check, I left Sandra behind to deal with her luggage containing larger liquids, and ran through the duty free shop to the gate. Of course the gate was located at the farthest point, which seems to be the rule of late airport arrivals (I had the same experience catching a connection in Rome on a trip to Bulgaria). I made it to the gate 20 minutes before the scheduled departure (so only few minutes to spare before the end of boarding). I was relieved to see the gate still open and being to able to notify the agent that we are here. I then waited for Sandra but there was no sign of here. The agent told me that we are fine as the plane was leaving slightly behind schedule, and I was able to run all the way back to find here still at security, finally collecting her bag. Only a single bottle of some cosmetic solution got confiscated. We got on the plane to find some other couple having prematurely settled into our seats. It was nice to be in our seats, especially since France was scheduled to have a general strike the following day. The flight back was pretty good too. The food wasn't as wow, but the flight attendant brought me a refill of a gin and tonic after finishing the first one without even asking for it which was lovely. I ended up watching Frozen Planet 2 which has amazing footage of animals I did not even know existed such as the hooded seal which was an inflatable nose with an internal red balloon sack, turtles and bees that completely freeze during the winter, and the chubby Pallas's cat living in the steppes of Mongolia.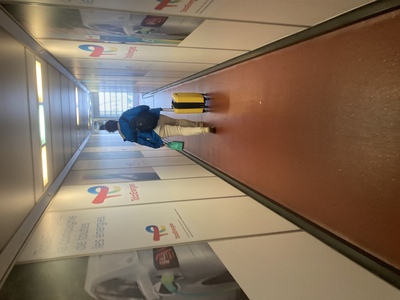 Comments or questions? message me