Date: September 19th to 28th, 2022

For some time now I have been toying with the idea of an early retirement. You won't get through many YouTube vlogs before coming across suggestions for moving to Portugal or Spain due to their low cost of living. In fact, there was even a recent LA Times article, subtitled "Californians, please go home", about Californian retirees and digital nomads driving up Portugal's real estate prices. Another location that comes up frequently in the FI/RE community is Valencia, Spain. From the description, it seemed like a bite-sized version of Barcellona. Two weeks after returning from Colombia for the Medellin Marathon the crazy us boarded a fligth again, this time bound for Europe. We ended up flying with Lufthansa on a LAX-FRA-VLC itinerary. I once again managed to snag cheap Premium Economy seats and was excited to introduce Sandra to this new cabin class. I flew Premium Economy on my two trips to Bulgaria the prior year and loved it. Obviously, business is better, but business is also many times more expensive. With a bit of luck, premium economy seats can be found for the same amount, or even less, that regular economy seats, but offering a much improved flying experience. This trip also ended up coinciding with our 10 year wedding anniversary. Time flies!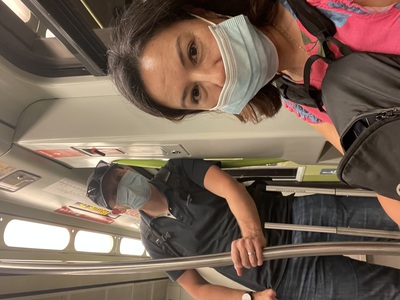 Valencia has an excellent metro system. We were staying in a part of town called Ruzafa. Our AirBnB was just a short walk from the centrally located Xativa station located on the same red line serving the airport. To use the metro, you buy rechargeable plastic cards at the entrance station. These cards can come with day passes, which allow unlimited riding during a 24 hour period (with longer options available). One thing to note however, which was not initially apparent, is that the city is divided into three A, B, and C zones. The day pass limits the travel to A and B, which is essentially the entire city. So what is in C? You guessed it: the airport! While the regular card will get you to the town center, it cannot be used to exit at the airport. We found this out few days later when we returned to meet my dad. As there is no way to "top off" the card from the metro side, you will need to find a Metro employee to let you out. In other words, make sure to buy a distinct one-way ticket if going to the airport. But besides this little snafu, getting around on the metro is a breeze.
We rented an AirBnB as my dad was going to join us in few days and hence needed the second room. I haven't seen my dad since before Covid times. Not knowing when will be my next time to Slovakia, having him fly out to Valencia was a great opportunity to meet up. It's actually quite funny that now the both times I have been to Spain was with my dad as he also joined us back in 2014 in Barcelona. The apartment had two bedrooms, a full kitchen, living room, balcony, and, my favorite: a washer and drier. Ruzafa is a historical part and most buildings here are quite old but functional. As an example, these buildings don't have elevators so be prepared to climb the three or four floors to reach your apartment. One particular curiosity is that the back window opened into what looked like a shanty town. Just as in Barcelona, the historic part of Valencia has the buildings organized into block-sized squares. Inside each square is what I imagine used to be a park or a courtyard. But these days these spaces seem to be occupied by various secondary constructions. The only way to see these shacks, besides from the bedroom windows, is from a satellite view. Across the street from the AirBnB was the popular Cafe Berlin bar. This bar is apparently a well known destination for cocktails. It also holds regular expat meetups and language exchange groups.
Shortly after showering and changing clothes from the long flight we went on our first of many walks through the city. We walked around 20,000 steps per day so be ready with comfortable shoes. Valencia is a fascinating city! I could totally see myself living here. There is a great variety of options. While the city features the historical core, there are also many modern buildings. This includes not only the epitomic Palace of the Arts complex, but also various new high rise apartments. The beach is close by. Madrid is a short trip away on the bullet train. But what I found the most impressive was the walkability. First, there are bike paths everywhere. Furthermore, the city is full of those shared bike terminals. A resident of Valencia can get access to free shared bicycle use for a low $30 annual fee. The city is also bisected by the Turia river. On both sides of it is a massive greenbelt with running paths. The amount of runners was mind boggling. Trying to walk through the park after sunset (it gets hot during the day so many people exercise at night) was like trying to run against a marathon.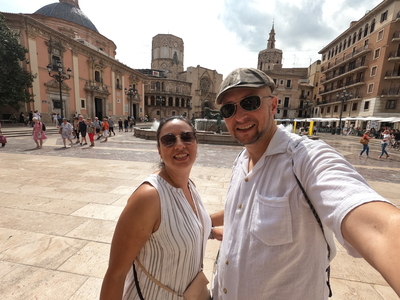 There is a ton of museums, cathedrals, and other historic buildings to see. Among others, we climbed the Quart Towers, climbed the bell tower in the church of Santa Caterina, saw the famous columns in La Lonja de la Seda (silk market hall), and saw (supposedly) the Holy Grail at the Valencia Cathedral. We also visited a museum with bunch of different religious art. The many depictions of the crucifixion showed various forms of Jesus ranging from a frail pilgrim to a ripped body-builder. We made it to Palau de les Arts just in time for sunset. We also came across various street art.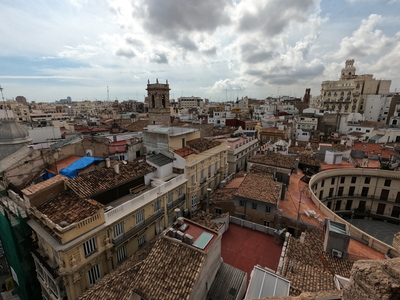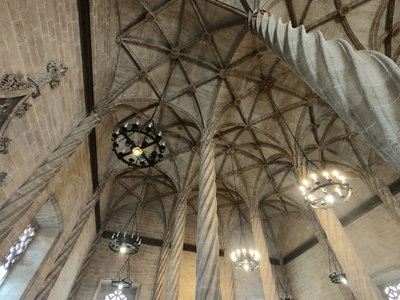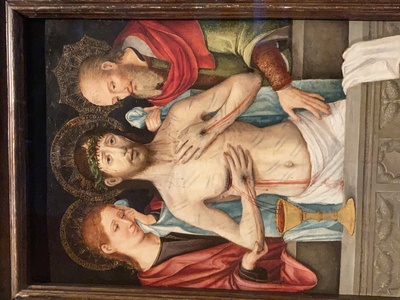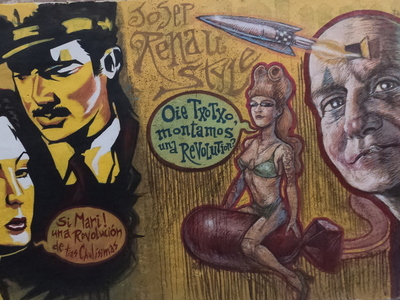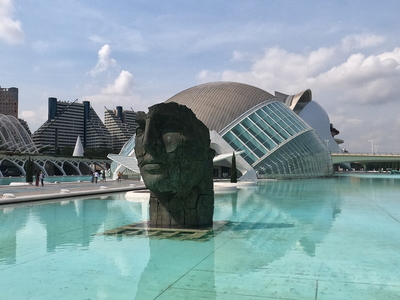 Valencia is full of restaurants but also of food markets. Some of these are true markets, where you can buy your vegetables or smoked meats or bread, while others are food halls with establishments hawking their specialties. Instead of sitting down in a restaurant, we just grabbed a fresh baguette and a collection of cold cuts (that Spain is so famous for) and had an absolutely delicious light lunch. At another market later on, I even got to try a sea hedgehog. This was definitely the first time in my life I have seen these being sold. I remember not being too crazy about the taste. There wasn't much meat there, and what was there came with a rough texture. Another day we also made it to the beach.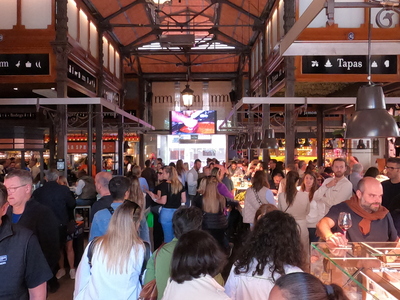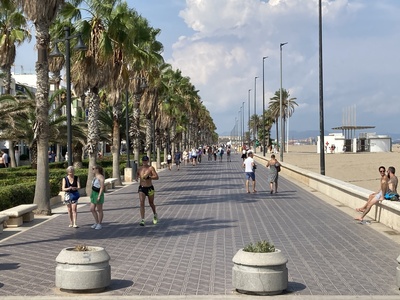 Valencia really sticks to the siesta schedule. Instead of all shops shutting down for an hour or two, what happens is that restaurants stop serving food at 2pm and some don't resume until 8pm. Spaniards like to eat late! In the mean time, the shop will be open but only for drinks. This means that if you planned to do a late lunch or early dinner, well you are out of luck. But in the evening the city comes alive. It's actually phenomenal. Literally every single sidewalks, just about anywhere in the city, gets taken over by tables and chairs. Despite the huge number of restaurants, and regardless of the day of the week, every restaurant had its share of patrons. Valencia seems to live in the streets. Once eight o'clock strikes, the entire population of the city seems to head out of their small apartments and gather on the sidewalk restaurants. This scene repeated even under our window on a nightly basis. Yet despite people staying up well past midnight, the city was fully awake at 6 am. One day we went for an early morning run expecting the streets to be deserted since folks appear to like to stay up late, but it was not so. During the trip, we got to sample many different dishes. By far my favorite was a "Fabada" bean soup (a northern specialty if remembering right) at the La Taska Sidreria (cidery). We make a somewhat similar bean soup on Slovakia but with much smaller beans. Here we were also served the freshly made cider from a statue dispenser. On the other hand, in one of these nearby eateries I also ended up eating probably the most foul thing ever - and I am saying this after eating chontaduro in Cali. I ordered chipirones, simply due to being curious what they are. Apparently, chipirones are baby squid. This by itself does not sound bad. However, the sauce they came in had an extremely strong taste. I just couldn't get it out of my mouth! We eventually found a bar where we had some cocktails and a desert which helped to dilute it somewhat.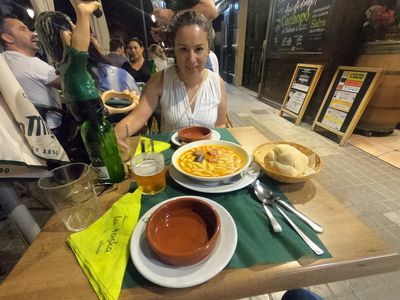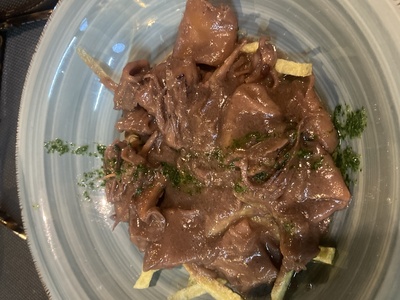 Another thing to do in Valencia is to see a Flamenco show. The most famous place seems to be Cafe del Duende. It is important to arrive early as a long line forms already an hour before the show. The admission fee includes a free drink at the bar.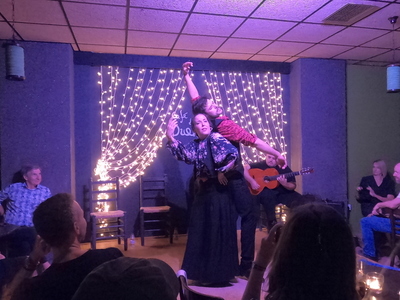 Besides this, we also did some shopping at El Corte Ingles and went for a run in the Turia park. Basically we ran from our apartment in Ruzafa to the entrance along Pont d'Arago and then to the west terminus at mile marker 0 near the zoological garden. After the run we snacked on crepes in a bistro located in the park. We also visited the Benimaclet neighborhood famous for its universities. There we had a yet another delicious lunch at Pata Negra restaurant.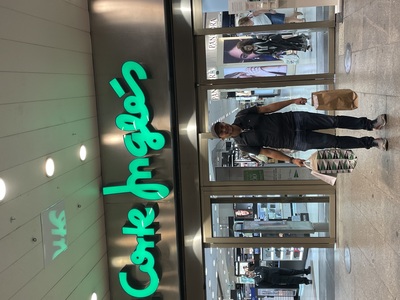 My dad arrived on Thursday, nearly 24 hours after departing his home town. It was great seeing him again! One of the first things we did after his arrival was to try a paella. The next day we did again our share of sightseeing.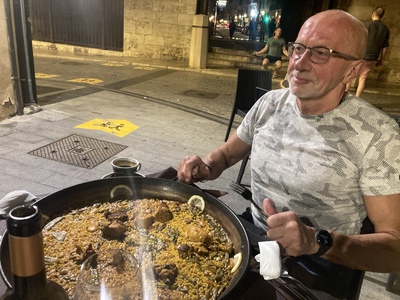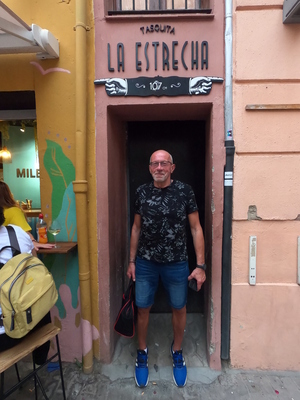 To me the funniest part of my dad's visit was his constant struggle to find large coffee. Back home, he is used to drinking pour-over coffee served in regular, American-sized mugs. Here in Valencia, whenever we asked for coffee, he got a small cortado-sized sip. We also spent a morning on the beach and went for an afternoon sailing trip in the Mediterrenean sea.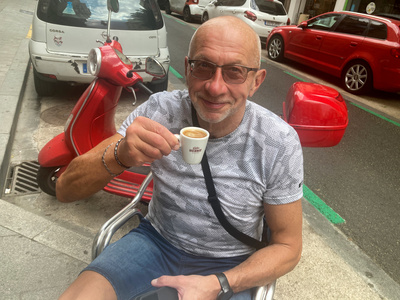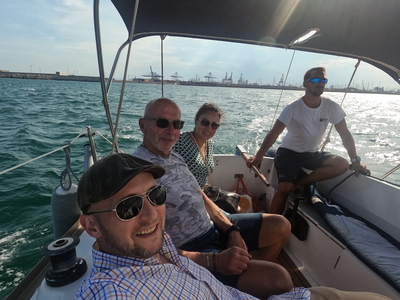 Then on Sunday, we went on a day trip to Madrid. Getting there was bit of an adventure as we almost missed the train. Xativa, near the AirBnB, is the main train station. However, the bullet trains leave from a different near-by terminal. I put the walking directions to Google and was told we have only about 10 minutes to walk to reach this other station. Following the route we however arrived at the train tracks with no obvious way to cross. As such, we ended up in a mad run around the main station to reach the bullet trains the long way. It was only later that we found that there is a convenient underpass we could have taken. In fact, we saw an entrance to the underpass, but the one I checked out only led to the metro. There was another entrance across the street that I did not check and it is that one that led to a nice walkway under the train tracks that would have saved us the rush. This ride took about 2 hours at over 200 mph. Its a real shame we don't have bullet trains in the USA.
We were heading to Madrid as Sandra's cousins Maria Andrea and Mary Luz happened to be there. Maria Andrea has in fact been living in Madrid for a few years, and Mary Luz was visiting with her girlfriend Maria Cloudia (geez, so many Marias!). We met up with Maria Andrea at the train terminal and then hoped on a tourist bus to explore the city. While Madrid is nice, I am definitely liking Valencia better. Madrid is, clearly, a much larger city, so it doesn't have that easy-life vibe of Valencia. Plus it is much colder. We visited major landmarks such as Plaza Mayor, the Royal Palace (only from the outside), Cybele Palace, El Retiro Park, and Crystal Palace. Probably my favorite attraction was the Almudena Cathedral. It seemed to be devoted to nuns. I have never before seen nun murals and statues in a Catholic church before.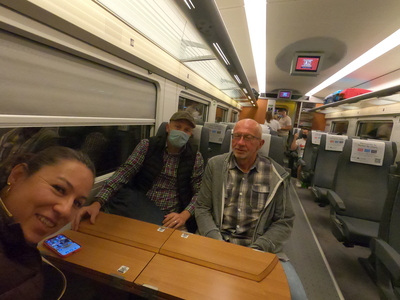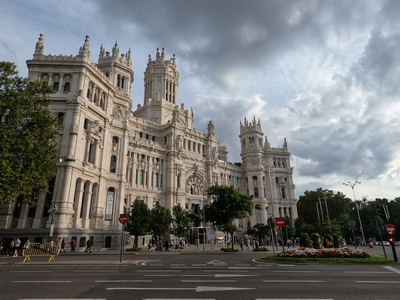 I cannot write about the trip to Spain without mentioning prices. After all, checking out the cost of living was one of the main reasons for this trip. Well, I got to report, Spain is crazy cheap! At least for us coming from Los Angeles. Yet even my father, used to prices in Slovakia, found Valencia to be at most as expensive as back home. As an example, in Madrid, the six of us went for dinner in some fairly fancy, white tablecloths, restaurant. We all got various tapas, my dad and I had a pint of non-alcoholic beer each, we also went through two bottles of wine, and finished with coffee and cakes. The total bill for all this, tip and tax included as is customary, was under $100. In Los Angeles, it is not unusual for just Sandra and me to pay almost as much for lunch for two. All restaurants also offer lunch menus. These typically go for around 8 euro, which is now the same as $8 USD. These generally include really generous portions, such as soup, two main courses, a beer, and a cake. It's quite ridiculous, really. In LA, just the beer itself would cost more than the entire lunch special.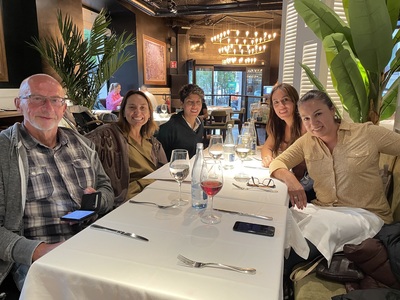 We took the last train of the day. It was delayed by about 45 minutes as we had to wait for another delayed train to come in as people on that train were making the connection to ours. Sandra overheard a passenger next to us asking about the delayed departure policy. Apparently, if the train is more than 30 minutes late, the train company refunds your tickets! We frankly did not mind the delay, but getting the trip for essentially half off (since the return trip ended up being free) was nice. The cost of the bullet train tickets is comparable to that of an airplane flight so this was not an insignificant benefit. My dad flew back home the next day. Originally, I thought about taking a car for an overnight road trip to Malaga but it just simply did not pan out time wise. On that trip, I was hoping to visit a professor in Murcia. Similarly, a visit to another professor's lab in Madrid also did not pan out due to our weekend arrival. Both of these trips will have to wait until the next time. Frankly it was nice having a bit slower-paced vacation instead of our typical go-go-go rush. However, just to get us a taste for the life outside the city, we ventured to Lliria. This is the farthest one can get away from the city center on the metro. This was a small sleepy town with some interesting moorish architecture on the hillsides. We also saw many street cats here.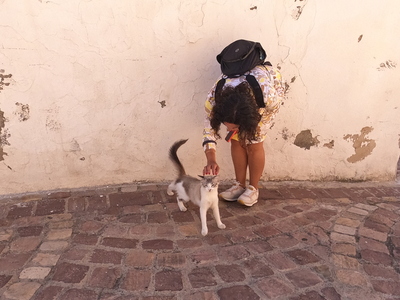 The next day, Wednesday, it was our time to leave. We had an afternoon flight to Frankfurt, with our LAX flight not leaving until noon the following day. We stayed overnight in town, in Hotel The Pure near the main train station. It was cold here! The next morning we walked over to the financial sector where the skyscrapers are located. But unfortunately, the city was blanketed in dense fog so we couldn't really see anything. We grabbed coffee in an outdoor farmers market by the train station before heading back to the airport. There we enjoyed the Frankfurt Star Alliance lounge which featured bunch of different dishes including dumplings, pork, pretzels, and all the beer you feel like pouring yourself. Having access to lounges because of the Star Alliance Gold Status is amazing!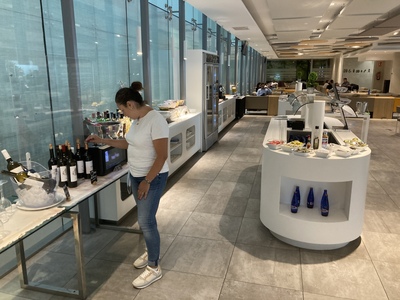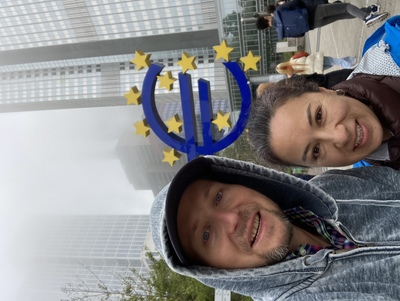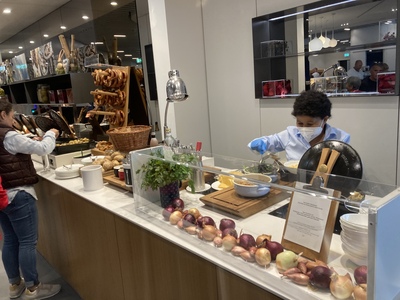 Comments or questions? message me